Hiltl has been serving vegetarian fare since the late nineteenth century in the historic centre of Zurich, yet most people find it surprising that the first vegetarian restaurant was opened in Switzerland. The Haus of Hiltl is reportedly also "the oldest, continuously open vegetarian restaurant of the world" and some of the planet's brightest brains have dined there. In the new millenium their classic vegetarian menu has evolved, now including more vegan options (including ice cream!), organic milk, some cheese, seitan, tofu and eggs. Local and seasonal ingredients feature in the specials, and no GMOs or irradiation got close to any of their purchases. This transparent relationship with its customers and the option to have extra food supplemented to your main course free of charge always pleases the eaters.

Swiss vegetarian heritage: Exports that define, yet blind reputation
Milk chocolate and dishes like the raclette and fondue define the culinary Swiss exports. Most foodies would connect this small European nation with meat fondue, mountain-style sliced meat, rich meat stews, as well as other naughty treats like chocolate and cheese.
What many do not grasp though is that voluntarily abstaining from meat has had a strong following in Europe for over a century. Vegetarianism was promoted by the famous Zurich physician Maximilian Oskar Bircher-Benner on his clinic at Dolder, where the world elite was cured from maladies of their exuberant lifestyles. Perhaps it was the delicious Bircher muesli that inspired Albert Einstein, a Zurich native to become a vegetarian later in his exceptionally productive life. Hilt's location is therefore not an outlier in this neutral field of the carnivorous world.

First vegetarian restaurant with a broad entertainment
Hiltl is a real "gasthaus", a welcoming establishment catering to a wide variety of the guests' needs. There is a buffet, where one can mix and match any dish in sync with the whims of one's taste buds. For the more visual foodies, a neater a la carte menu served arranged on plates might be more appealing, while the cool bar offers nibbles and casual seats.
The Hiltl Club hosts regular music gigs, while the Cooking Studio teaches the future "vegetarian virtuoso" how to master meat-free food preparation at home. Take-away boxes and catering service are also Hiltl's vices.
The dishes are inspired by Italian, Asian (mostly Indian) and traditional Swiss cuisines. Everything on the menu and on the bufet is signposted, including allergy-prone ingredients and other dietary requirements (vegan and gliten-free options are highlighted).
From the traditional menu staples the homemade Hiltl Tatare was my absolute favourite on all occassions I dined there. It became a hit ever since it had been introduced on the restaurant's menu and you can also find it on the generous buffet offering. The bloody-red tartare is based on aubergines, beets, peppers, pickles, tomatoes and other savory ingredients. The beef-free tartare is served with capers, onions and a whole-wheat toast. It is so delicious, that I would not mind to substitute the regular meat version with this flavour-bursting delicacy.


The Wild Mushroom Stroganoff made with a veggie sauce based on mushrooms, peppers and parsley, has also been on the menu for years. The Stroganoff is accompanied by crispy potato rösti, the Swiss speciality, and a dollop of a sour cream. The portion was huge and extremely satisfying, so I would recommend it as a main course after a light starter. The juicy mushrooms and slightly spicy sauce matched perfectly the dry, half-moon shaped pancake of the superb potato rösti. A crisp yet intense white wine aids with digestion of this generous dish.
I was disappointed by the Madras Banana served with an almost entire plate covering white rice, slices of fruits (apples, kiwi, tangerine, mango, pineapple, grapes), whipped cream, cashew nuts and a crisp Indian papadam bread. A mash-up of too many unbalanced ingredients that just did not work together (at least not for me).


The Hilt's take on a Cordon Bleu is intriguing. This cheese 'schnitzel' was made from the blend of the local Kaltbach-cheese, organic seitan, smoked organic tofu. The seitan and tofu resembled the ham in the respective Cordon Bleu. The gooey cheese, stretching from the plate, your fork up till it reached your mouth, will be digested for the next couple of days so beware of any planned activities. There is not an elegant way to eat it, unless you wrap the cheese around your fork like spaghetti and wait until the cheese string gets so weak that it ruptures. Served with a small side of grilled vegetables, brussels sprouts and carrots being Hiltl's favorites, and roasted skin potatoes, it is another generous plate.
The buffet is filled with vegetables, raw, pickled, steamed, grilled, deep-fried, and protein substitutes like organic tofu and seitan, but the offer of curries makes you feel like in India or South-East Asia. Sadly, many warm foods are very oily and deep-fried, challenging healthy eaters. I liked the meatless balls in tomato sauce and fried quinoa patty that were not too seasoned and dripping oil. Childrens menu and plenty of gluten-free choices accomodate entire families.


There are plenty of eyes- and palate-seducing desserts, but we craved cheese. Nevertheless, the generous cheese plate was my curse. An unpasteurized cheese, although easier to digest as its enzymes aid your own army in the stomach, can bring troubles. One should be warned each time the restaurant features it in its cheese selection. The goats cheeses tasted fresh, but a follow-up of three days lasting stomach infection was a bad luck for me. The portions of the individual cuts were just too large for one person even if you had just that, so unless you posses a magic blender built inside you, you will feel the cheese even if it were pasteurized (sterilized by heat).
The lively atmosphere, where suited men mix up with cool young crowd, is the main draw for some visitors seeking a more animal friendly consumption. Hiltl is huge and popular, so reservations are recommended. The main dining room has two sections – one elevated with slightly nicer tables (with LEATHER!! chairs); and another closer to the kitchen that is more casual. There is also the bar behind the self-service buffet food area. This premise hosts bands and artists that perform in the evenings. The service in general is very friendly and efficient.


Hiltl has a nice selection of non-alcoholic beverages. The homemade lemonades and iced teas are refreshing. Most of them are too sugary though, so pick the unsweetened roibush or the herbal blend. The tea selection is quite good. Indian drinks such as the fermented milk-based lassi help with digestion of the creamy curries and fried foods.
The wine list is international including also lesser known wine-making regions. Most of the wines are served by-the-glass. A Swiss Chardonnay was quite boring, but I was intrigued by the French Tannat blend from Gascogne. It was not as fruity and round as its Uruguay version, but its rustic tannins were tamed by a more fruit-driven Merlot in the blend. The Atanasius red Austrian blend by Gut Oggau produced as all of their wines biodynamically, was much more balanced, complex and easily a liquid star of the dinner.
The bar prides itself with a wide selection of vodkas and the Hiltl classics cocktails. An organic beer on tap completes the social drinking experience that attracts some single vegetarians into the all-generations welcoming Hiltl. Now, the Swiss airlines features selected Hiltl classics on its international flights at all three classes, so you can try without even stepping into Zurich!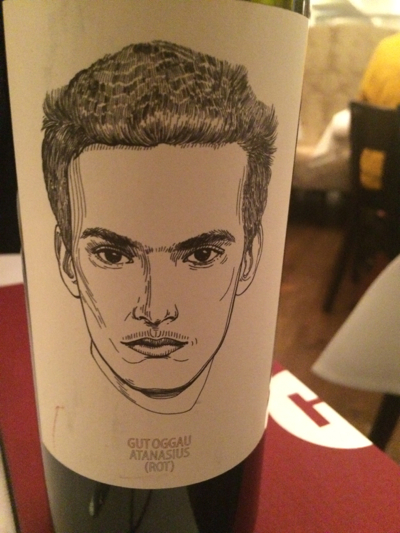 The Hiltl Buffet is either priced by weight (lunch: 4.90CHF; dinner: 5.50 CHF/100g, less for a take-away) or eat-as-much-as-you-like for 51 CHF at lunch and 57 CHF during the dinner service. Generally the à la carte portions are big and can be pricier.
🕗  Mon – Wed: 6am – midnight; Thurs – Sat: 6am till late; Sun: 8am till late.
Hiltl buffet and à la carte daily from 11am – 11pm
Breakfast Buffet: Mon – Fri: 6.30 – 10.30am; Sat: 6.30 – 11.30am
Hiltl Brunch: Sun: 9.30am – 2.30pm
✉  Sihlstrasse 28; 8001 Zürich; Switzerland.
☏ +41 0 44 227 70 00