The cookbook Fermented foods for vitality & health draws a digestion and immunity boosting inspiration from around the world. Dominated by European recipes from the Mediterranean (Egypt, Croatia, Greece, Italy) the fermented drinks, condiments and plates, circle far-east to India (Red lentil dosas), Vietnam (Tender spring rolls with fermented onion),  and as far as Japan (Quick radish tsukemono – pickles, temaki rolls with fermented seed pâté) and Korea (Turmeric & chilli kimchi). Then the compass also shifts back to Austria (kefir cheesecake), northwest to to Scandinavia (Sourdough bread) and England (Sweet cinnamon & yogurt scones). Contemporary nutritional science together with global perspective are employed in tweaking the traditional recipes of these cultures into simple yet original culinary creations.


You will not learn how to make wine, but a ginger beer, kombucha, water and dairy kefir, sourdough starter, pickles, plant-based cheese, and many dishes that went through fermentation at some point. In the first chapter, you will be guided step-by-step through the basics of fermentation. The methods needed throughout the book will prepare you for made-from-scratch home adventures in the kitchen. Patience and time are required in the fermentation procedure. Being open-minded and not a perfectionist is a prerequisite to contentment with your results as the author warns: "each batch of kombucha, kefir, etc. will be different, so do not expect to make the same product twice, culturing is not uniform." As my home experimentation with kombucha and cheese revealed, fermentation can yield surprises, so be ready with an inquisitive, trial-error embracing mindset. The author, unfortunately, does not explain in detail how you recognise when the fermentation is over, yet it is up to your taste. Try daily your cultured product and put it in a cold fridge, which will stop the fermentation process, when you like the taste.


The Croatian author Dunja Gulin is a chef, that published a number of vegan-centric cookbooks and hosted cooking as well as fermentation workshops in the UK and the USA. Although, not entirely vegan, since some recipes include dairy such as homemade kefir and yogurt, the cookbook taps the current zeitgeist for the vegetarian lifestyle. As in most traditional Eastern-European countries, the author was first introduced to home fermentation by her parents. Decades of experience qualify her as a trustworthy expert in this beverage and food preserving method. She observed that during the summer months, when the room temperature is generally higher, the process takes a shorter time. Further, she warns against using chlorinated water, which can spoil the result, and offers practical tips on how to cheaply remove the unwanted chlorine from your tap water. The chemistry of fermentation also lends itself to explaining its benefits for a human body.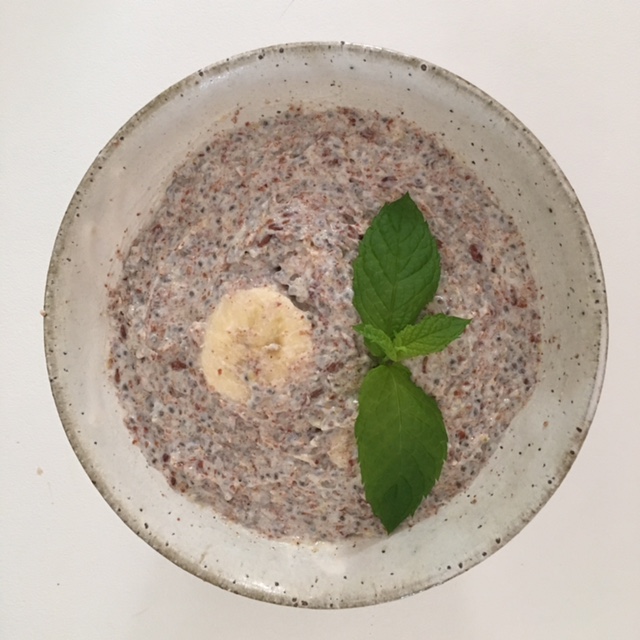 Health benefits of fermented foods
There are many health benefits and surely a pleasure from fermenting foods yourself as we discussed here on La Muse Blue in a past post. Perhaps, the most important are, that the lactic acid bacteria that are created after fermentation:
alter the pH in the intestines (alkalise) and so improve absorption of nutrients
they further create omega-3 fatty acids that increase our immunity and heart health
they replenish the gut microflora and improve digestion (higher energy, bright skin and better sleep)
add live-enzymes if served raw (not heated) that assist to breakdown of complex carbs, proteins and fats
they kill the free-radicals that are responsible for cell ageing
aid detoxification

What you will need for most of the recipes are starter cultures, the SCOBYs (Symbiotic Colonies of Bacteria and Yeast). For the purposes of this book these starters need to be acquired or cultured at home:
ginger beer plant
kombucha mother
milk and water kefir grains
dairy or non-dairy yogurt starter
sourdough starter
You will not need a koji, the rice fungi used to make miso paste. Although miso is used in many recipes, the technique, despite it being quite simple, is not provided in the book. I have made my own at home successfully from various grains. My critique goes further as the author contradicts herself when writing at first to "consume them uncooked" since "cooking deactivates enzymes in foods", but in the recipes she requests the miso to be mixed with "just boiled water", which is detrimental to its health benefits and is not necessary, for a lukewarm water will dissolve the miso paste well.


Most of the probiotic drinks in the book require water kefir, yet finding water kefir grains proved to be impossible for me around Monaco, the Ligurian coast and the South of France, so I did not make any of the beverages, except for the kombucha. This is an acquired taste beverage, yet it turned out to taste better than anything I have ever bought in-store, perhaps because I used a high quality organic cane sugar and a very good green tea from China. I would not use the more grassy tasting Japanese green teas, but an oolong and black tea can also be used. So refreshing! With its mild content of alcohol (less than 1%) after the fermentation your mood may be slightly uplifted, but you will be legally eligible to drive. Fermented foods can always contain trace alcohol.

My favourite dishes from Fermented foods for vitality & health:
Breakfast: Omega 3-rich breakfast bowl (adding honey improves it); Soft polenta with yogurt & sesame seeds
Lunch & Dinner: Hearty one-pot miso soup; Vegan Greek salad with tofu feta
Side salads & pancakes: Sourdough bread; Sourdough grissini (the Sourdough crackers and the Purple sauerkraut were not as good as my family's recipes); Pesto focaccia; Cecina; Grilled corn cake; Temaki rolls with fermented seed pâté
Condiments & dressings: Turmeric & chilli kimchi; Rich miso-tofu dressing; Cashew mayo dressing; Tzatziki dip
Something sweet: Sweet cinnamon & yogurt scones (with a new freezer delivered today, I still need to try the Probiotic pumpkin popsicles, that look very refreshing)


Being from a fermenting embracing culture myself, my Czech childhood exposed me to plenty of fermentation – from my granny's sauerkraut and other condiments to beer, it was very nostalgic for me to return back in time to this cherished period. With my grand parents and later with my aunt I assisted in making our home fermented treats. This is also the reason why I am quite particular in terms of the taste that I expect from some of the recipes featured in Fermented foods for vitality & health.
In a practical aspect, what I missed in the recipes was an approximate total time for preparation so one can plan ahead.


The images in the book are styled to appear authentic. A rustic look was a wise choice of the photographer Toby Scott, although his professional lens and perfectly bright light make even sugar look great! Since fermenting is a messy process, do not expect a perfectly uniform result as pictured next to the recipe. Bubbles, mould, or a different colour from the published photo are perfectly normal. You can always save the recipe if serving the dish to others with a touch of greens such the author's favourite lemon balm (melissa), a sprinkle of sesame seeds or a freshly cracked black pepper. Fermented foods for vitality & health is less time consuming and easier to prepare in a home kitchen than the escapades at the Bar Tartine cookbook, that I reviewed, therefore any beginner to fermentation is welcome to give it a try. Have fun as I did!