Hostellerie de l'Abbaye de la Celle is a French inn inside a verdant 12th century abbey surrounded by hilly forests where the neighbour's goats trot daily for their green lunch. In a pure Provençal accent, the multi-Michelin stared chef Alain Ducasse created a cosy, five-star country escape for any savvy gourmet escaping the city noise. Like Ducasse's first Provençal baby Bastide de Moustiers, the hotel cum locally sourcing restaurant is rustic, understated, but equipped with luxury amenities and offers a very professional, serious level of service. Both restaurants have guarded their Michelin star for their authentic, yet gourmet local cuisine for over a decade.


Although there are three distinct Provencal dining rooms inside, if weather permits eating under the leafy chestnut trees, shielded with the abbey's stone walls, listening to the birds songs and the crickets' serenades feels more special. When the warmth lures their voice cords to the new highs, you want to sit in the garden. Unless, as it happened in July, it is so hot that even the electric fans provided by the staff do not cool you enough, the scorching heat suppressing your appetite. The farmers and market-driven seasonal food at Hostellerie de l'Abbaye de la Celle is directed by recently appointed locally-raised chef Nicolas Pierantoni. His three-star experience at Ducasse's flagship Monaco restaurant formed a delicate handling of the freshest local produce.

Flavours of Provence at Hostellerie de l'Abbaye de la Celle
Each table at the Hostellerie de l'Abbaye de la Celle is decorated either with a pot of fresh herbs, a sculpture or a decorative ceramic piece. Annually harvested local olive oil, accompanied by homemade crisp grissini, superb country (ancienne) and olive breads, vegetable crudités, all bring more substance to an aperitif. Expect Courgettes farcis Nicoise style, handmade pasta, bouillabaisse sauce, and other Southern French flavours. Seasonal mushrooms like chanterelles and other warmed vegetables rotate in the sharp-eared ceramic pot, the signature dish always on the menu. Late in spring Green Asparagus spears were cooked in this Ducasse's "Cookpot" that preserves the ingredients' essential naturalness (the chef's penchant). Added coddled farm eggs and herb vinaigrette balanced the wholesome starter.


The ever changing La carte offered Légumes de Printemps (baby carrots, long beans, spinach and artichokes) perfectly cooked in olive oil, served with coriander and fresh cheese brousse des Roves. In summer, fennel, string beans and purple borage flowers float and swim in the elegant olive touched broth. Delicately handled Mediterranean prawns are also nice to start with. The handmade fresh pasta at the Hostellerie are exquisite. I had Ravioli stuffed with rocket, sautéed girolles and poured over with unctuous parmesan cream, just enough for thirty plus degrees in summer.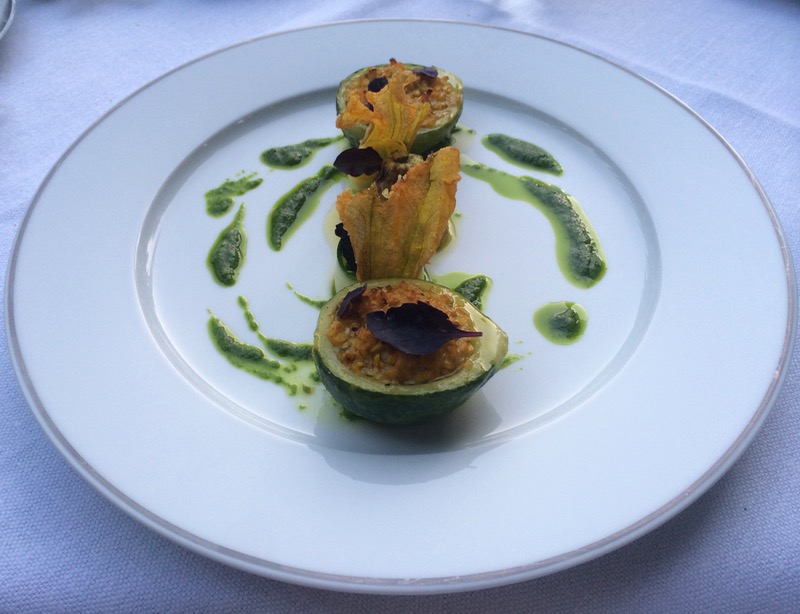 Mediterranean fish like John Dory (Saint Pierre) was cooked with stuffed courgette flowers one day, while other time Swiss chard from the abbey's own potager accompanied the white-fleshed fish. The naturally fertilised garden hosts 25 varieties of tomato, 15 types of basil, four strains of zucchini, squash and eggplant, and also pepper, strawberry, persimmon, fennel, and beet.
All meat comes from France. A young corn-fed chicken from the Ducasse's native Landes was served with fricasse of tights, whole flat snow peas (mangetout) and confit garlic. Lamb, veal or beef are accompanied by a changing rainbow of vegetables, slightly altering each plate so even the frequent local diners will not get bored. The surrounding orchards, vineyards, sculpture garden and the cooling Benedictine Abbey are ideal, character-rich venues to host weddings and other special events.


Market (3-courses €50) or Business Menu (perhaps the village's police force snaps the 2-courses for €40) during working week allow for time-saving gourmandising in the midst of rural Provence, how ironic! A five-course Seasonal Menu picks bits from the changing carte, includes cheese and a dessert. Yet the crème de la crème is the six-course tasting Menu of L'Abbaye.


The wine list highlights local bottles such as the most expensive Vin du Table in France – Domaine Trevallon. Their red wine is quite strong, but not a beast as some Provencal reds can be. Older vintages rid of most of the youthful roughage and drink smoothly. We had the 2001 and 2004 vintages, when the older vintage was still in its nappies needing time to mature, the 2004 was drinking smoothly. It's not about the age, but the vintage! By the glass, it is up to the sommelier's daily whims. Recently he opened a magnum of a five-year old Givry Chardonnay, so mineral and only slightly oaky, thus the perfect aperitif.
Hostellerie de l'Abbaye de la Celle is surrounded with incredible farms and the high quality produce served there often comes from the region. Raw and aged cheese plate is served with a bowl of mesclun and herbs cut from the Hostellerie's own garden, where in May and June cherries and strawberries ripen. My sweet red berries were served with shortbread and superb, refreshing and not too sweet iced nougat. House-made sorbets and ice creams change on a whim of the pastry chef as do the sweet creations inspired by seasonal fruit, traditional French pastry and chocolate from Alain Ducasse Manufactory in Paris.


Do not worry about calories here, as either before the meal or the next morning after the warm sun teases you out of the comfy bed you can hike it off on a well-marked trail taking off just around the corner (ask reception for directions). The steep incline gets more pleasant with each inhale of the natural fragrance of Provence Verte, the green heart of the region. I picked sage for tisane, and when my eyes tired off zooming in the signage on trees, I traced the trail by the occasional goats' pearl-shaped poop on the dirt road. Stop by the goat cheese farm on the way for fresh produce as a souvenir from rural Provence or pop into the Roman sculpted (Via Aurelia runs nearby) boutique for a cookbook, kitchen towel, olive oil, local honey or jams with Ducasse quality seal.
Check the profile of the chef Alain Ducasse.
Winter : 12noon-2pm Dinner: 7:30-9:30 pm
Summer: 12noon-2:30pm Dinner: 7:30- 10pm
Hostellerie de l'Abbaye de la Celle: 10 place du Général de Gaulle, 83170 La Celle en Provence, France