The boutique hotel Chesa Rosatsch in Celerina treats athletes and food lovers who care about provenance and quality with wholesome delights. Chef Jan Gasser impeccably instructs his team at Uondas grill in a very broad menu that pleases anyone – meat-centric carnivores, sweet-loving kids and vegetarians. Together, they present a transparent offering where most ingredients' origin is set in print and sauces, save for the ketchup are made in-house. Consistency is the hallmark of Uondas. Over the years, each winter we marvel at how perfect every single dish is. No fuss, no overt complexities, just deliciousness at its mountain best.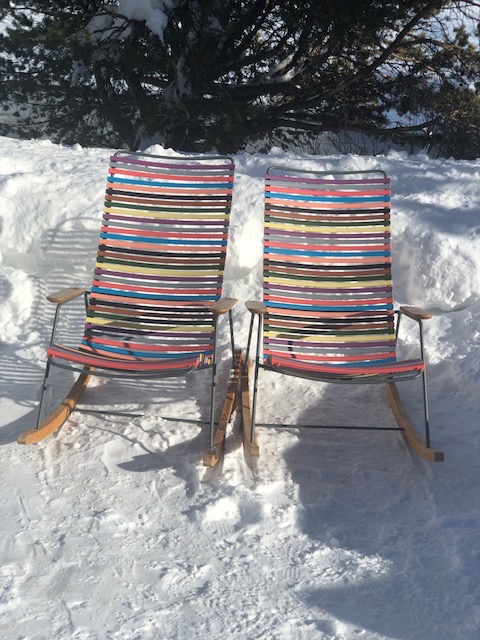 A few minutes drive or about half-an-hour signposted walk from St Moritz, deeper in the Grissons region, the painterly Engadine house roofs a trio of culinary concepts. I wrote about Stüvas, the slow-food, dinner-only restaurant. There is also traditional Swiss Heimatli. But where we eat most frequently is the Uondas Grill, where lunch is a conundrum of an efficient service, superb food preparation cum al-fresco sunshine bliss. The indulgent mountain affair attracts us each time we cross-country ski on the Swiss-perfect marathon run through the Engadine valley. Our only rule, first ski, sweat, then sit down at Uondas to replenish the burned calories. The menu is huge and teases you to come back after your plate arrives tasting so perfect, but we lunched there at least tow dozen times, tried much of it, so my review can unburden your choice.


Laced with snow capped peaks, dipping into a river that flushes the melted snow into the pristine blue lakes, Celerina is a village popular with Nordic skiers, while cyclists, runners rollerbladers take over in summer. After a morning workout outdoors a lunch at the contemporary grill is a treat, the reward for your physical effort.


From the wood stove lands the best tarte flambé outside Alsace. Baked to an ultra-thin crispness with local dried venison ham when in season (otherwise imported from New Zealand), parmesan, tomato, sometimes rocket but always drizzled with olive oil, the tschierv is our favourite. In summer, when fresh figs ripen, the caprino with goat cheese, chives, pine nut and bacon is the perfect seasonal choice (in winter they use dried figs). There are also sweet, dessert versions of this crisp treat that kids will relish.
Smoked fish and meat by Patrick Marxer (his factory DasPure is in Wetzikon near Zurich) top the flambés or are served sliced with onion, giant capers, herbs and house relishes. If you, like me only eat meat occasionally, when its provenance and humane treatment of the farm animals is guaranteed, Uondas and the other restaurants at Chesa Rosatsch are your call.

House cellar aged prime meat at Chesa Rosatsch
Seasons are preserved by the kitchen team into aged meet, preserves, ice-cream, otherwise fresh ingredients inspire the menu.
In a specially dedicated cellar of Chesa Rosatsch dry aged (4 and up to 12 weeks) "madürà" veal, beef and lamb is either chopped raw into tartars (photo bellow), grilled on lava stones to steaks or pounded to burger patties. Ageing on the bone improves the taste and tenderness of this regional, premium quality meat. The daily cuts, when mature are scribbled on a slate board with available serving sizes. Served simply with a vegetable mix, each tender chop charms with a slightly nutty flavour. To sample  order a small (35g each) tartar served three ways – all on one plate dry-aged veal, swiss prime beef and yellow tail tuna.


There are many gourmet burgers. A classic beef-pork blend patty, buffalo, tuna (yellow tail from Maledives), Caesar's rib-eye. Each with a choice from house-made spicy or mild sauce, customised as a double decker (additional burger patty for the hamburger and buffalo burger), topless without the upper bun or naked burger without any carbs. We love the Buffalo burger that is more like an extraordinary panini. A crisp ciabatta bread stuffed with Swiss buffalo patty, creamy buffalo mozzarella, tomato, leafy greens, roasted onion and a succulent house BBQ sauce. Served with ultra-thin fries, but if you prefer order any other side – my favourites are the perfectly crisp Sweet potato fries with homemade mango-curry ketchup, the grilled zucchini, pepper, olive oil and garlic in Sott'olio. The better than your average mixed leafy greens with a quite dense balsamic vinaigrette for the healthiest combo.

Plant-based eaters taste the world at Uondas
Vegetarians rejoyce as the Indian lentil curry with yogurt lassi, root vegetables and a juicy sprinkle of fresh pomegranate seeds is superb. A filling, wholesome, not-spicy meal. As with most dishes with two available sizes, the smaller portion is large enough (about 70% of the full portion). An Israeli shakshuka of a tomato-bell pepper gratin, chickpeas, egg and yogurt lassi. Both can be made vegan. Verdura, a quinoa bowl with goat's cheese, chopped vegetables and pomegranate seeds is another, lighter and naturally smaller option. The cheese is from a biodynamic farm at the idyllic Silsersee lake run by Cadurisch family. The Parmigiana hot vegetables baked with parmesan cheese is a heartier side suitable as a starter. I also like the sweet potato soup that can be made without bacon. Creamy without dairy and richly nourishing.

Comfort mountain meal served fast
The clear oxtail soup with an egg feels lighter, so ideal as a mid-exercise warmer. Also the traditional Barley soup dissolves any chills within the minute your lips dip in.
From the small-sized "bowls", my husband likes the Chicken with leafy greens, parmesan made like a Caesar salad. On a similar note is the Field salad with bacon, egg and croûtons with your choice of additions such as sautéed and sliced chicken breast or a crisp falafel. Dressed either with balsamic, Italian or French condiments. As a small snack, the fried chickpea balls (five falafels) are served with yoghurt dip. All dishes are labeled for allergens, so a gluten and lactose-free side of sott'olio – grilled zucchetti, red peppers with olive oil and garlic; the Verdura bowl and many other dishes tick the gluten-free box.
Trenette, spaghetti or malloreddus pasta (all can be made gluten-free) are served with your choice of freshly made sauce. For a table to share, the valuable three or four course menus called "tavolata" include the sweet vanilla soft-serve ice cream.

Swiss icy and chocolatey treats
Swiss chocolates by Laderlach (slabs sold by weight) or Uondas house-recipe vanilla soft-serve (made for them offsite) can accompany coffee. My indulgent après-ski replenisher is the affogato combo with an espresso. The chocolate changes but usually a milk with hazelnuts, caramelised nuts with dark chocolate, or 70% CABRUCA walnut (trinitario premium cacao with roasted walnut nougat) cocoa slabs are broken for your pleasure.
The lush and creamy soft-serve can be sprinkled with naughty kitchen whims – "fuatscha grassa" bisquits, chunks of Toblerone, chocolate sauce and egg liqueur of savognin et al. or sweet delicacies from the wooden treasure box that the waiters parade around. Kid's heaven!


To drink, an exclusive beer is brewed in nearby Pontresina for the hotel's three restaurants and bar at Chesa Rosatsch. Water – Allegra is served in a refillable container widespread in the Engadine cafés and restaurants. Yet, the local filtered mountain water donates  to Viva con Agua charity that supports drinking-water projects worldwide. Mountain herbs blended into warming tisanes cosy you up on the rare cold days. The sun shines through the valley for most of winter, so I feel often more like having an ice cream than schnapps with coffee or mulled wine.


Non-alcoholic warmers like herbal tisanes, hot ginger ginger ale (elderflower sirup, ginger and lime) or Vertschi Hugo juice from green grapes with elderflower are creative. Refreshing Swiss soft drinks like Mint with lime, the iconic sugary Rivella, Shorley an apple juice with spring water marketed as "a natural fitness drink and energizer" by Mosterei Möhl by Lake Constance or Fermented apple juice with/without alcohol join the cater-to-all concept sat Uondas. Chesa Rosatsch is indeed the "home of food" and we miss the Uondas grill whenever we leave this beautiful and remote piece of Europe.
Like elsewhere in the mountains, the provisions are expensive (mains between CHF 20 – 60 and large steak cuts will go aboard).
 daily 12noon – 11pm
Via S. Gian 7, 7505 Celerina/Schlarigna