Paris tea culture has evolved tremendously over the past twenty years since I visited the enchanting French capital for the first time. Beyond the established commercial giants and the 'historic' Parisian maisons du thé, the new wave of authentic tea rooms welcome the tea curious. Here, you find quiet or an intimate conversation if you desire. Tea is my daily bread and I travelled the world to visit hundreds of tea rooms and shops, therefore I offer a global perspective while seeking local nuances.
The best tea rooms for me NOW in Paris: boutique, authentic, yet creative
For me, the best tea rooms now in Paris are all small in size, their owners are passionate about tea like authentic wine growers, still not commercially scaled, intimate, sustainably-minded, and offer specialist and personal advice.
My choices offer a substantially less touristy experience and their teas are top quality. Some are more creative, other purist, offering traditional teas in a contemporary designed tea room.
Coincidentally, most are located in the triangle between the Marrais, Saint Germain and the Opera. I selected these not just for the quality of the tea, the staff's knowledge, but also for their distinct atmosphere.

ARTEFACT is perfect for newcomers as well as seasoned tea drinkers open to trying niche pure teas. Each tea is described by its aroma and characteristic taste, making any new choice easier. Artéfact also creates superb tea, fruit and herbal blends infusing them into the best iced tea I have tasted to date – based on black tea and fragrant flowers. From the pure teas, the hand-picked, directly sourced spring tea leaves of White Bud Puerh from Lincang in the Southern Yunnan Province of China delight with their floral sweet, deep resinous and malty taste. Each label on the loose leaf teas treats customers with transparency – from the exact sourcing, type of cultivar, production method and how to brew it for best result. Art exhibitions brighten the stone walls of the two floor boutique.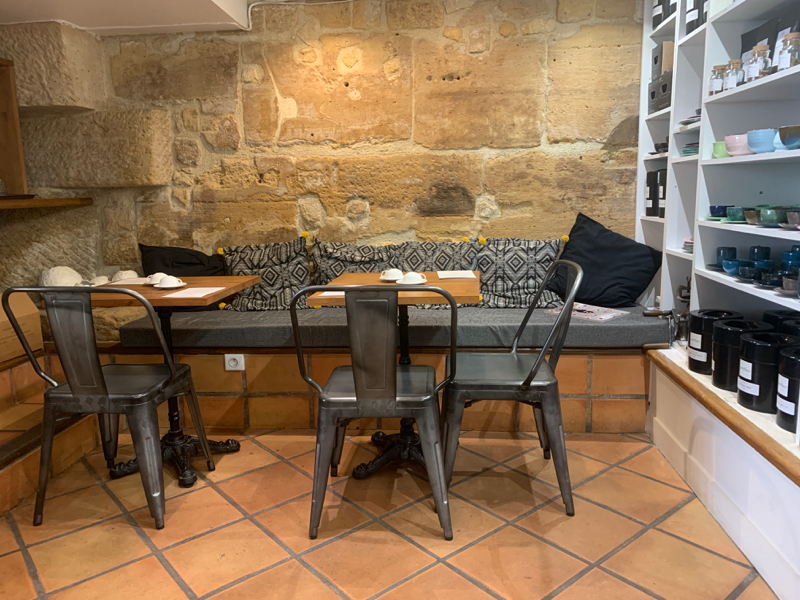 The duo behind KODAMA call themselves as "alchimistes infuseurs". True to their ethos, you find the most interesting, while some very unusual blends named with a pinch of irony and perhaps even philosophy. Think Rehab Bio, La Vie Comme Elle Vient [Life as it goes], Tous les Chemins [All the paths], and the Sticky rice tea that I loved. The most popular in the heat of summer are the curated iced tea blends, in winter the chai latte warms you up. Yet, for me, the award winning master-roasted houjicha from Japan stroke the inquisitor's mind. The whisky and cherry smoked ones a bit too much, but one-offs like this sparkle the cosy cocoon of Kodama. Colourful origami float above the tea bar, where daily fresh pastries seduce your sweet tooth or a rambling belly for a slice of cake. If the stools are not comfortable enough, snap the low tables at the back.
YAM'TCHA indeed is Yam. The name comes from Cantonese tea time with dim sum. Focused on well-known, top quality Chinese teas (white Silver Needles, legendary green Longjing, Tie Guan Yin oolong, Wu Yi rock tea, some raw – Sheng and ripened – Shou Pu'er, and others) plus baos and Chinese stuffed dumplings (dim sum). The fit is perfect and the minimalist, focused offer eases your mind into a pleasant state of tea's magic. Impeccably curated by Hong Kong native husband of the Michelin starred French chef Adeline Grattard (of Netflix fame) whose restaurant is just around the corner. A dream couple! For the most calm time come either early or after the lunchtime rush. Must try is the melting English stilton bao, but the tofu-based vegetarian dim sum were great too.
JUGETSUDO is THE place in Paris for Japanese green tea. Zen your mind as the Japanese staff impeccably whisks a bowl of matcha at the massive wooden bar. As if I were in Tokyo. Just the design is more contemporary chic. Most of its green teas are now organic. The yuzu citrus flavoured series, seasonal spring cherry blossom scented sencha, roasted houjicha, and pastries by the celebrated Paris-based Japanese pastry chef Sadharu Aoki and Patisserie Tomo lure inside. Downstairs, rotating ceramics exhibitions, even an occasional tea ceremony ritual complement the cultural immersion. More recently, Jugetsudo succumbed to commercial opportunities. Collaborations with French chefs and candy manufacturers divert from the tea theme. Anne Sophie Pic created exotic flavoured tea blends, while Valrhona, the premium producer of professional chocolate, whipped up a matcha bar. I was hooked on the freeze-dried strawberries coated in matcha-infused white chocolate. Sampling great things is dangerous. The mutual French affair with Japonisme continues to bring in the country's talent and established brands.
The best tea rooms in millennial Paris not only sell a wide range of top quality tea, but shield from the enrapturing city noise. Swarms of tourists grouped into disruptive formations, fuming buses, and the chic-pax smokers on cafe patios escaping offices and store entrances stalk your sense of wellbeing. Pollution, the scorching summer heat or the deep chills of winter, whip you indoors where either a warm embrace or a cup of refreshing iced tea provide comfort (read about What tea time can do for you).
Related Posts