René Redzepi is one of the most iconic chefs in the world today. His spin on the New Nordic cuisine inspired myriad culinary creatives globally to forage for ingredients and experiment beyond the molecular chemistry established by El Bulli. At Noma 2.o Redzepi and his international team liberally continue the evolution into even wilder directions. More conservative diners beware, you are on the soil of the liberal Christiania island of Copenhagen!

Unafraid of challenging diners' perception of taste
The food at Noma is like contemporary art – an accent on concepts and raising the emotional surprise rules over the pure gustative joy from the dishes. Some plates taste good and are quite balanced, others' hardly justify the time that goes into their development at Noma's famous test kitchen. Without the generous local sponsors (Claus Mayer has fathered the booming restaurant scene in Denmark) such mission would likely bankrupt most restaurants before they could charm the adventurous strain of the global foodie audience.
Next to the now popular culinary exchanges and paid for challenges like Cook it Raw, the success of the original Noma after its closure let off the intrepid chef with his trusted team to travel, taste and open pop-ups in Japan, Australia and Mexico. Their East-South-West culinary heritage nagged Redzepi's mind, so their traditional techniques infiltrated the initial Nordic style that he was known for. The result is more controversy and extremes, well beyond the typical sourness and tartness of Northern food. René Redzepi is risking it all as a co-owner. Is it as good as before? The chef himself asked this question in an interview released prior to the reopening. Our table of four dining at Noma recently hoped so.
The challenge is to understand its creative, yet at times off-putting aspects. Merging the boundaries of cultural distinctions in taste in the highly globalised world is nothing new, but this summer Noma has turned too many ingredients and techniques into either boring or rather unappetising creations.


In the multicultural kitchen some 60 cooks synchronise about 17 + plates served to the 40 heads seated inside. No bread, unless it's a part of the recipe or suits the current menu, the extremely capable and accommodating manager explained.
The unostentatious complexity of the dishes was revealed to me through the Noma Recipes book. Despite the challenge of cooking it all on my own, the food tasted much better than what we ate at Noma 2.0. We expected a better balanced and more delicious meal than what was served to us. But, then a globally-seasoned foodie wrote me – Noma 2.0 is not Noma. The hardest part was tracing the ingredients, some foraged, others I bought in Copenhagen. For those plates I could not assemble in my Mediterranean kitchen, I traveled to Copenhagen.

The natural setting of Noma 2.o
The new space is marvellous. Like the Blue Hill at Stone Barns upstate New York, you enter a natural space built from wood and glass. The design was headlined by Denmark's architect Bjarke Ingels, whose concept of a cluster of buildings like at a working farm in the Faroe Islands with each of the seven structures having its specific purpose, appealed to the vision of René Redzepi. He wants you to feel the seasons outside (XL glass windows and open space kitchen). Plants crawl the scant walls inside. With his sous-chef, reportedly, René Redzepi meditates over the menu inside his barrel-shaped sauna set up in the restaurant garden.
The new location of Noma at the back waterside of Christiania must be experienced under the clear sky. The interior was projected by another local architect capturing Redzepi on Instagram David Thulstrup. The service kitchen with sleek oak islands welcomes you into the dining house where everything mingles like bees in a hive. An open brick barbecue was inspired by Noma's pop up in Tulum, Mexico.

There is a bicycle parking, so we pedalled in. Copenhagen is casual, so wearing comfortable shoes to Noma is fine. An aperitif is served in the greenhouse. We were given an ok non-alcoholic brew, much less interesting that the water kefir we were treated to at Kadeau a few nights earlier. The surrounding biodiversity fascinates, but looking carefully into the glass containers filled with molded stuff (edible?), preserved sea cucumbers and animal organs, the Danish fairy tale meets the harsh reality of food, trial and error. Only the hanging dried fish felt more traditional and thus normal to us.


As an open-minded and well-travelled foodie, I was more ready for the experience than my yumminess seeking husband and our friends. Still, I was not thrilled with most of the food. Although our pregnant American beverage expert friend (going for the non-alcoholic pairing this time) and her wine-savvy Alpine fiancee (worked at The Blue Hill at Stone Barns) both dined at many highly regarded gastronomic restaurants with us previously (Mirazur-terribly overrated I dined there three times; Eleven Madison Park; Alain Ducasse in Monaco), the menu at Noma lifted their brows and puckered their lips as I have never seen them before. Words of satisfaction were rare.
What's exceptional is the service at Noma – every table has a dedicated assistant, while each dish is being served by a different, often creatively tattooed person, and the kitchen is staffed with more cooks than diners. René Redzepi was not present, at least he did not appear in the dining room, but that does not excuse the food.

Seasons at Noma
Noma has the privilege to source the best ingredients Denmark and its Nordic neighbours offer. The chef's reputation aroused pride in the previously gastronomically stale region.
There are three seasons in each annual cycle at Noma. Seafood in late winter and spring (sea cucumbers and other for Americans and central Europeans challenging ocean creatures did not appealed to our palates even at the best Japanese and Chinese restaurants in the world). Worse even is the fall merging into a crusty winter season, when game, meat and forest wilderness come to the plates at Noma. I respect seasonality and I am quite open to experiment, trying some culturally-challenging foods like insects, fish sperm and organs, but Noma moves the boundaries further. From those well-trod foodies, who tested all the three seasons during the first year of Noma's rebirth, I got a nod to the vegetable menu in a persuasive unison.


We entrusted our bellies to the summer vegetable season. A great time to savour the Nordic bliss of the otherwise sun-deprived Danes. Booking my July table on the first day the summer season reservations were available.
Starting with edible taxidermy, the Flowers marinated with pollen served on a thin crisp shaped like a butterfly were a lovely summer opener.


Followed a simple serving of Barbecued pepper. The green stuffed pepper was not spicy, good, but nothing outstanding.
Candied Beets raviolo with liquorice and herbs was chewy like a fruit leather, a healthy snack, but not memorable.
Then came the dish of the evening. The Chilled Onion Bouillon with roasted beech nuts and crème frâiche was superb. Balanced, interesting, and offering a play of diverse textures – crunchy nuts, jellied bouillon, cream. You did not eat the raw onion bulb in which it was served, but finally, we were satisfied.


Molded food
A period of highly challenging plates interrupted our brief moment of joy. Eating mold beyond cheese is rarely welcome in Western culture. Noma even employs a fermentation expert in moulded edibles. Molded plant-based products are now available in European health stores in the form of a cashew 'camembert' fluffed up with a furry coat of mold. I even bought a locally made vegan 'camembert' in Copenhagen just to check if the locals' threshold was a bar or two higher than mine. It was good.
But, the molded Green Asparagus at Noma was horrendous. I couldn't finish the second piece. Ordering pizza after the three hours-lasting meal was now on our follow up program. The spiky vegetable may had been preserved in the mold, but I would love to hear from those who loved the taste. None of us did, only the green pumpkin sauce with it was good enough to eat.
Mold pancake with Australian truffle reminiscing on Noma's pop up on the other side of the world added a twist on tacos. The molded barley shaped like a taco was stuffed with cream cheese. I quite liked this.
The Mold pie sounded even more hazardous than the previous 'infected' plates. For some at our table it was unpalatable, or was it just the thought of it?  The entire egg yolk was moulded and so were the seeds circling around it like sun rays. Underneath, seaweed bedded the pie crust. My husband was off to the moon. Needless to add, our pregnant member at the table, did not touch the plate. We informed the service at the beginning of our meal about her pregnancy, but no adjustments were made. At Noma, even the vegetable menu is not safe for everyone!


A relief came with the next plate. Berry soup with watermelon balls and herbs was the ultimate expression of summer. Raspberries and blackberries were refreshing. Nice, but can hardly reach to three Michelin star perfection, Noma has two.
A delicate flaky Flatbread with medium rare cooked vegetables referenced to a steak and would perhaps satisfy a vegetarian. Baby beets, courgettes, turnips, green beans with crisps of fried shiso leaves. As a vegivore, I liked this fragile snack.
Deep fried zucchini flowers were added off the menu, but needn't be, so boring when compared to what I eat in the Mediterranean. Flatly laid in their oily coating on a stack of hay, they tasted literally as they looked like – flat and oily.


Celeriac cannelloni were too peppery and that is all I could taste. A faint memento to the past summer's hit celeriac shawarma (referring to the Middle-Eastern cooking style rather than the typical slow roasted meat sliced from its conic cut on a spit).
White asparagus with egg yolk sauce in a nasturtium leaf wrap, seasoned with seaweed, flowers and the clover-like greens was good. Again, not particularly memorable.
Quail egg in salted ramson leaves was so boring that I felt what a waste! Our table started to look at our watches wondering if any good pizza place would still deliver to our hotel.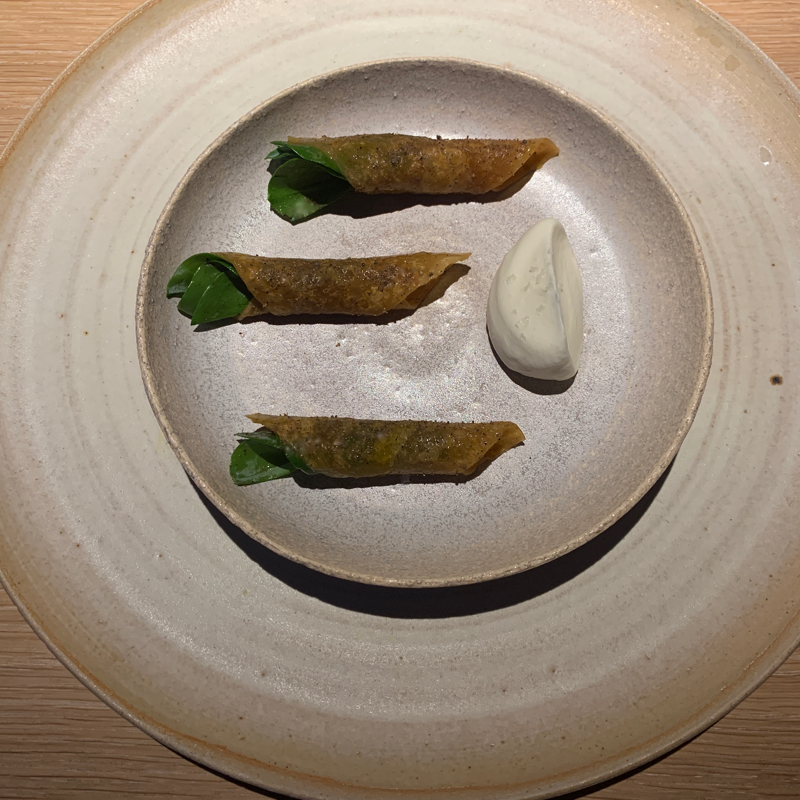 Next, about three or four bites of remedy arrived. Wild mushrooms barbecued with pine were excellent, succulent in their intense marinade. Pinched on a blackberry branch skewer for au nature look.
The main course was a Vegetable ragout. Worse than most great vegetarian restaurants would pull out. Even the Australian truffles did not lift the mixed plate enough to make for a memorable dish. The tastiest, we agreed, was the slice of smoked potato.


A Woodruff ice cream and birch kombucha jelly announced the sweet finale of the meal.
The last serving of the night was a duet of simplicity and a shock. The dessert of Crispy bees cooked with chocolate even had a slicing knife attached. Generally, insects have become trendy recently, even supermarkets followed hipster stores selling pricy snacks with dehydrated bugs. Chef Redzepi was enchanted by his pop up in Mexico (where insects are traditionally eaten in some regions), so he got a bunch of crispy bees onto a slab of white 'chocolate'. Like nuts, the bite into the silenced buzzers added some crunch, a healthy protein, but not much flavour, the fresh floral petals took all the taste credit. Let the bees pollinate and make honey. It is not sustainable to promote eating bees, I think.


A plate of summer berries came along. When you dine at the best restaurant in the country, let alone one of the best restaurants in the world [as elected by some controversial juries], you expect that the berries would be better than what you got at the local market (I did), but they were not. The raspberries were tart, lacking the ripeness of their succulent sell-out at the market in Copenhagen, the strawberries also did not reach the depth of the organic basket I got at a random street stand in the city, and the gooseberries were unlike my grandmother's wholesome bombs of concentrated juiciness.

Natural wine meets the challenge in intriguing non-alcoholic beverage pairing at Noma
For beverages there are two pairings – non-alcoholic or 'natural' wines.
There are way too many disappointing 'natural' wines – faulty, mousy, vinegary, and overall unpredictable. The wine list at Noma 2.0 is changed each season to rotate the organic, biodynamic and seriously 'raw-style' bottles. We did it all. Our pregnant lady went for the interesting and delicious non-alcoholic drinks (Black apple & Cherry; Cloudberry & Pollen; Quince & Elderflower; Kiwi & Coriander; …). The rest of us did the wine pairing – all whites for the summer menu, so we ordered two extra red bottles for the table. A reliable Pira Barolo from Roagna (2012) and a lighter Contadino by the popular Sicilian volcanic soil winemaker Franc Cornelissen. While, all four of us have a highly above average knowledge of wine, the wine list looked quite unfamiliar. Exciting for the adventurous wine connoisseurs, unsettling for professionals. "My experience with natural wine is that you just don't know what a wine will taste like until you open it. I don't like the unpredictability.", wrote Lenka Sedlackova, a Master of Wine. High volatile acidity, who likes the smell of a nail varnish?


After all, what if not unsettling is the entire gastronomic experience at Noma? As a former wine writer, next to a serious wine collector, a former beverage director at COSME and an f&b manager working with perhaps the best wine cellar in the Alps, the wine program at Noma was bellow impressive. I'm a huge fan of sustainable wine making, and there are winemakers who mastered the excellence of low intervention wines (Domaine Milan, DRC, Foradori, Soula, Chateau Latour, Zindt-Humbrecht), but about half of the wines in the pairing were not very enjoyable if not flawed (the cloudy rosè by Christian Tschida was simply undrinkable vinegarish mess). My sister, an experienced sommelier at the best wine bar in Czechia, also finds the wines from this Austrian natural wine producer often flawed. There were two beauties poured on the night though – a balanced and deeply nuanced orange Cuvèe Alexandria by Domaine Matassa, Côtes Catalanes. Without any added sulphites, the high acidity mingled with the depth of the on the skins longer macerated wine. Also, the 3 Savagnins Floraux Jura L'Hopital 2016 by Peggy & Jean-Paul Buronfosse confirmed that the high acid/low pH varieties or regions are safe in the natural wine world.
Champagne Goustan Valerie Frison Blanc de Noirs, Aube, was good, but serving it late into the dinner promised a hangover the day after. The Grains de Folie naturally sparkling Chenin Blanc by Bruno Rochard was not bad either. I suspect that some bottles were chosen purely for the name though. Like "Love and Pif" by Yann Durieux – Hautes Côtes de Nuits, France. Highly acidic, very racy this aperitif Aligote fits only if your gut is happy with the powerful wash in of acidity. Much of Nordic food is already very acidic so for anyone not used to this or sensitive might suffer from a digestive discomfort.

Millennial concepts versus balanced, sophisticated taste of tradition
The meal has affirmed my suspicion that we have intellectualised and medialized dining to the point that taste and consistency are way less relevant than a vibrant social media presence, a unique story to tell on the camera (blame Netflix) and by simply cooking different. I ask you – what do you want from a meal? Your answer may challenge the so-called 'Best Restaurant in the World' rating quite radically. I do not say that some restaurants on the list (such as Etxebarri) do not deliver flavour, excellent service and reliable consistency, but most of the influential ones may profoundly change what we will be served when dining out at gastronomic restaurants. My three Michelin meal a few days later at Alain Ducasse in Monaco alerted me – the spaghetti on the menu now include pine needles! The Mediterranean cuisine that the restaurant is renowned for turned to Northern inspiration, thanks to that disputed World's 50 Best Restaurants list. Perhaps Michelin is not as relevant anymore, but superficial, pictures and videos oriented social media (whose influence and real number of followers are still murky), while chefs have to experiment on diners' level of palatability in order to score high elsewhere.


I must say: Thank you Noma, for bringing me over to Denmark, for the ingredients I bought and sampled at other restaurants (Kadeau, Baest, Mother – yes pizza, …), including your sister restaurant 108, were impeccable. Danish cheese, seaweed and berries rank amongst the tastiest I have had to date. Lars Ulrich put it diplomatically, writing in the foreword to Noma Recipes "René belongs to a very small group of unique creators. People who have turned their particular niches completely upside-down. Reinvented and redefined them. The Unafraid". I agree. I am unafraid too, writing an honest review about my and my table's experience at Noma 2.o this summer. Unlike the silenced comments on their social media channels, and zero influence from marketing manipulations, I am free to publish a fair, true, carefully balanced, yet still personal (for, as I wrote, taste is personal) criticism. I have dined at the world's echelon of best restaurants by diverse measures. Still, food is about nourishment and good taste, and I do not need chefs being compared to Picasso, Beethoven or Steve Jobs, for I did not have to eat their creativity.