Tropicana La Plage brings the authentic beach spirit of St Tropez to the new, eco-conscious millennium. Rejuvenating the highly commercialised beach, meant going more upscale, moving some structures further inland and building them so they can be easily disassembled during the off season for the flora and the sand to 'breathe'. While nature was granted a well deserved facelift over the new French law protecting the sandy dunes, some successful establishments had to close down, others were rebuilt and some privately owned patches like the legendary Club 55 just stayed as they were.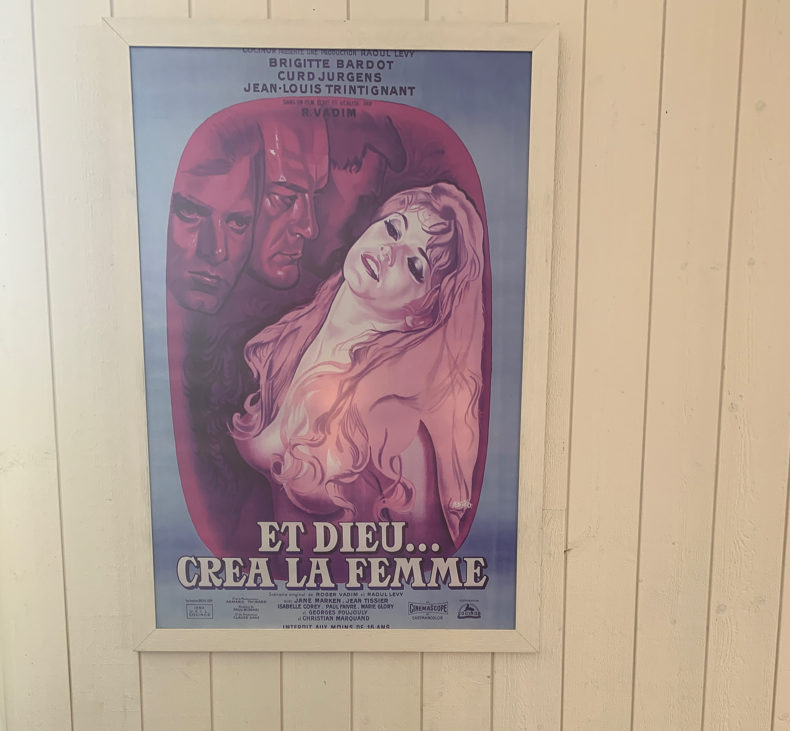 Tropicana had to be pushed a bit inland, keeping the beach bar and chairs in the front of the less party, more quality time focused stretch of Pampelonne closer to Ramatuelle. Losing a snap of the beach view that the family-friendly restaurant enjoyed before the broad revamp did not transform the experience into lesser grounds, rather the two level space feels better than before, while the food is close to the best in the vicinity of St Tropez. Our locally-based Parisian friends nodded to the realness of Tropicana.

St Tropez tradition meets contemporary taste: Tarte Tropezienne et co.
The well-looked-after smart child of the owner of the Tarte Tropezienne offers quality ingredients skillfully cooked into Mediterranean delectables in unpretentious atmosphere. A live band strokes the chords of bossanova as you relish the bounty off the white-cloth tables under the shading pines mingling with umbrellas. Dig your feet into the sand on the lower side, or feast cosied under the roofed part. You get more private space at Tropicana than at most other high-end restaurants on Pampelonne. No elbowing and cigarettes in your face of the Club 55 glitz and who is who, but more elegant and balanced lunch occasion.


The original bakery and café on Place des Lices sparked up to fame by Brigitte Bardot and the film crew behind And God Created a Woman, the sexy 60s blockbuster that landed Pampelonne on the star-studded echelon of summer voyaging. The sweet-tooth teasing Tarte Tropezienne pastries, a white plain or cereal bread served whole on your table with a knife to slice and ice cream from Barbarac, by far the best glacier in the area (try pistachio, straciatella or natural yogurt) are prepared locally off-site. For a gourmand coffee after the meal order the Café St Tropez – your choice of Nespresso coffee with four mini tropezienne tarts in different flavours. The famous cake is essentially a dense, flavoured cream sandwiched in a springy brioche topped with granulated sugar.

Tropicana La Plage: Mediterranean food for millennial tastes
Beyond its famous cakes and baked goods sold in its cafes all over South of France, Tropicana whips Mediterranean dishes with a touch of trendy plates like superb, fresh ceviche, or a vegan platter of crisp chickpea fritters, citrus-fresh quinoa salad (also offered as a single starter in a larger bowl), olive and anchovy dip and fresh vegetable crudites cater to all diets and palates. You can order a side of the panisses fritters or superb house french fries golden and roughly cut with skin on. Other gluten free dishes, daily catch paraded around for you to select from, superb thinly pounded veal, pasta, and daily specials like a refreshing gazpacho, goat cheese tart and a different dessert from the pastry chef each time broaden your options at Tropicana. As a generous starter, the French fresh goat cheese, grilled peppers, olives and toasted bread at Tropicana might be too much for one person, but as a main this locally sourced plate works. From the classics, the ham with summer ripe melons shows these pure ingredients at their best. For a shared meal, the 1.2 kg whole roasted chicken served with whole roasted young potatoes fills you up till a late night.


My favorites include the fried calamari rings, parsley (not too oily, perfectly crisp) with lemon wedges and house mayonnaise, while my husband cannot go without the generous serving of his favorite eggplant parmigiana, in olive oil and tomato sauce baked eggplant with melted parmesan cheese. The Nicoise garbanzo panisse fritters are a must order and so are the pastries by Tarte Tropezienne.


To drink, the aperol spritz aperitif is served with fresh citrus, and the wine list is narrowed down to French, mainly Provencal bottles. Non-alcoholic smoothies and detox juices (my husband's favorite is the Green Boost), tea and herbal tisanes, iced coffee for a much needed pick-me up round any meal up. being on the beach though, I would strip the cocktails and juices off the plastic straws since the greatest pollution in our oceans is due to the plastic waste. There are plenty compostable alternatives.
St Tropez has suffered from the influx of careless party-goers and cheep tourism over recent years, but with more businesses of local quality, such as Tropicana La Plage, I glimpse a more authentic return to the bygone era of Southern French glamour.