Raaka means raw, wild in Finnish. That is the echo of how these Brooklyn-made chocolates are crafted from the organic, fair trade-certified, gluten-, nut- and soy-free, all kosher and vegan ingredients. In an easy fall weekend, I enrolled myself and my husband into a decadent chocolaty experience at their Red Hook production facility. After re-tasting them all myself, my other half gasping with pleasure nodded to my inclusion of Raaka in my post on the best chocolates made in America.

Raaka: the 'Virgin' chocolate approach
Like an extra virgin olive oil, Raaka uses only unroasted cacao and processes the mass in as low temperatures as possible. The virgin chocolate maker believes that some of the cocoa's fruity and bold flavours are better expressed by not exposing the beans to an extreme heat.
At our visit, we started with tasting two types of raw cocoa nibs from the rich Peruvian and the tropical Tanzania beans. The African queen captured me so powerfully, that I lured for more of their raw pleasure. Like Alain Ducasse's cracked cocoa nibs, these Tanzania cracking pleasures should be sold by Raaka in bags.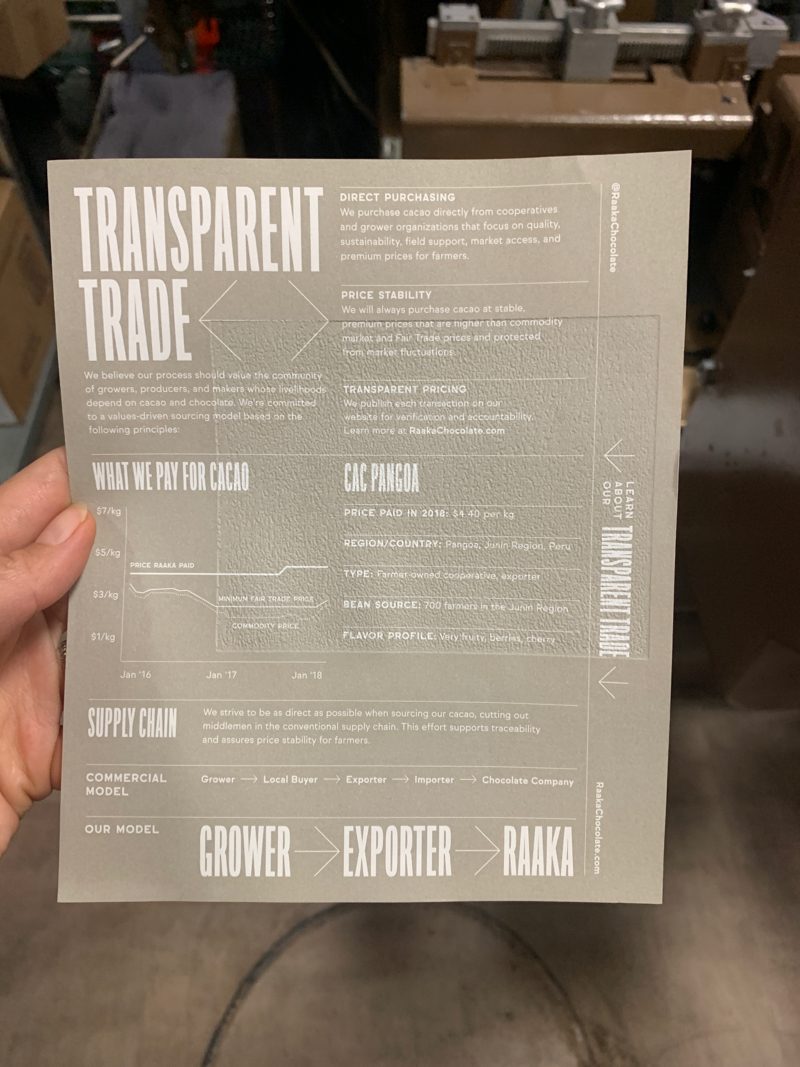 Equitable business model
Transparent trade is the core of the business at Raaka. Sourcing from small cooperatives with sustainable growing values, and paying a substantial share from the sales, often a double above the fair trade minimum, Raaka steps closer to a guilt-free chocolate indulgence for eco-conscious consumers. At the back of each label, the exact price paid for the cacao used in your bar compared to the commodity and fair trade charts alerts you to the stark market pressures. Perhaps the most important aspect of quality is the access and harvest of the raw ingredients.
Every step – from bean to bar – is in detail explained and demonstrated during the tour. Thinking deep into the details, the leftover cocoa husks are donated as a compost to sustainability promoting projects like the Edible Schoolyard in Brooklyn.


Established in 2010 in Red Hook, the industrial workshops domaine of Brooklyn, the chocolaty pleasure is made in small batches.
Starting with an improvised sorting machine (PHOTO ABOVE: an intriguing combo of an old juicer, a vacuum cleaner and a fan), a curious relic from the first years in Raaka's production, now replaced by serious Swiss-made machinery.
Moving to the strict temperature-controlled grinder mixers (watch the seductive videos bellow) from which we got a heaven-meets-my-tongue taste. Watching the smoothening of the cocoa mass through tightly-set cylinders, our mouths were drooling with anticipation. The wavy folds of the creamy substance started to shine like a cup of real hot chocolate.
Tempering is an essential step in chocolate making, and even Raaka would not skip the smoothening of the product that would otherwise result in undesirable grey maps all over the chocolate. Our guide showed us such a 'dusty' piece that needed to be re-tempered. Some hippie, raw chocolate makers sell chocolate like this, but this rustic, lazy process yields dry, powdery texture.

Playing with sweetening agents and original flavors
Raaka makes pure single origin dark chocolates, but also smartly flavored blends. They experiment with the sweetening agent – I saw sacks of organic cane sugar, coconut sap sugar (its nearby competitor and another favorite of mine Fine & Raw uses exclusively this low GI sweetener), maple sugar, and yacon, which is a Native American root that has a low GI. Some are blended together in certain bars. In my favorite Peruvian Pink Sea Salt in Zorzal 71% cacao from Dominican republic, cane meets maple sugar. In Maple & Nibs 75% bar from the CAC Pangoa farms in Peru, the crunchy nibs play with the smooth maple crystals sweetened chocolate like an exotic fruit breakfast granola immersed in a thickened Nesquik.
From the same cocoa is another sweetheart of mine – the Oat Milk, where 58% Peruvian cocoa meets luscious, dairy-free, powdered oats with ground coconut. I prefer this blend to their pure coconut milk version. The creamy texture comes from the coconut, but its toasty coco taste is balanced by the addition of the oat flour that adds more robust texture on the tongue.


The recent label and logo redesign (photos bellow) shifted into a more simple, impactful, functionally colorful landscape renderings over the former graphic patterns. The new logo was designed by New York-based Andrea Trabucco-Campos and Simon Blockley from California took over the intensely hued landscapes for each cocoa's origin. I liked the look before (photo above) more, but a business seems to require bold labels in the stiff on the shelf competition. Packaging in post-consumer recycled paper as they used to do and using a biodegradable foil to wrap each bar is an eco-echelon yet to be climbed by Raaka.

Experimental chocolate with an American inventiveness
Seasonal flavors and monthly subscription introduce experimental, limited editions titled 'first nibs' to your palate. Cherry Creamsickle, Vanilla Maca Crunch and Raspberry Mint are some we tasted. At our fall visit, micro batches of Tahini Swirl and Orange Halva made it into the hedonistic box of pleasure shipped all over the US.
The Green Tea Crunch contains a roasted genmaicha, as opposed to the often-used powdered matcha that does not pair well with dark chocolate in my opinion. A 66% Dominican Republic cocoa with organic puffed quinoa adds an extra crunch. I am not keen on the monkey Bananas Foster, the overtly embellished Cocoa, Coconut and Strawberry and the Cabernet Sauvignon cask flavors, as they overpower too much the impact of the cocoa.

Back to the virgin origin
From the pure bars, the unique Peru Nacional varietal, with lighter beans called "white" cocoa because of their inherent higher percentage of the cocoa butter, is naturally sweeter, lighter and smooth. In 2012 Raaka created single vintage bars from this Maranon Valley origin. Available in various percentages for all tastes. I go above 80% when I can.
For serious cocoa addicts, 100% cocoa from the banana leaf and fruit scented Tanzania beans in a bar of chocolate is the ultimate expression of the soil in its growing place. From the same beans, the Bourbon Cask Aged 82% dark chocolate with a lingering oak scent, a touch of caramel, vanilla and bright cherry aroma has been my go to treat ever since I discovered Raaka at the irresistible ABC kitchen section years ago. The unroasted beans acquired a one-month-worth woodiness in a used Bourbon cask. This is upcycling with a decadent result.


You can experience the chocolate making process at the Raaka manufacture every Saturday. The $15 includes a full tasting, from the cocoa bean to their wide range of chocolate bars. Long pants and sleeves, closed shoes and wearing a hair and mustache nets are mandatory as the working space must comply with the hygiene standards for food production, so beware — not the ideal first date. Gourmands above eight years old − from a curious schoolboy, young couples, parents accompanying their bellow 18 offsprings to intrepid elderly friends, formed our white-capped group.


Raaka reasons its restrictions: "Our tours and classes can be quite information heavy, and all of our chocolate is dark." Hence, kids may not get it, and who wants complainers in a serious chocolate immersion?
Beyond savvy gourmet shops in America and Canada, you will find Raaka's chocolate bars also in Europe (Selfridges). Competing with the old continent's by centuries-polished knowhow, I discovered that indeed "happiness is unroasted".