In the sunny valley of Swiss castles, the waiting list at the gastronomic restaurant at Schloss Schauenstein can delay your appetite for months. You are up for the most special fine dining treat in Switzerland. At this rural, three-Michelin-starred seat of the Swiss celebrity chef Andreas Caminada, dining at a castle beats any fairytale. The chef's growing empire now includes four gastronomic concepts reigning from Switzerland to Bangkok. Since I moved to Helvetia, I've tried countless lauded restaurants from Geneva to Zurich, but none is at par with the meal at Schloss Schauenstein. So, put your princess dress or a jacket on and ride your four-wheeled carriage over for a memorable gourmand retreat. I've already reserved my fifth meal there. Well, now is July and the next availability together with a room at the castle was in February! Plan ahead as the Swiss do, oomph.
A cuisine that is not Swiss, but still local
As you exit the Italy — Zurich highway, just a few plates throw from Chur, a fertile Alpine valley lures into Fürstenau. Once there, no road noise disrupts the idyl, birds perhaps, a burbling creek or a local factor passing by in a tortoise pace. The peaceful setting in a modestly sized castle comforts with impeccably selected contemporary furnishing and sexy evening light. Something that could not exist anywhere else, for Mr. Caminada's collaboration with local biodynamic farmers and growers is the seasonally changing key to his reducing to minimum of most luxe produce from elsewhere (there were exceptions of course such as the 2019 creation of langoustines from South Africa or a 2005 dish of duck liver from France). A daring move mounting dizzying peaks of confidence in a landlocked country.
If you want to experience the Swiss hospitality packed into one, charming hamlet, [check out #fürstenauthesmallestcityintheworld] nested in a valley between Grisons' (Graubünden) peaks, there has not yet been a better place than Fürstenau. It is better than anything in St Moritz, and in Basel at the Cheval Blanc it's more French than Swiss. Nevertheless, like his French predecessors, Regis Marcon, Georges Blanc and other gourmand villages in rural France, you will arrive at a full package while staying overnight. A bakery, gourmet shop, casual bistro, an ice cream parlor in summer, three star restaurant and a new vegetarian counter concept OZ. The latest project aims high as the chef disclosed while casually chatting with us and other guests during our bistro lunch. The cream of his gastronomic team was shuttled across the road to make OZ as good as the fine dining at the castle. Catering to the urgent contemporary desires of the eco-minded and ethically alert customers, it is a timely venture.
Focused and supportive mood at Schloss Schauenstein
To decode the purpose and to understand the perfectionism behind this unshakable three Michelin starred and 19 GM points wielding restaurant, I had to dine, stay and talk with the friendly team members four times. I arrived at the conclusion that Schloss Schauenstein is about sharing passion, experience and creativity between a young team of talented cooks. In spite of the chef's Andreas Caminada celebrity status in Switzerland, the core in this expanding gourmet village is a warm welcome. The chef, his wife who runs the Ucellin Foundation supporting young culinary talent, or his restaurant managers walk around the tables for small talk. It is a family business after all, his relatives design the menu cards and the new culinary magazine. Friendly professionality penetrates all three concepts at Schauenstein as well as at the chef's four (so far) IGNIV outcrops. Chef Caminada is also a superb mentor as the kitchen mood feels rather focused and relaxed than anxious and stressed. The final plating is always done by the chef, even the desserts.
Influences: the balanced cooking style of chef Andreas Caminada
Andreas Caminada cares about precision cooking. His Swiss efficiency produces perfection plate by plate, yet not that exciting, emotional explosion that some unforgettable dishes can create. Each time we enjoy the meal wholesomely, yet my heat does not bounce out of my ribcage with that oomph, I want this plate again, infinitely! It is above all a balanced, consistently pleasing fine meal in a gentle atmosphere.
His contemporary culinary style influence comes from the Dutch super chef Sergio Hermann, a close friend with whom Mr Caminada cooked. Marcel Skibba, the chef at the IGNIV concept at the Badrutt's Palace in St Moritz each winter, under the astute lion eye of the head chef currently manages the kitchen at Schloss Schauenstein for the rest of the season.
The three Michelin experience starts with aperitif snacks. There is usually the signature beet cornetto with slight sweet touch and a herbal (often tarragon) savory macaron, the rest is often inspired by the garden's bounty (onion tartelette, asparagus with ponzu, mushroom mille feuille) including its edible floral beauty. Once we had a sublime Fake Oyster made from lettuce and potato starch. The beef pastrami in a taco shell with petal salad was served each meal. Although they slightly change the menu every season, petals and plant fronds crown many of the dishes here, shower with the sense of freshness. In summer when weather favours the balmy outdoors, the snacks are served on the castle terrace.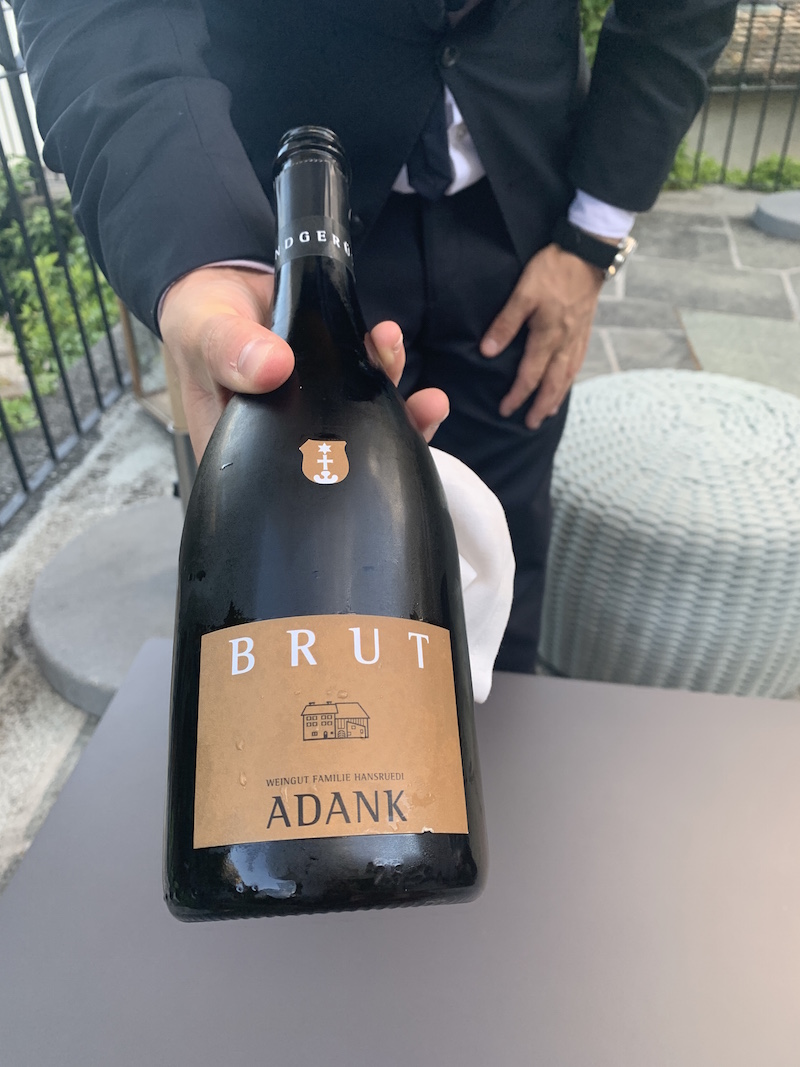 The wines are mainly local. Sparkling brut by Adank, dry Riesling blended with Sylvaner by Obrecht, a Chardonnay or Swiss indigenous Completer by Studach take their turns. In the pairing though other countries feature, and so does beer. The sommelier has a special release from our favorite Swiss Pinot Noir producer Obrecht. His late release Monolith is rare and I recommend trying a bottle as we did.
The pink meets green print menu brochure complete with the detailed description of the history of the place also contains a living gift in the form of seeds that you can plant wherever you desire. A living memory of a special meal out. Leafing through some castle legends and stories of the inspiration behind some signature plates of Andreas Caminada busies your mind until your first courses arrive. The choice is of having the menu with extra additions. Such as chef's choice of Swiss cheeses and charcuterie served with dried fruit bread, boiled and baked potatoes, additional dessert and/or two surprise courses. These may include a superb Ox Gyoza nesting under a duet of verdant and innocent white foam. The Veal Sweetbread with fennel is the top gun of the house usually included in one of the surprises.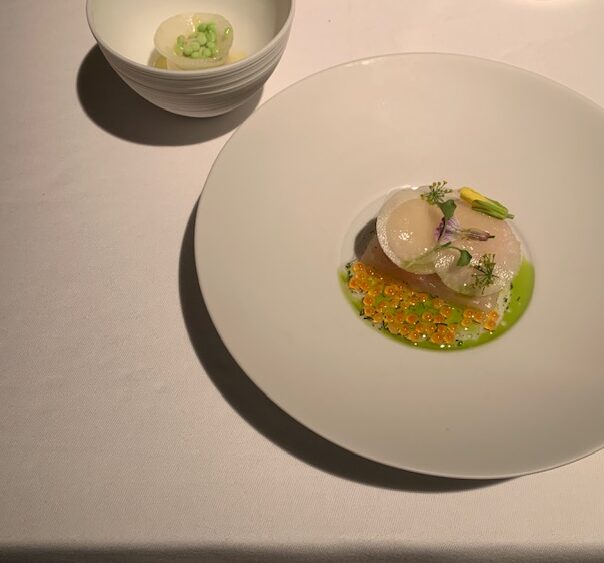 Sour taste is not neglected. In the Nordic style, many plates including the desserts include fermented or pickled plant parts stored in a cellar at the contemporary built Casa Caminada across the road. Sourness shows naturally mainly in the fish dishes spanning trout, char or other white fish like pike perch from the farmers around the Alps.
Our favorites from the smaller courses were the lemon miso fried Cauliflower, the liquified Lettuce head with jalapeño, the Pea in Kohlrabi "ravioli" and the Trout from Ranch Farsox in the Albula Valley, red beet (chef's favorite vegetable) or kohlrabi with peach as we had it this July.
In the meaty mains (usually four plates in each tasting menu) realm I prefer the Venison served with peach like this July, but my husband is always smitten by the melt-in-your-mouth Pork of the Ormalinger Weideschwein breed from Hofgut Farnsburg. Last time I also had a tender yet well cooked through Quail served under a sheet of marinated beetroot in its red beet sauce. Of course, you can order a vegetarian or vegan menu.
Unfortunately, for those who wait all dinner for the sweets, the desserts at Schauenstein wane next to the superb savory courses. In spite of their prettiness, there was never even one that would leave us sighing for more. A souflèe, a mince-pie like cake, some fruit sorbet with sourness incorporated into it… Perhaps it is just the combination of too many of the pastries meeting complex flavors that just do not sit along that well.
The hours-lasting experience ends with additional sweet snacks and a tisane, tea or coffee either at your table, on moonlit terrace or in your room at Schloss Schauenstein. Chocolates, candied fruit, fresh or sour (rhubarb, sea buckthorn) fruit tartlets, and other finger-sized mouthfuls conclude the memorable feast so fully sated you roll into your bed minutes after.
Schloss Schauenstein keeps evolving in all senses. Each time we visit, there is something new in or around the castle. Whether it is visual in the form of plating the signature dishes, their seasonal accompaniments or the interior design or expanding the horizons of your taste. Collaborations, newborn concepts, touching up the bakery products, adding new drinkable, edible or kitchen-useful souvenirs at the shop, the chef and his team do not rest on his laurels, but keep moving forward. That is why we love returning. Tasting creativity is perhaps the most indulgent artistic experience one can have. The small castle at the feet of the spiking mountains is grander inside than a first glimpse may suggest. Its gardens, contemporary interior and ceaselessly upgraded anything in the cluster of the gourmet village life.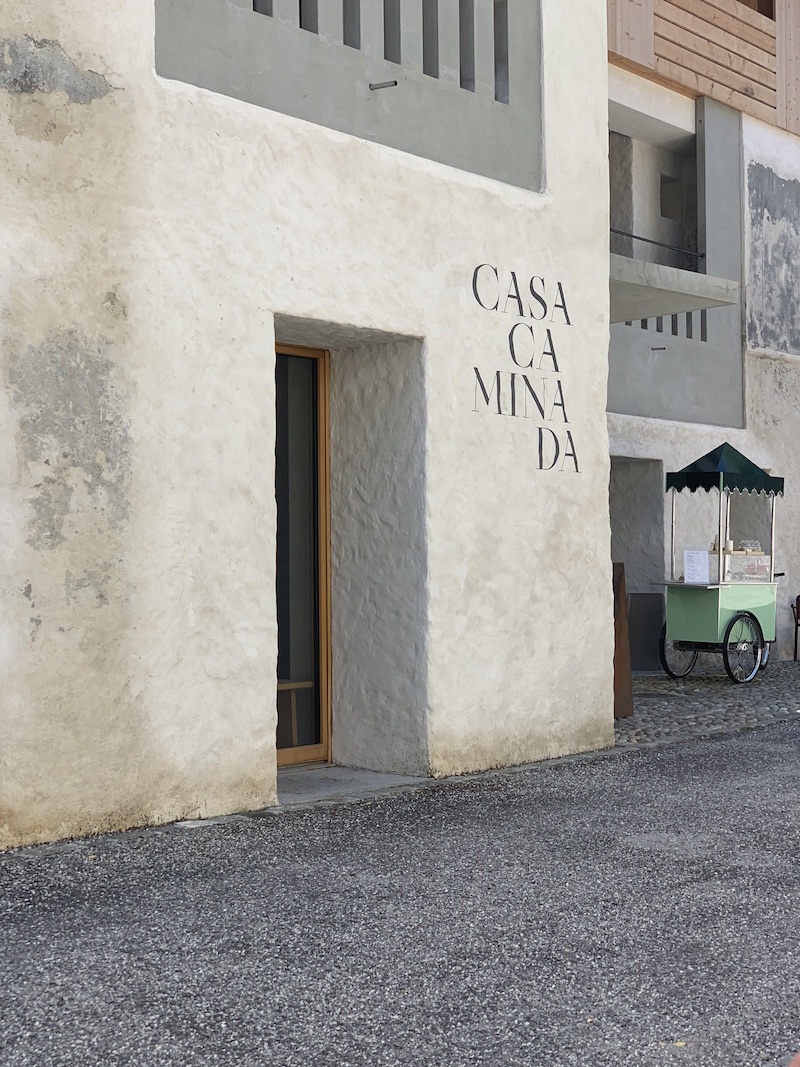 I highly recommend staying overnight. Not just for the excellent breakfast with freshly baked house breads and that oh so chocolatey flaky pain au chocolat, the comfort of not traveling with your head filled with wine, but also for savoring a light lunch at Casa Caminada (photos above) the day after. After a big wine night, we enjoy the non-alcoholic sweet seabuckthorn Swiss Tonic spritz they make there. The area also charms with painterly fertile fields, ripening orchards (apples, cherries, pears, hazelnuts, walnuts), golden dusted mountain cliffs and vibrant rivers. The swimmable Lake Canova is less than an hour walk or one can hike uphill to burn off some of that delicious affair. In summer, there is plenty to be foraged.
Wild strawberries lace the hedges, mushrooms the forest beds. Inspired by the menu from our July night, I picked elderberries to pickle them like capers later at home. The guests of the hotel can use a small garden, complete with a plunge pool, calm reading chairs, and a delightful kitten eager to play restlessly. Booking months in advance is necessary as there are not many other places to stay in the immediate area.