It used to be extremely challenging to find an excellent croissant in London when I lived there about a decade ago. Yet my most recent returning trips whetted not only my appetite, but awed me with superb quality pastries. Spanning from English scones, exotic Japanese thousand layer crepes, popular nordic buns to creative takes on desserts by the most talked-about pâtissier landing from Paris, London has it all now. Whether it was the pandemic home-baking I have no clue, but some of my selections were getting hot already before all the lockdowns.
How one finds the pastry shops in London?
I randomly popped into some rather good looking pastry boutiques on my daily breakfast hunt, but mostly the winners were trusted recommendations by my savvy local friends. My gratitude goes to their happy life in London, their gourmand curiosity and their knowledge of my own palate, globally rather spoiled with the best there exists (not always an advantage as I am too discerning).
For diversity, the best pastry shops in London now that are streamlined here reflect a sliver of the distinct cultures living in the expansive British capital. Please, do not be offended if your ethnic background is not featured as this would require a book-long guide (who ever goes to all featured in such compendia?), not a shortlist for practical use as I intended this one. I focused on Central London, not just because this is where many travellers head but also because the fiercest competition often dwells in the epicentre. Of course, I had to find a perfect scone to go as well!
Arôme bakery 
Arôme in Covent Garden
was the hot gossip of the town during the pandemic and it turned out to be marvellous! The Franco-Asian bakery and pastry shop reflects the training of its co-founder, the French-born pâtissier Alix André whose business partner in the bakery as well as his wife are both Singaporean. While this cultural duet is rather common and stirs long queues in Tokyo and Singapore, in the West we got into the beautiful marriage of
matcha
,
miso
,
shiso
,
yuzu
,
adzuki
, and other traditional Japanese dessert additions only during the past decade. Perfectionism of execution, organic flour and sensible originality is what sets Arôme apart from the crowd. Their spiky horned croissant 1930 (the classic version) can be baked (ask for warm) with ham and cheese like c
roque monsieur
, plus a
japonisme
 filling of dried
bonito
(tuna) flakes (known as
katsuoboshi
) béchamel or wilder even is the hotdog croissant topped with Japanese BBQ Sauce and sesame seeds. Their nordic bun has a Malay whiff of coconut with palm sugar (
Gula Melaka
Coconut Bun) while the bestseller Honey Butter Toast was inspired by a Singaporean favourite and is baked throughout the day for fresh crispness. Japanese touch in a miso with bacon, cheddar cheese, coriander and spring onion escargot (snail), apple joins miso caramel glaze or pear with shiso leaf in the danish. Next to the classic pain au chocolate Arôme offers a giant chocolate croissant flaked with white almonds. The signature bread➰Shokupan is a Japanese toast bread ideal for sando sandwiches.
Speciality pastries in London
Wa Patisserie is the best pastry shop in London for the mille crêpe cakes in my opinion (from matcha, strawberry, to more western earl grey, oreo, to cheesecake flavour). Kova Patisserie also bakes decent macha rolls, shortcakes and mille crêpes next to their indulgent bubble teas.
Nearby in the theatre district is the singleminded spectacularly decadent
Santa Nata
bakery. The only thing they bake is the sublime Portuguese custardy tart 
pasteis de nata
. And they do it well. If you tried in
Lisbon
, the nostalgia pours from your tongue with an indulgent satisfaction.
Craving some choux but do not want to overindulge? Maitre Choux makes mini versions (chouquettes) in a wide range of flavours next to their top notch eclairs masterminded by a three Michelin Star-experienced pastry chef. There are four locations, so pick the most convenient for you.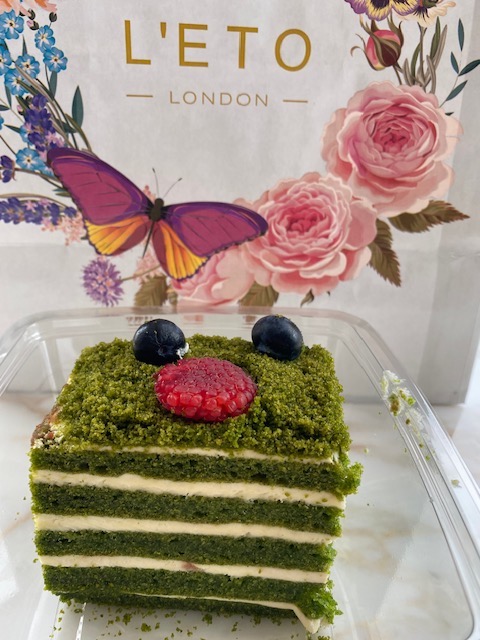 Buns from Home
Buns from Home
 have just expanded from Holland Park and Notting Hill to the City and Covent Garden. They really got me. Walking along Long Acre, my nose literally teased me in. I had to find that stuff smelling so oomph amazing! The irresistible aroma of freshly baked spiced pastry is the best any city can tease you with. Their double baked nordic buns with a creative twist aren't as sugary as most. Must haves are the pistachio with apple cinnamon bun and the equally sublime banana bread walnut with cardamom. The secret dwells in the laminated buttery croissant style dough from French flour and butter (different from the yeast raised traditional style in Scandinavia) and the milled nut and pureed fruit additions into the filling. These cardamon and cinnamon
bulle
 are incomparably superior to the popular sprawling chain Ole & Steen in London. Plus, the weekend specials rock the boat with something new (check
their Instagram
for some creative, naughtiness craving pop!) each time.
Connaught patisserie
Connaught patisserie is located in the namesake hotel in Mayfair. Here the five star pastry chef bake what we think is the best croissant in London, I also enjoy the smooth scone. The concept feels like the copy of the Parisian Le Meurice, Le Bristol and the Ritz, all of which opened high- end pastry boutiques on the side of their lavish lodgings. At the Connaught there are actually a few tables to sit around with your sweet French treats and a cup of coffee. Trying the signature CONNAUGHTY HOUND, a dog-shaped a chocolate hazelnut cake shaped as the mascot of the hotel is more for fun than the best they offer, but I love their openness to offering pastries from the best London restaurants such as the River Café. Its Chocolate Nemesis's the best chocolate cake in the city. Let me know after you try how did that indulgent bite feel?
Mount Street is buzzing, yet the nearby Milanese export, the
Pasticceria Marchesi
in London is by far not as good as in its Italian homeland.
Cédric Grolet at the Berkeley
Cédric Grolet at the Berkeley
 is the first beyond Paris opening of the namesake contemporary star of French pastry. From Le Meurice to Knightsbridge, where the spacious café is unlike the tiny, take-away boutique on the side of the ultra luxe Parisian hotel, this is certainly an upgrade. The lemon is his most famous creation, although Grolet was not the first to create desserts that look like a piece of fruit. Long before, the legendary pastry chef at
Le Chèvre d'Or
in the South of France had created such wonders. For London, the Parisian celebrity pattissier created the exclusive scone, which has not flour in it. Grolet's signature creations are based mostly on cream, delicate white chocolate (cocoa butter) and intense flavours of the food item they are meant to represent. Kind of edible sculptures. From the wheat and butter pastries, the small hive of a croissant peels beautifully in its laminated layers and the custard rose filled with generous dense vanilla pudding are both worthy of your cravings.
Saffron inspired best pastry shops in London:
Why am I elevating cakes with saffron? Simply, I think that the most expensive and valuable spice in the world deserves a special attention, plus it is in pastry where it shines best for me.
El & M may be silly to claim being the most Instagrammable cafe in the world and not everything there tasting perfect, but their saffron cake with an extra impact of dulce de leche sweetness is ravishing! One of the best saffron cakes I have ever tasted. The sponge is soaked in the saffron egg sauce, plus the cream topping, either adding on the fluffy contrast of lightness with intensity. No wonder they have just opened branches in the Arabic hotspots like Dubai, Doha, Kuwait, Riadth and even Paris. I am not sure if they replicate the success, so only go to their tiny first branch in Mayfair on Park Lane.
L'Eto pastry make similarly ravishing saffron and rose cream cake. L'Eto further experiments with more wild ingredients such as vegetal juices and colouring in the sponge cakes. Still, they also make superb tiramisu!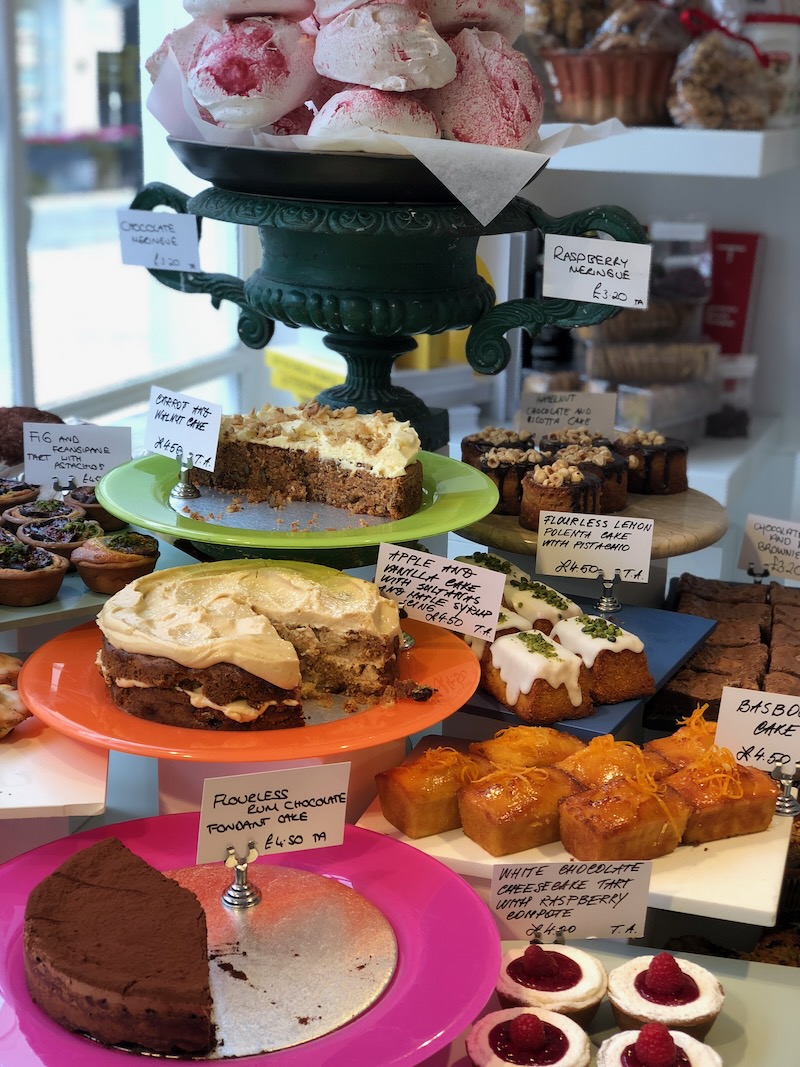 Why did you left out?
I can hear influencer photo-hungries scream, but what about Ottolenghi? Yes, the cakes by the team hired by the famous Israeli cookbook author and chef look great and you want to spoon them off with your nose's tip. Yet, I could taste over the years as the empire expands, the quality flounders. Just to make sure it was not a dip a couple years ago, I got my once favourite granola and a carrot cake, but they just lost it. The best pastry shops in London now have far surpassed this staple of indulgence.
The widely praised
Flor bakery
moved from Borough Market to online orders only at
flor-bakery.com
for pick up or nationwide delivery (a growing trend) recently. So I cannot include it into
the best pastry shops in London
now since it is less accessible and flexible.
I guarantee, unless you are a celiac or must adhere to the gluten-free diet (this post is not for you, I am sorry), your next sugar craving will be sorted satisfactorily at the above pastry stars shining bright in London.