Chez Davia is one of these rare family-owned restaurants today still handed down through generations. Born of Italian emigrants to the Riviera, first their daughter took over, and currently in the third hands of the impressive grandson Pierre Altobelli, the meal at this classic Niçoise restaurant might be the best you will savour in Nice.
Mother, son, plus a friendly and authentically sharp Niçoise workforce chez Davia create a familial ambience. The Japanese wife of the chef also sometimes helps out, while during lunch service his son hops around. Finesse and a sophisticated touch on cuisine Nissarde shows in his elegant handling and seasoning of the local, carefully selected ingredients. Even the floral arrangements like an artichoke bouquet in spring and sunflowers in summer feel like Southern fields blossoming with edible beauty.
Riviera bounty transformed with precision
Sometimes the Bib Gourmand by Michelin guides to a greater satisfaction from a meal than any starred experience. Davia is the one restaurant in Nice we always return to when in the region. In the nearby pompous Monaco, one could only dream about such an authentically elevated, local, quality dining and Cannes is either bling bling or not worth the trip. No tasting menus, caviar, gold, lobsters and wagyu beef from distant lands arrive in the tiny kitchen chez Davia.
After gaining experience at the legendary restaurants in the region, chef Pierre gathered further skills and knowledge around the world — from the truffled cuisine at Bruno (Lorgues), Ducasse (Louis XV in Monaco), Maximin (Vence), Morisset, Gagnaire (Paris), Yannick Alleno, with brothers Pourcel he traveled to work in Shanghai, then moved to Hong Kong (Amber), Troisgros in Tokyo and finally at the Intercontinental in Osaka he met his current wife. Back in Nice, the chef with his passionate team elevate what they are given by the Mediterranean fisherman and Alpes Maritimes farmers into still authentic plates, yet better.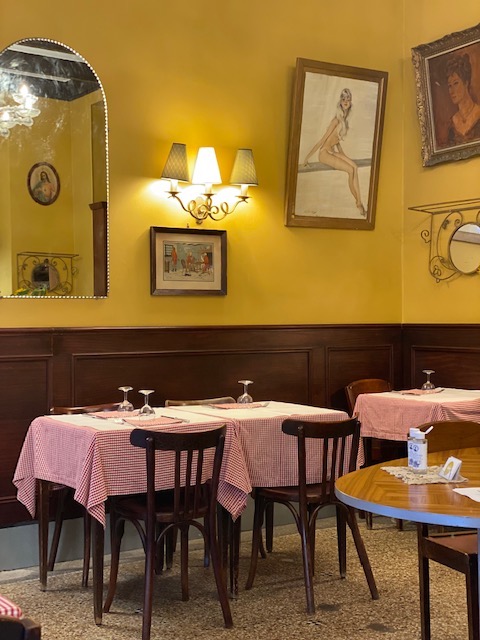 Sweet homey delights chez Davia
On our recent visit, the adorable mother of the chef took the orders with her broken English (my basic French mended all holes) and dedicatedly sat behind the desert counter, counting the receipt slips with such seriousness, that she must have recounted each at least three times. Chef Pierre Altobelli often ventures out from the kitchen later in the service, aiding the floor staff such as assuring that a proper grate of the sanguine-hued lemon zest is snowed over the exquisite lemon tart. The fragrant home-made tart is a must. A thin, buttery crust crumbles wholesomely under your spoon and the citrus fresh custard swishes through the mouth so lightly and puissant! Since I got carried away by the end of the meal, the crème brûlée is torched prior to serving, and while the ice cream is only vanilla flavour, it is made by a regional artisan for those who just must have it. The compact, open kitchen is just too small to add a gelato machine in.
Seasonal gems on the weekly changing menu
In spring fava beans and green pea pods make it into homemade tagliatelle pasta au pistou (herbs and olive oil pesto) cooked perfectly al dente (in summer the delicate white coco beans take reign). A firm bite with fresh spring flavours. Also with young sugar-snap peas and sheep's curd, the young favettes beans shine as much as on the raw artichoke salad.
We always order the signature marinated anchovies spiced up with pimment d'espelette generously drizzled over with olive oil. This is perhaps the best anchovy preparation we have ever put into our mouths, that perfectly pairs with the locally sourced bread, soaking all that perfection like a sponge. Delicately melting on your tongue with the sweet, slow roasted, skinned red pepper, topped with fresh basil leaves and a scant rosemary seasoning for some mouthfuls' brightness of herbal flare.
Also a staple chez Davia are the stuffed sardines with the green leaves of chard. Crisply breaded, not greasy, the stuffed deep fried fish is accompanied as most sea bounty here with a slice of lemon.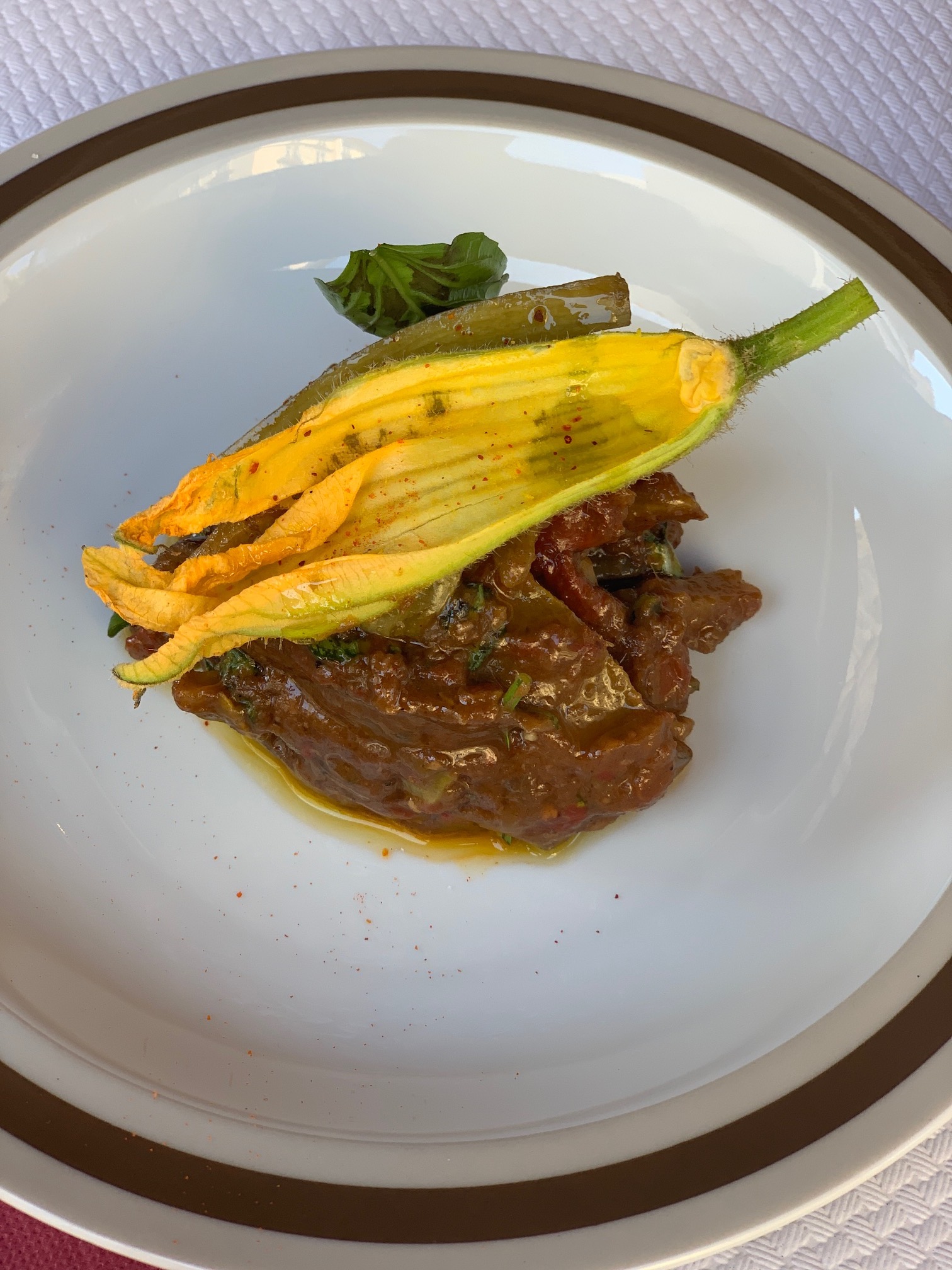 Cold served ratatouille with Moroccan curry spice in summer. Aubergine and zucchini pickles add vinegary kick and a petal of courgette flower like a boat delivered the most sublime mouthfuls into my needy lips. In the heat, also the perfect rendition of Salade Niçoise or cold rabbit terrine with fragrant sage, a generous minestrone or soup with pistou (French version of pesto, without nuts, just herbs, garlic and oil). Aioli provencal also mades it into the menu. Basically, Riviera meets provencal cookbook with Italian influences (Nice used to belong to Italy), voila Niçoise cuisine! San Remo tender shrimps were served raw with a drizzle of olive and the lemon gold. Stockfish was cooked in San Remo style.
With minced veal stuffed little local vegetables cannot be omitted on the traditional menu in Nice, and they also can make the main course. Still, in chef Pierre's rendering they are delicately handled, not overcooked as elsewhere and light. The fish changes according to the daily catch. The Fennel fried line-caught rouget fish (red mullet) served with lemon and spicy rocket salad from Ventimiglia market was extraordinary. We know the farmers on this Italian border market very well. Only there we could find the best quality vegetables, seafood and fish on the entire Riviera. The daily-changing cheese plate is also from this market, but curated selectively from small local producers around the border between France and Italy.
Daube de beuf comme l'arriere pays Nicoise chez Davia is cooked slowly to mount-melting tenderness of the beef and topped with cooked beetroot and black Nicoise olives.
The wine list chez Davia are mostly Southern bottles ranging from very affordable to rare finds. Many biodynamic or organically farmed. We like the local Clos St Vincent Blanc Le Clos from the whites if on the list (it slightly changes almost daily). Designated AOC Vin de Bellet, the winery spreads across the Niçoise hilly back country. Another time, a glass of Languedoc rosé to start was fresh yet floral deep like a blooming hibiscus. A characterful Rhone Syrah (photo far bellow) took us by our tails, so returning for second time that same week, we had to get another bottle.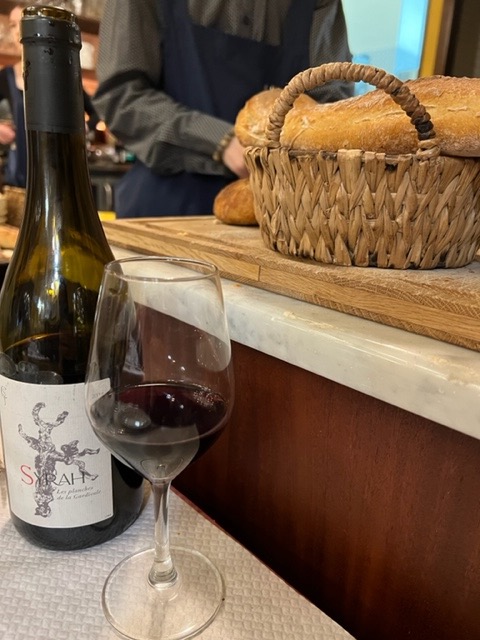 The menu chez Davia is handwritten entirely in French, but during the most touristy summer they pen up an additional English version. The sharp and helpful sommelier or the other waiters are eager to help with translation.
The only other family run restaurant with a similar style in Nice is the much smaller La Merenda in the old town. We like them both, but found the cuisine now chez Davia more refined, even sophisticated, while still satisfying with abundant, balanced flavours.
Address: 1bis Rue Grimaldi, 06000 Nice
Open for lunch Wednesday-Sunday 12:30-2pm & dinner 7:30-10pm
Closed all day Monday and Tuesday for lunch.