Chocolatier and artist in one, known for his giant sculptures carved out of chocolate. Like in a museum, you can admire many of his works at his flagship store on the Place de Madeleine in Paris. Here, you can also purchase his Grand Cru chocolate bars, Roger travels-inspired truffles, ganaches and signature caramels – Amazon chocolate caramel with lime freshness, the Earth blue Cyclone chocolate caramel & plum, and the wild Savage chocolate caramel. Named Meilleur Ouvrier de France in 2000 at a young age of 32 was a seal of approval for his wonder-arousing tasty treats.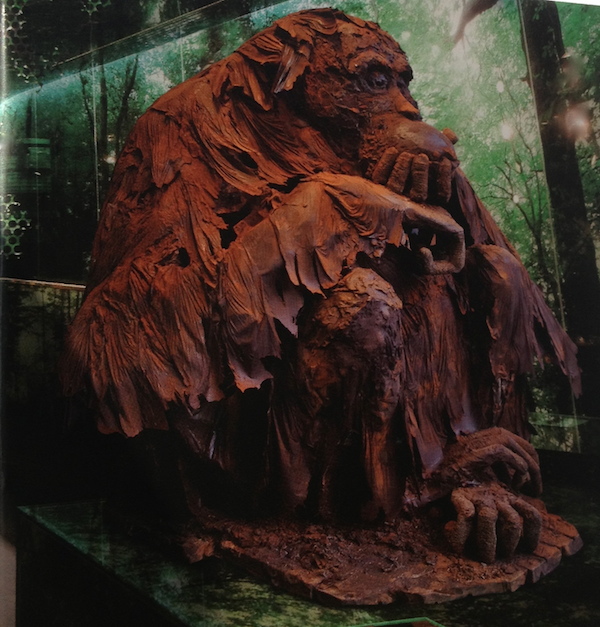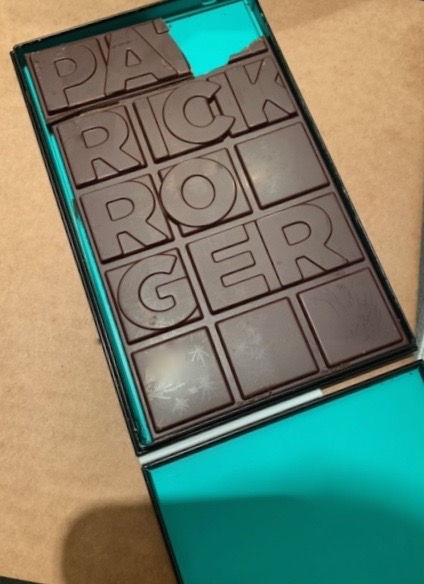 3 place de la Madeleine, 75008 Paris
 +33 1 42 65 24 47
 Mon – Sun: 10:30am – 7:30 pm
The signature product Les Petits Richart is not to be missed. A pleasure without guilt as each tiny chocolate bonbon weighs 4 grams and contains only 15 calories. RICHART removed the sugar and cocoa butter and kept the focus on the most delectable ingredients wrapped inside a 73% Venezuela Criollo dark chocolate shell.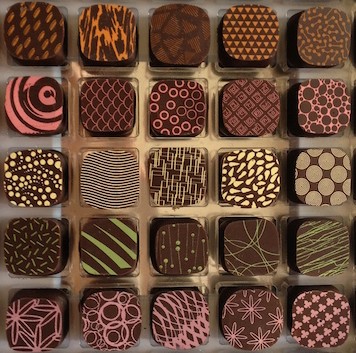 The flavors were divided into seven aromatic families: roasted (all nutty and coffee-based, but sesame praline is outstanding); balsam (bleached almond coulis, vanilla bean ganache are deep); citrus (calamansi and grapefruit coulis are refreshing); fruity (Ardèche chestnut coulis is surprising); floral (Damask rose and citrus coulis is exotic); herbal (basil, matcha, thyme and rosemary pralines are sublime); and spiced (the curry is an exquisite South Asian beauty).
Ultrafine Chocolate squares from single origin cocoa of various percentages, 'Infuzzz' and chocolate bars complement the irresistible chocolate collection.
Richart goes beyond chocolate with sweet macaroons with wild flavors of foie gras, roquefort cheese or black truffle. All available in the online store.
  258 Boulevard Saint-Germain, 75007 Paris
 +33 1 45 55 66 00
 Mon-Sat: 10:00am – 7:00pm; Sun closed
Michel Cluizel
Cluizel is a three generations spanning family business faithful to its original location in Damville (Normandy-France), where also the Chocolate Museum – le Chocolatrium®  entertains and educates curious chocolate lovers. At Manufacture Cluizel they let the cocoa speak, so you will taste its pure origin distinctively fragrant. Their colourful chocolate tasting mini bars are a major export found from London through US to Asia.


Direct relationships with renowned planters, being one of the few Cacaofèviers® in the world to master the processing of cocoa beans into cocoa paste first and then create unique chocolates and sweet confectionery warranties fair production and a high standard of quality.
  201 Rue Saint-Honoré, 75001 Paris
 +33 1 42 44 11 66
 Mon-Sat: 10am-7pm; Sun: closed
François Pralus
Pralus is one of the rare chocolatiers (like the Cluizel family mentioned above) that not just puts his name on the bars, but he also manufactures his own chocolates. Striding a leap further by purchasing a cocoa plantation in Madagascar, that was also certified organic, he is set to control the production right from the cocoa beans' birth.


His father Auguste Pralus invented the delicious Praluline – a sweet brioche bun with chunks of crisp pink pralines made from Valencia almonds and Piedmont hazelnuts coated in rose sugar and then cracked; and was awarded the prestigious title Meilleur Ouvrier de France. He opened his first pastry-shop in Roanne in 1948, where today the manufacturing plant churns daily tons of chocolate from the very best varieties of cocoa beans.
Auguste might be the inventor of the tempting "prauline", but his son upped the game of chocolate in France. His plantation of rare criollo cocoa beans alongside his meticulous selection and unique products such as the chocolate brick bars "Barre Infernale" filled with pistachio or almond pralines pate coated in dark or milk chocolate. The Tropical Pyramid of chocolate squares each from ten different countries of origin became an immediate success and is ideal for any traveler of the cocoa planet.
35 Rue Rambuteau, 75004 Paris
 +33 1 48 04 05 16
 Mon-Sat: 10am -7:30pm; Sun: 10am-7pm
These are THE chocolates I gave in personalised jewel-like boxes to my family at our wedding reception. Traveling to Paris you can experience chocolate and Japanese green tea pairing sessions at the modern, comfortable and fresh boutique in St.Germain's Latin Quarter. Not far from the well-heeled tea temple of Marriage Freres, Henri Le Roux knocked the right approach attracting many of the tea-loving customers. Choose a tea and enjoy it with three selected house chocolates or caramels. Gourmet Coffee with chocolate or caramels (Le Roux copyrighted his recipe for the Salted butter caramel in 1981) is also available.


My must-haves: Yuzu matcha white chocolate; Goviro dark chocolate bar with sea salt, caramelised almonds and crepes; the "Soizig" praline chocolate with buckwheat crumble; the "Aliberts" a thyme flavored chocolate cream on a base of lime marzipan, the "Ch'tou" bitter chocolate filled with soft caramel made of butter and lambig (calvados from Brittany).
1 Rue de Bourbon le Château, 75006 Paris
 +33 1 82 28 49 80
Tue-Sat: 11am-7:30pm; Sun & Mon: 11am-2pm & 3pm-6:30pm
Chocolate with cheese may sound like a quirky whim of some over creative inventor of cutting-age flavors, yet it is superb and should be included in the "must taste list" of any genuine gourmet. The Meilleur Ouvrier de France, J.P. Hevin is a man of many faces creating an entire range of superb products.


While chocolate reminds his pride he is not afraid to venture into jams, teas, biscuits and even book writing. His cakes are the utmost luxury for the palate. Let your palate to be seduced in my post about J.P. Hevin.
231 Rue Saint-Honoré, 75001 Paris
 +33 1 55 35 35 96
 Daily from 12noon – 6pm
Alain Ducasse's ever expanding gastronomic empire invaded the chocolate continent with a large success. Although, he himself does not make the chocolates, the artisan chocolatier Nicolas Berger is in charge, truffles and other luxurious cocoa-dusted delicacies are all made in a traditional highly manually demanding fashion, that is time consuming but rewards with sublime results.


The Alain Ducasse chocolate factory is a hedonistic attraction in the quirky 11th district. As you venture inside, the chocolate specialties are displayed like jewels inside a glass bubble over a table in the centre, on the right through a glass window you can marvel at the production process, and alongside the opposite wall an extensive range of chocolate bars from simple to more astute blends awaiting your bite. Now, there is also a small boutique in Saint-Germain-des-Près and a concession at the Galeries Lafayette gourmet floor.
40, Rue de la Roquette (manufacturing); 26, Rue Saint Benoit & GALERIES LAFAYETTE GOURMET floor
 +33 1 48 05 82 86
 Tue-Sat: 10:30am-7pm


EXTRA worth trying are the chocolates, cakes and tea by Hugo&Victor. Following seasonal flavors and working with exotic ingredients such as combawa fruit lifts them from the crowd of pastry makers in Paris. I wrote about their delicious creations and unique philosophy in the past so you can read more here.
La Maison du Chocolat spurred the trend for boutiques purely devoted to chocolate, and if you have not been in one of their worldwide stores then pop into the first one at 225 rue du Faubourg Saint Honoré in Paris.
A cherry on the chocolate volcano is the legendary Angelina on Rue du Rivoli, right by the Louvre, serving exquisite hot chocolate and desserts, that get on the must-do list of many travelers visiting Paris. Their hot chocolate is seriously thick and served with whipped chantilly cream on the side.
Although I am not a big fan of (according to many serious sweet fans overrated) Laduree macaroons, their recently launched chocolates Les Marquis de Ladurée chocolates are better. While they would shine in may less chocolate obsessed locations, they are a far cry from the best chocolate makers in Paris. Their packaging is impressive though.


*I could not limit myself to only Top 5 chocolate stores in Paris, since there are just too many worth opening your sweet palate to. I would advise to create your own personal shopping list, so you can always come back to buy a treat for yourself or a tasty present for others without risking disappointment.