Finding a good wine shop is easy in Paris, yet you may be surprised that the city also has a rich tea heritage. The French Salons du thé scattered all over Paris are at least as socially, culturally and in particular gustatorily important as the English afternoon tea tradition in London. Mariage Frères had set the ground for the French tea culture over a century ago.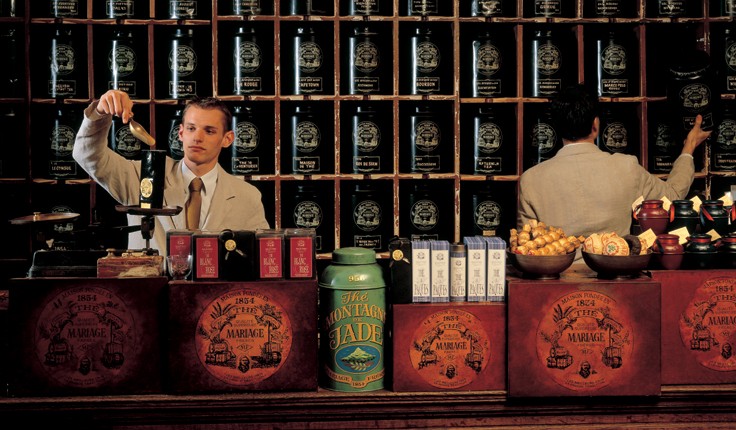 At most salons du thé today, you will not find a long list of tea. Perhaps some verveine (verbena) and chamomile infusions or a breakfast tea alongside the more ubiquitous French strong coffee, chocolate chaud (hot chocolate), sweet pastry or the popular macaroons. At best blends with herbs, flowers and spices with tea will be offered. Most pastry houses have their house blends: Hugo & Victor, Piere Hermè and Angelina are the leaders in the perfumed 'candied' tea blends.
If you are passionate tea purist, behold and stop your vile thoughts of putting the Bastille on fire yet! In contrast to these misleading salons du thé, there are serious tea houses in the favourite metropolis of lovers. These tea heavens compensate for the fallen angels and can soothe your body and spirit with hundreds of teas from all over the world, pure or expertly blended.


One such treasure is Mariage Frères. Founded in 1854, the company has more than 150 years of heritage, that not just proves that tea is not a novelty for Parisians, but its popularity and traditional interior confirm a long-lasting romance between tea and Paris.


The Tea Parlour is an ancient pharmacy-resembling boutique with tins filled with awe-inducing teas from the famous tea regions such as China, Taiwan, Japan, India, Africa and Indonesia to the lesser known tea producing countries such as Burma, Thailand, and Argentina. You can find common and cheap teas, but the company is known for its house-blends and the rarest plant gems costing as much as €100 for a little 100 g sachet. The Japanese grassy and fine Gyokuro, some of the Indian Darjeelings and Assam teas as well as the aged Pu-erh from China are the priciest totes on their lengthy tea menu.
Mariage Frères does a great job with their house blends though. The wonderfully fragrant green tea-based Marco Polo is one of the best-sellers and a great starter for many of these who do not like too strong green teas. These are well-priced, high-quality teas that can be enjoyed every day with or without a meal. Not only with your breakfast, but you can incorporate their teas into your lunch or dinner.


The "Tea Cookbook" featuring recipes from the Mariage Frères restaurants can give you some ideas. I have tried a number of recipes from the cookbook and my favourites are the Matcha financiers, Salmon tartare with matcha and the Pan-seared Foie-Gras. Further, at the restaurants in Paris, the staff advises what tea would fit best with any of the dishes served or you can order from the lunch menu which is already paired with tea. Last time I had the NORWEGIAN SALMON TARTAR, ISKANDAR TEA AND WASABI-AVOCADO COULIS served with lotus chips, celeriac, mizuna greens, pink radish and ground cherry. The green tea infused toast bread on the side was a pleasant accompaniment to the Japanese green tea as well as the salmon dish. There also wonderful desserts – from macaroons to chocolate cake – that will surely satisfy the sweet tooth.


There is also a Tea Museum upstairs in the Mariage Frères original store at rue du Bourg-Tibourg in the Marais district as well as in some of the other locations. You can explore everything from tea ware, tea caddies and utensils to traditional tea travel boxes and tea selling parlour on wheels (picture below, the funny person trying to push it is me). The museum is humble, yet it displays more than most of the tea paraphernalia institutions across Europe. You can also buy modern as well as traditionally inspired tea utensils at the shop downstairs.


For the real tea connoisseurs hungry for knowledge there are weekly Tea Classes. Information about these can be found in the leaflets in the store. They usually take a couple of hours and cover various topics or are focused on certain types of tea sold at Mariage Frères. They are in a group or can be private (1-2 persons pay €300-360 for 3 hours). Inquire about these ahead so you can secure your spot on the day of your visit.
Mariage Frères has also a very good online store, where you can buy tea, accessories and books about tea. Their service is prompt and you get free shipping in France if you order above €80 (which is easy to do when you order a tea kettle, cups, tea and books as I did). Once your order is processed, you get your tracking number so you can check where exactly is your package at the moment.
 +33 1 43 47 18 54
 30 rue du Bourg-Tibourg, Paris 4e
Open daily
Tea emporium & museum: 10:30am – 7:30pm
Restaurant: 12pm – 3pm
Tea Salon: 3pm – 7pm