Trendy, affordable, young and creative. RAW, sets a high ladder for the rest of Taiwan's restaurants. Using mostly local Taiwanese ingredients, uplifted by some imported treasures such as uni from Japan, French nouveau cuisine cooking techniques and concepts of the Parisian bistronomy, the one year baby is rooting its steps firmly on the Taipei dining scene.


Born as a contemporary dining project supported by the Singapore-based, Taipei-born chef Andrew Chiang RAW attracts diners of all ages with slightly adventurous taste preferences. Like in a design studio, the "Creative team" is led by a trio of culinary wizards. The originator of the flavours and ideas Zor Tan, overseen by the experienced eye of André Chiang, and brought to life through produce sourcing Alain Huang who also heads the kitchen. They have been very busy the past year. I've been reaching the chef Alain for two months now, but my questions were too much to write about, and our time difference was not in favour for a phone interview, so I gave up. To snack off the reservation list is tough, but we were lucky booking well ahead of our trip there in December.

RAW menu to start with
Falling into the set menu only crowd, the servings are small, the dishes light without any extreme molecular transformations happening in front of you, so it easily pleases. RAW is a rebel to Mr Chiang's highly sophisticated and more intimate dining experience at his calm white restaurant "Andre" in Singapore (which I reviewed here on LMB). You won't find your cutlery wrapped in a perfectly ironed and starched white cloth. Instead, pull a drawer on your right-hand side and you get anything you need, no treasures but the menu, cutlery and napkins are included.
The menu is raw, served in a grid of ingredients. No poetry, fussy words, just ingredient names hinting at what will be served. A play of words, that can engage the entire table, since some menus have different item filled in the box, while others are left blank. Find the missing ingredient in your partner's printout. Fun!
You will be customarily asked about allergies and food dislikes or restrictions. Do not worry, you won't be left to the mercy of the vicious chefs serving foie gras if you are strongly against it, even if just for ethical reasons.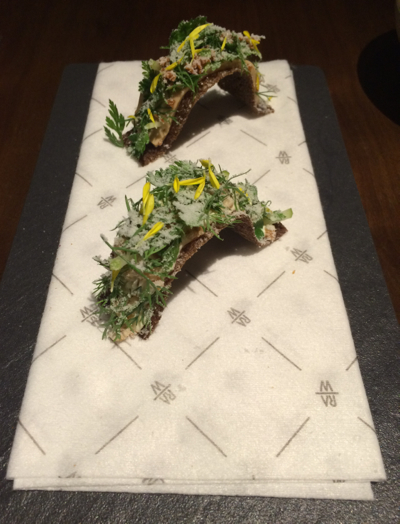 In general, changing with the slightly variable Taiwanese seasons and the whims of the local market, the menu is always a tasting of eight courses. Before any serious creation arrived, we got an amouse bouche (a small pre-appetizer or teaser as I call it) of grapes and fresh mint leafs. It's more complex than the wording sounds as the grapes are frozen, so like a sorbet they clean your palate before the first course or before you stuff yourself with the crazy addictive, yet optional (extra NT$150), sourdough. A board with inverted tacos sprinkled with edible flowers and herbs came as another warm up for our eight-course match.
The bread is a chewable warm treasure to be indulged in generously. We were warned by our well-on-top-of-things server not to overindulge too much so the upcoming eight courses will not get wasted. Our French bellies voraciously devoured the entire bread basket served with charred buckwheat over whipped butter, sorry it was too good. The smell of warm bread lured our fingers inside the basket until it was totally empty. Unlike the regular Asian customers at RAW we live in France (but are not from there, but well adapted) and used to eating lots of bread so this was not a problem for our digestive systems.
We tested the chefs' skills asking for one regular, no restrictions or allergies, and one vegetarian tasting menu. Already the first course called for a variation challenging the chefs. For one an aberration of a Japanese flavored soda drink, Ramune, together with the Indian masala spices on the crispy chicken skin sprinkled with diced toasted cauliflower and smothered by liver pate was a great start. In the meat-free, cross the chicken and liver, variation, a cauliflower was served with toasted cauliflower shavings and seasoning. Not very creative, but a perfect crunchy tapa with our introductory glass of crisp white wine. The list by the glass is intriguing, rather off the piste, so go for an adventure or get one of the jazzy coktails (alcohol-free also available).

Bistronomy, bare style and casual mood
Wood, clay and neutral natural tones smooth for the eyes accompany you on the culinary journey. The plates are simple and mostly looking the same, no gold and elaborate design patterns. The raw and zesty kampachi sashimi arrived, smack, it was superb, but I was salivating over the idea of the next course. My weak spot, the sanctified uni or sea urchin was served in the greenery of Kenya Bean, Split Pea, Leek and Asparagus. As a sauce down under was another naughty treat, a Peanut Butter. Heaven I reached you! The creamy contents of the same named sea creature with sharp needles, when served at its best leaves your eyes rolled up for minutes!
The hairy thin Cappellini pasta with sakura ebi (tiny prawn) and the umami-rich C.C.C. broth (mushrooms) as well as the Cod with burnt cabbage in soubise, criss-cross the seasonal variations. The pasta could have been cooked by a three Michelin Italian chef in Tokyo. A blend of Italian and Japanese flavors, the perfectly al-dente cooked noodly pasta left us craving for more. The cod flesh was tender yet rich, slightly crispy on top and ideal fit with the soubise, a creamy white onion Béchamel sauce. The burnt (just right) cabbage added richness to the fish.
In the Mushroom, Mushroom, Mushroom mystery are Button, Shiitake, Shimeiji and Oyster mushrooms. These forest specimens fit perfectly into the fluid wood carved interior, designed by Singapore-based Weijenberg. As the light accentuates the handcrafted features sculpted across the restaurant, the seasoning elevated the mushroom dish.
The meaty pinnacle of the menu in the form of saucy Ribs arrived and my husband was licking his fingers as he craved more of this delicacy. Well, this time, I slightly regretted going veggies, but my plate of barley with succulent scallops was not bad at all! Another glass of wine, red Menetou-Salon (French), and I was ready to roll for more.


Peaking inside the kitchen, we were curious about the desserts. The open space allows for any table close enough, inspect the action in the kitchen. You know what is going on there all the time… no abuse, rather the back corner looks like an enjoyable cooking class in the process. As the cooks assemble over the stoves and tables, whipping their sauces, slicing their greens, pulling the pasta and sizzling the meat, like at most contemporary restaurants it is a live show for the entire restaurant.
Two sweet plates rounded up our tasting at RAW. The Granola with sweet potato became a staple on the dessert menu as I have seen it featured in many past reviews. Crumbly, unusual and not too sweet. Perfect if one was to have another dessert. Second came a much richer Chocolate with by liquid ice formed cocoa chunks, chewy mochi cakes and devilish crunchy burnt butter. The chefs like to burn things, I learned from the menu, but luckily they got the level just right. A mini version of the local Pineapple cake might disappoint the locals, but we came from afar so unbiased enjoyed the sweet mouthful. We were sated, satisfied with the friendly service and excited that Taipei now has also more accessible and creative local bistro a la high cuisine.
The design, the team serving you as well as the food presentation makes for an energized, casual dinner with a group of friends on a perfect weekend night out. If you cannot snatch a table on weekends, then try weeknights or lunch. Currently the set menu for lunch and dinner costs $1,850 per person (add 10% Service Charge). Good luck getting in!
🕗 Closed on Mon & Tue. Open Wed- Sun;
Lunch: 11:30 am – 2:30 pm
Dinner: 6:00 pm – 10:00 pm
✉ No. 301, Lequn 3rd Rd, Zhongshan District, Taipei City, Taiwan