The gastronomy in multicultural Melbourne is now sizzling with experimental dining. The locavore fever has reached its distant shores, turning the so far native ingredients ignoring Aussie chefs into intrepid foragers. We ended eaten at Vue de monde because Attica, Australia's version of Noma, they say, was closed for a holiday break. Foraging, simple decoration, yet charging astronomic prices and casual approach to the dining room have sailed from Copenhagen to the distant Pacific waters. What may seem like a dichotomy is now fused together in the high-end gastro world.


In the height of the Rialto building downtown (CBD as the Aussies call it), ultra contemporary design with Nordic au nature clean lines assist the open kitchen and the magnificent "vue" or worldly view of the city. In Vue de monde terms the seemingly understated interior translates as no table clothes but a kangaroo skin surfacing the dark dining tables, and stones assuming the roles of knife holders as well as salt and pepper dispensers.
One gets also a sense of rather raw theatrical indulgence in Vue de monde's food. Well defined as "desire to evoke emotion through simplicity, purity and to present a balanced and satisfying experience that is a gentle progression of flavour. Yet with a sense of theatre, a sense of fun and sometimes a sense of irony…" As the elevator dispenses you in the 55th floor and you pass through the restaurant's own Lui Bar, the setting changes only slightly – people sit, with their serious facelifts reflecting the high cost of the meal, in a less crowded well-designed room, and they eat, not just socially chit chat with the other gender.
With no disclosed exact tasting menus and sweeping city views, the restaurant's concept is daring. A bold statement that may not please some, while it excites others. Open kitchen, that looks more like a bar in a night club, with a backdrop of a neon conceptual art piece by seminal artist Joseph Kosuth interpreting one of Charles Darwin's sketches.
The multiple-course meal that reaches up to 10 courses degustation is not a menu per se since you will not see it. It changes daily and its seasonal tone is set online where a sample menu is provided. You will be asked about your allergies and dislikes prior to the arrival of a string of surprising dishes on your cloth-bare table. One must be that open type of a foodie adventurer to like it. The food is very interesting, intriguing through the flavours and the presentation itself, but you must be in the mood for surprises.


A kangaroo steak was served almost raw on a warm stone, with even a more bare sprinkle of edible flowers and dollops of orange sauce, that you just guess might be tinged by turmeric, a mango or something very Aussie? Indigenous? Foraged? Ask the waiter and he may know, in our case though he was in the blind and the kitchen was too busy to inquire. Roo on charcoal with beets may be too much for a reserved diner, but another course of Matsutake, noix, cresson, consommé infusé à la Cona is more approachable. Who does not like porcini mushrooms, walnuts and  little greens? The French titling just makes it sound more 'haute' and confusing. The author, restaurateur cum Europe-trained (Ducasse, Albert Roux, Marco Pierre White, …) chef Shannon Bennett, who like most business minded chefs today rarely cooks at the restaurant as he is busy with other activities, handed over the apron to a skilled bunch of young chefs who execute the platings very well. Naturalist and mostly light dishes from mostly local organic produce define the kitchen.
Sea meets land in many of the signature plates such as WA marron, served with beef tongue and brown butter emulsion and the meaty fried duck egg, lamb sweetbread, with pickled onion and truffle. The delicious local barramundi fish and succulent Black lip abalone also often feature on the menu.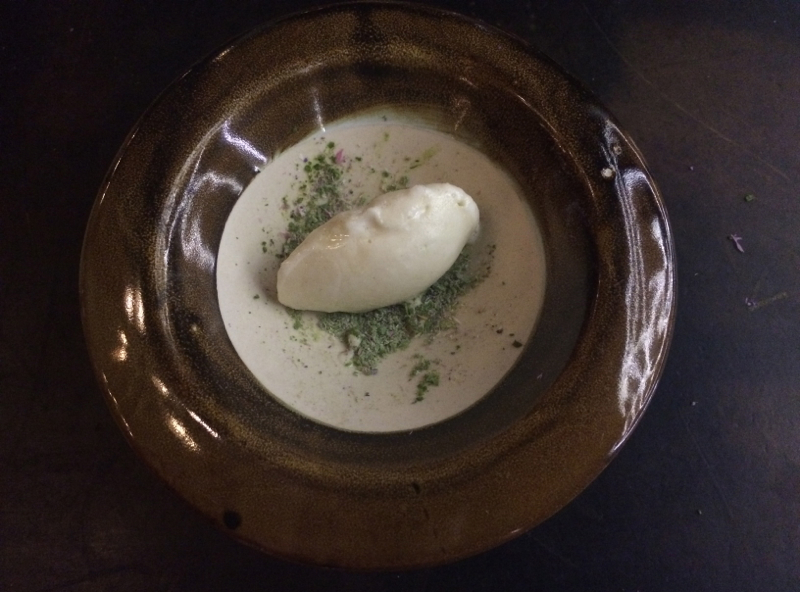 In the grand tasting, there are there desserts right after a plate of cheese, the ashy and firm goats cheese from Tasmania was just superb! The sweets are unique, a veggie gelato; Persimmon and tea tree; Macadamia and fermented apple; Jerusalem artichoke, pear, and white chocolate; or Smoked chocolate, last year preserved cherries, and rosella flowers; all evoke Australia and the new popular direction of a surprise element in desserts.
The wine is marked up high. Many bottles come from Australia so our choice was straightforward, while pricey. Giaconda is the uncrowned queen of Aussie Chardonnay that, like a Burgundian Bâtard-Montrachet possesses liquors-evoking oaky depth, but enough mineral freshness to enchant a sophisticated palate. Wine can be matched to each plate by the in-house sommelier so if you cannot decide, go for yet another adventure.


Vue de monde prides itself to be "Australia's most sustainable restaurant." An E-water system, 'cold kitchen technology' (no exposed flames or gas), using recyclable products, seasonal homegrown (Burnham Beeches farm in Sherbrook Forrest) heirloom and organic vegetables and fruits and small-farm organic produce wherever possible. The meat and seafood are local and sustainably raised.
The restaurant was one of the pioneers in Melbourne, where also the non-indigenous chefs proudly use the native Australian ingredients. Noma's sucess in Danemark encourages also more Australian chefs to venture into the native bush and collect its bounty. I raise my thumb up to this sustainably-minded palate-pleasing trend.
  55F Rialto Towers, 525 Collins St, Melbourne VIC 3000, Australia
+61 3 9691 3888
  Lunch Thurs-Sun: 12-3pm; Dinner daily from 6pm.