Valencia is like the Beauty and the Beast. Stunning painterly Roman and Moorish architecture mingle with Calatrava's spacial luminescence, the utilitarian port (busiest in the Mediterranean), eclectic street art, athletic prowess of its attractive youth and the impoverished multi-ethnic population which amassed in this coastal metropolis over the past two millennia. Livy wrote that the founding of latin Valentia in the 2nd century BC was due to the settling of the Roman soldiers who fought against rebel Viriatus. This historic Roman city of "valour", later by its Muslim rulers known as "City of Joy" constantly strives to improve itself and the better way to a closeup is by running, stopping and walking through.
According to the Swiss psychologist C.G.Jung Synchronicity happens when we perceive "two separate—and seemingly unrelated—experiences as being meaningfully intertwined, even though there is no evidence that one led to the other or that the two events are linked in any other causal way". [Psychology Today]. This is personal you may conclude, yet it is rather interpersonal, and I show you why Valencia is more than just another tick on your bucket list.
SYNCHRONICITY versus COINCIENCE
Why I bring Jung to the equation? The most worldly famous Valencia native today, the multi-awarded architect, engineer and sculptor Santiago Calatrava Valls was further educated in and is a resident of Zurich (where his practice is based), Jung's own home turf. Swiss resident myself, after just a couple of days back from Spain, I praise the Italianate cum Arabic beauty of the coastal Catalan metropolis to a startled, friendly lady joining in the aqua fitness class at my Zurich health club. She turns to be the architect's wife, with quite a mixed opinion on Valencia, preferring New York aesthetic. So, I challenge her to put her grey lenses aside, tinted by her past experience of the city cleaning itself up as it poetically seems to me. For everything changes and evolves.
Rather a coincidence you may assume, but I have never seen her after that week, so the seed inside me eager to burst into a beautiful flower swelled with a redemptive force. Drawing the distinction between the meaningful synchronicity and cause-effect convening of events in a short span of time, I was torn in between. There is a logical connection, and anyone who studied Jungian psychology as I did during the pandemic is familiar with the term, but a certain level of higher awareness is necessary for synchronicity to kick in. Reason can also play events up, cooking a delectable experience from seemingly incompatible ingredients. In Valencia the spirit is awakened audibly (listen to my video at the glorious Mercado Colon bellow), visually (the amusing video and photo gallery further down), as well as through the olfactory bliss of flowering and ripe sweet oranges (for that you need to travel as virtual reality still falls short on scented transmission).
Beauty and the grip of the first sight
I was smitten by Valencia ever since my plane circled above the expanding Mediterranean autonomous metropolis. With just under 800 000 inhabitants stretching to 1.6 million in its urban sprawl, the South-eastern port city scales third in terms of population in Spain. Not uniform like Seville, more a patched costume of ancestry and millennial bright scale. When I visited in January, its legendary orange trees graced the gardens, some residential shopping avenidas with ripe brightness that in winter felt warm on the heart. I felt something potent — as if ripped from the time's linear arrangement, but also as if seemingly unconnected places merged here in front of my eyes. The contemporary city would not be as striking without its exotically lush Jardi del Túria, a dried up Turia River bed with eerie ancient bridges mashed up with steel modernity. Similarly, the catholic, moorish and romantic architecture in the old town would not feel as alive without the scant droppings of edible flora.
ARCHITECTURAL SYNCHRONICITY
Calatrava's "sculptural forms often resemble living organisms" further "bridging the division between structural engineering and architecture". This blending of disciplines is striking in Valencia's City of Arts and Science. The Reine Sofia Palace of the Arts, where during my visit sculptures by the Japanese artist Leiko Ikemura floated on the water basin surrounding the futuristic centre (set in the former river bed that emptied into the sea where today Calatrava next to Félix Candela built also the Aquarium and Planetarium) enhanced the buildings themselves with the unmissable signature Calatrava bending bridge form. The contemporary bridge maestro connected the banks from Berlin (Kronprinzen Bridge, Oberbaumbrücke), Bilbao (Zubizuri; Basque for "white bridge"), Jerusalem (Jerusalem Chords Bridge) to Venice (Ponte della Costituzione), and there is something beyond the utilitarian service in each of them, they are sculptures made of steel.
As with the World Trade Centre Transportation Hub structure in the space of the catastrophically burned-down Twin Towers of New York, the ribbed skeleton felt alive with open incisions into its skin-like form meeting in natural light. A giant bird in flight, its liberty reflects the animal movement as do most of his other wonder works. In Valencia, the Agora like a dinosaur startles our minuscule humanity, while the Opera House resembles a helmed soldier. Architecture in the profane hands of Santiago Calatrava is work of art used publicly to stir the mind into deep reflection. Like his Catalan predecessor Gaudí "Calatrava avoids the apathetic acceptance of established forms" and in that the cross-reaching, spiritual dimension emerges.
We have lived in a globalised world for over two millennia, where concurrent influences create a more homogenised, cross-border imprint anywhere. Local now means only being locally grown, not necessarily originating from like vegetables or oranges (on their origins later), but culturally this site-specific term has blended into common ground. Architecture has often sourced ideas and techniques from elsewhere, but beyond cultural references in the visions of Santiago Calatrava giant visual installations merge with purpose. As Italian Renaissance once haloed across the catholic Europe and now unifies Western city scapes in their common past, today architecture is cross-pollinated with individualism.
Valencia is the expo of bridges from various periods, much more striking than anything above the Seine in Paris. From medieval gems like Puente del Real through concrete Pont de Montolivet to the Calatrava's steel airiness in the Centre for Arts and Sciences, most do not cross any river now at all. Reflecting water basins, pavement and the sandy surface of the Túria Park, runners, strollers, soccer players move bellow these bridging arches.
Valencia does not feel just Spanish, the catholic and muslim references in its architectural make-up inject Roman and Arab nuances. The sizeable old town is a charming cobbled maze towered with churches, a Gothic Cathedral and Basilica of the Virgin (Basílica De La Mare de Déu dels Desamparats) that halo the most charming plaza where the locals meet for coffee and late night drinks. With its bell tower El Miguelete these are primarily of Valencian Gothic style with elements of Baroque and Romanesque architecture. The Virgin Mary square is an entertaining hub of old Valencia. On its blushed marble-clad carpet mimes and singers perform, while a small green park offers free for all benches and oranges under the trees shade.
While the medieval city walls disappeared, two 14th century gates into the stone core remain: Torres de Serranos to the north, and Torres de Quart to the west.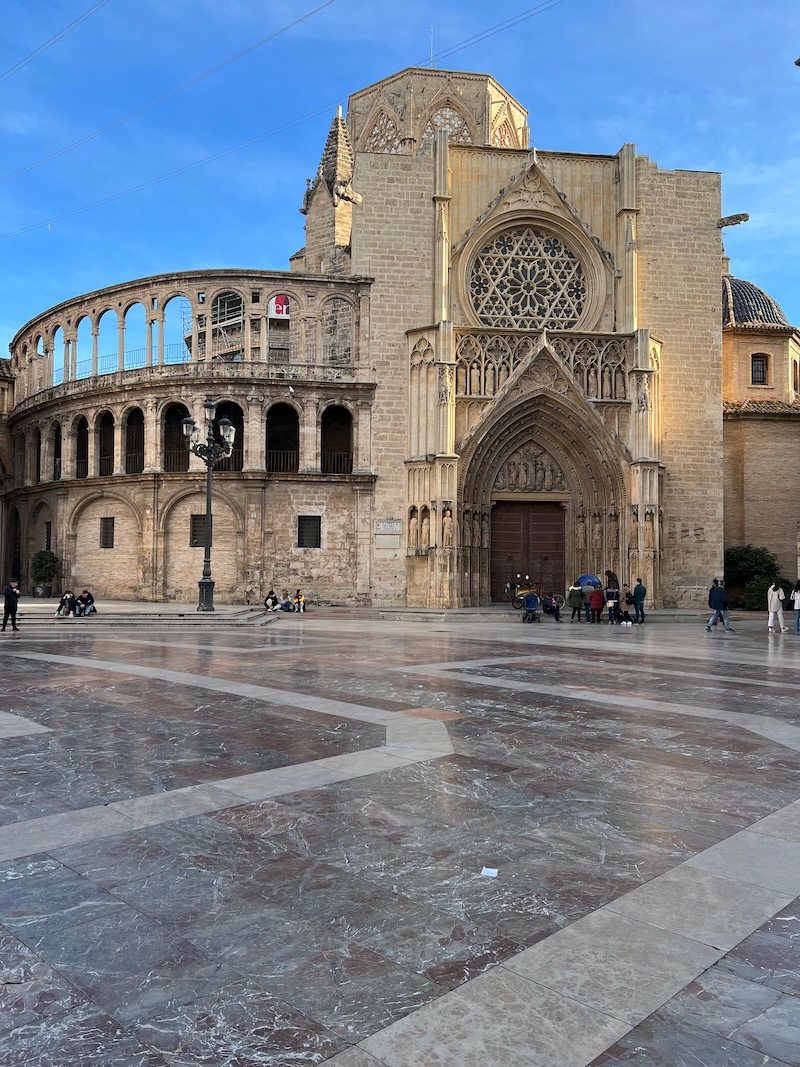 BOTANICAL SYNCHRONICITY
The contemporary megaliths of glass and steel cultural edifices erected in the dried up riverbed conclude what now serves to the public as a lush park hiving with sporty activity. Next to the signature naranjas, exotic plants and Mediterranean staples like carob trees fill the sunken gardens of the former Túria river.
The sun shines on Costa Blanca strongly throughout the winter, climbing higher than in most of Europe and tinting the citruses into bright ripeness, so the landscape looks joyous with the abundant harvest. In Valencia the olfactory bliss of flowering and ripe sweet oranges is potent.
If there is only one healthy activity one must succumb to in Valencia, it is eating a ripe orange or gulping its vibrant juice. The experience here just feels more in tune with there place. If you tasted oranges in Seville, the surprise will change your facial expression sweetly. The European capital of citrus sinensis dulcis varietal prolongs the festive Christmas season in the early winter by a natural spectacle, but it is also the only orange varietal ripe in summer. A colour was named after this saffron dipped in water tint in the ripe fruit's peel. What is fascinating is that this hybrid of pomelo and mandarin originated in the region around Southern China. While today Brazil, China and India grow most orange trees in the world, Valencia is most known for the sweetness of its varietal. Today, there are dozens of types of Valencia orange grown anywhere from Florida to Bali. Wikipedia broadened my orange vocabulary geographically.
Gazing at the baubles of oranges hanging from the verdant branches, I had sliced skin-less orange locally dusted with cinnamon with breakfast at Casa Orxata inside the semi-open gastronomic cathedral Mercado Colon. Alongside sweeten-it-as-you-like-it horchata (traditional plant-based milk from tiger nuts is a proof that Europe was not always just about dairy) I felt perfectly in tune with the local taste. Mexico blended cacao into its own horchata, probably inspired by the Spanish colonists.
GASTRONOMIC DIVERSITY IN VALENCIA
One chef rules in Valencia and its region with rice (like orange originating in Southern China), seafood and citruses. Quique DaCosta, the multi-Michelin stared culinary prodigy opened sister restaurants, more casual than his three star icon about an hour drive South. I went to Llisa Negra where luxurious ingredients schmoozed on the (ideally) sharing menu, so dining solo proved a tad too much. Tuna and pork rule, in one case the two merged into smoked cured tuna belly sliced like ham and served with pickles and almonds, no bread! Prawns are boiled with their guts, the Spanish feel it adds flavour. Spanish grilled red piquillo pepper tart was so thin that the pastry tasted like paper. Sadly, the grilled octopus tentacles with skin-on young potatoes was rather average. The carbs-shunning touch of expertimentation at Lissa Negra restaurant is not for everyone.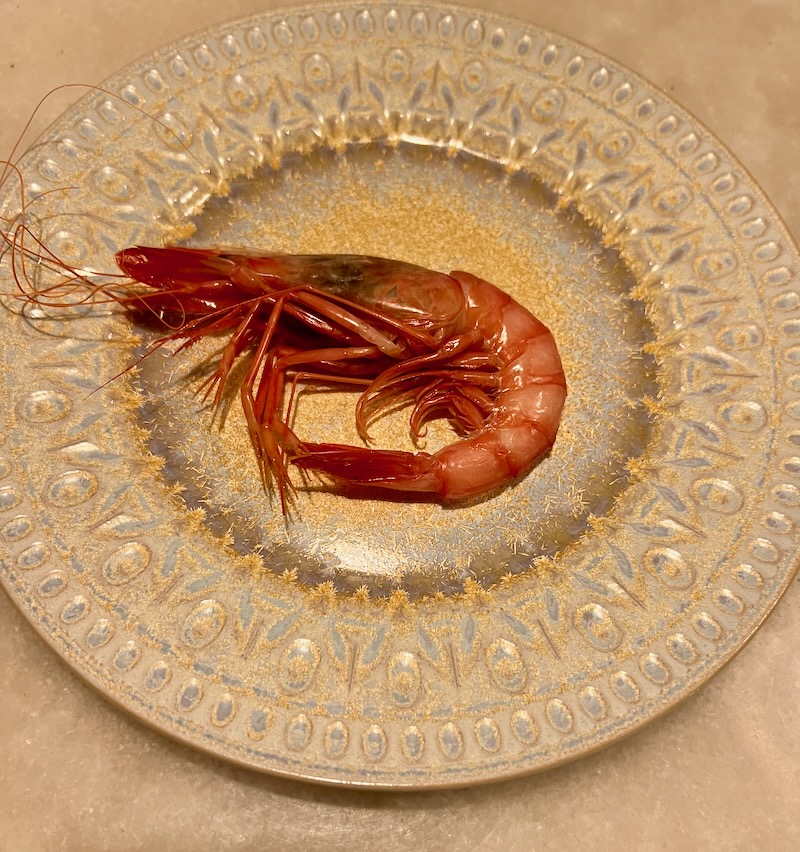 Paella Valencianna of course is the most famous recipe to be tasted, but must be shared. This Spanish version of a risotto relies more on the range and sweetness of tomatoes than richness of parmesan or other cheese. And most importantly, no seafood, but more often chicken and rabbit accompany the tomatoes, green and white beans sticking perfectly to the cooked short grain, round rice, locally titled "arroz bomba". Recently, the local government in the Valencia region even declared paella an "Asset of Intangible Cultural Interest".
On a Satuday morning while strolling from the Saracen gate a Lebanese dulce y salado pasteleria seduced me in. Two twin daughters eagerly offered falafel sandwiches and pastries baked daily by their immigration parents. From honeyed baklava to cookies laced with distinct spices like saffron, nigella seeds, sesame. While chatting in their tight take-away family business El Libanés tasting multiple delights, I was also welcomed with a cup of strong black tea. The next morning, upon the nippy, late wintery sunrise, I brewed some tea and brought the booty up to privately breakfast on the rooftop of my hotel. The sky was the limit in my elevated vista.
HERE AND NOW SYNCHRONICITY
Your first time anywhere is probably preceded by preconceived ideas as of what not to miss and what to do. Well, mine had to be uprooted once the car wound through the orchard waving landscape dotted in Kusama-like frames where pumpkins were generously replaced by baubles of oranges. My precisely researched plan of to do and see items in Valencia had to be reshuffled, lines scratched over and filled in once I witnessed the vastness of the metropolis beyond the old town walls. I had only a weekend. Plus, after a healing retreat the nearby SHA Wellness Clinic I was ready to ingest only small morsels of city life and my back too.
As I discharged my bags in my contemporary designed, refreshing room at the new Palacio Vallier (photos above), filling the gap in the local lodging lacking state of the art amenities, I felt like a drink. At the hotel's cosy bar I inspired the cocktail masters to do anything free-reign, just not sweet with local gin. Up in my room landed a frothy wonder topped with flower petals and berry powder served with a bowl of superb Spanish olives. After this magic potion (mind me, I had only one glass!), I experienced my first night in town with an elevated sense of being a part of, not separated from it.
What Valencia ultimately taught me about SYNCHRONICITY is that we seek patterns and structure to understand reality. What is the current, yet soon changing reality of this South-eastern Spanish metropolis? Visually it reflects its social diversity, youthful population, and attempt to integrate the past within the new by adapting to climate change, emotionally the impression is entirely up to your state of mind.