A wide smile, brisk movements and a loquacious temperament would never reveal that a sommelier working at one of the top French restaurants in New York where he is talking every night to myriad of customers was once a shy boy who wanted to be a chef.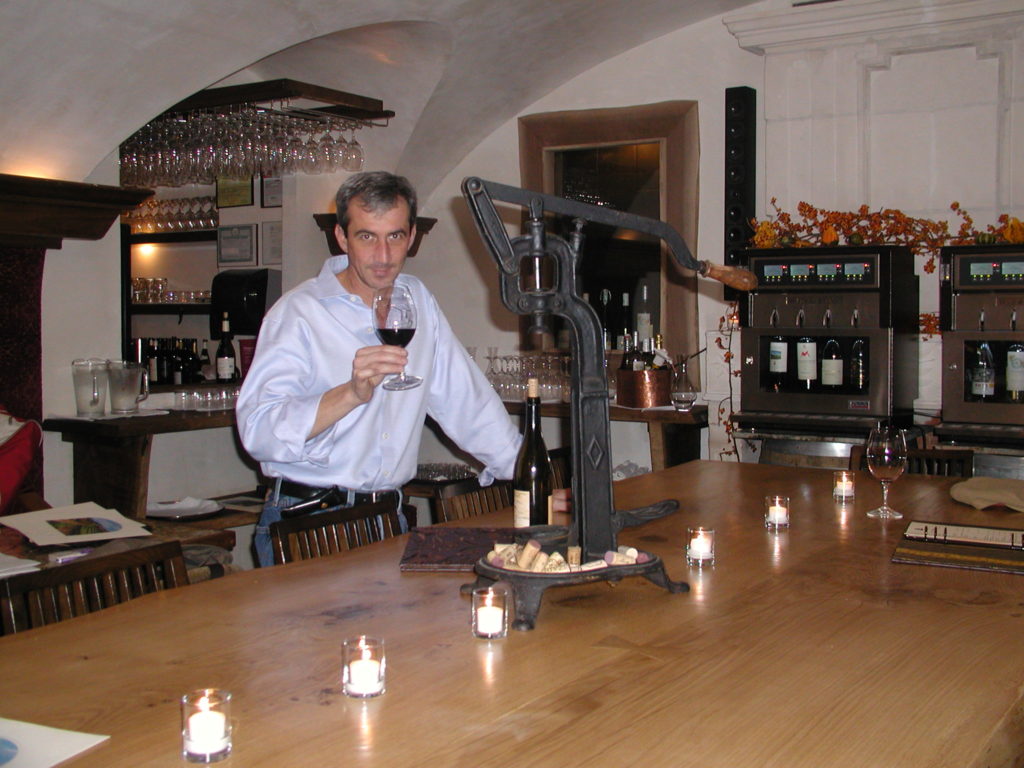 André Compreyre is a sommelier (wine waiter) at Bouley, a two Michelin star restaurant located in Tribecca, recently the most fashionable area in Manhattan.
Inspiration
He has always had a close relationship with food. André said: "My grandmother's cooking meant a lot to me as I learned to appreciate what to put into my mouth." Later on, when he was studying at hotelier school in France, his teacher Guy Blandin (the best sommelier in France in 1964) recommend him to continue his course as a sommelier and here his big story started.
Reaching the stars
He worked in two Michelin star restaurants in France and at Le Gavroche in London. 15 years ago he decided to move to the US where he reached the stars as he was employed by Alain Ducasse at his Essex-House in New York, followed by a French top-restaurant Daniel, Les Halles and finally Bouley aspiring for its third Michelin star.
Different times
Today most of the aspiring sommeliers would have dreamt to work in places like this. But times have changed. Andrew said: "At that time there was no work for a sommelier unless you went to a two or three Michelin star restaurant, it was a new profession."
Wiser customers
Not only the situation for sommeliers has changed, but also the customers are different. He said: "These days consumers are more knowledgeable about wines and trust us more. We are not any more the bad guys trying to sell them expensive wines. Instead, they see we try to respond to their needs."
Wine favourites
What is the most popular wine the most customers prefer? André frowned for the first time during our interview as he went on with his discernible French accent: "I think it is Sauvignon Blanc as it is quite consistent and not like a Chardonnay which changes depending on a producer. For me, personally, it depends on the food I am having it with. Moreover, I appreciate wines which have a message to deliver through their history, producer and uniqueness."
Throughout his splendid career he has learned that there are two kinds of customers. Those who know what they want and you do not discuss it with them. The second group, his favourite, are the regular guests whose taste he knows so well, that they give him a free hand to bring him what he finds enchanting to their palate.
After our two hours' conversation he disclosed: "I am lucky as I am working as what is my passion." It is easy to agree with him. The work of a sommelier became to be appreciated by many diners. André added:"Guests come to a recognised restaurant for good food and you can double the pleasure with wine."
MY NOTE:
I met André at a cosy basement of Bouley. I was very thankful as I just met him the previous night when he recommended to us a great bottle of Bordeaux to accompany our delicious dinner. My inquisitiveness encouraged me to ask him for an interview and here is the result.
PICTURE source: Andre Compreyre
MAP source: Google maps