I cherry picked the best vegan eats in Los Angeles where you won't find just the grungy hippies, ultra-serious yogis, hot and paper-thin models. Popularised by the hippies of the 1960s, the animal welfare protecting vegetarianism and a step more veganism are flowing with a steady resolve into the mainstream consciousness.

In vogue: healthy animal-friendly dining
There are now hundreds of vegan cafes, juice detoxes, and other health promissing, slimming, life-prolonging and perfect complexion guaranteeing 'cures' in LA. Increasingly, young families, fit professionals of all ages as well as foodies hunting for organic and tasty meal balancing the life's indulgences have communally joined ocassional 'plantvorism'. Here you find more than Casual organic vegan Cafés and take outs in LA, but proper restaurants suitable for a work lunch, a romantic date or a fun dinner out.
Swayed by celebrities: gourmet goes vegan
The life-changing chimes of the vegan mantra vibrate forcefully throughout the metropolis reaching the culinary skies of the high-end dining. Blame it on the outspoken vegan celebrities; Alicia Silverstone, Anne Hathaway, Ellen DeGeneres, Brad Pitt, Jared Leto, even Jay-Z & Beyoncee hung on to plant foods only for a while. After trying some of the plants-only meals you may also become the animal produce eschewing convert if only for a day per week.
Spurring from the trend-setting Melrose area with Tal Ronnen's Crossroads the cruelty-free and heart-friendly diet is now like a spider net taking over the town. Even many of the 'normal' restaurants and luxury hotels now include a vegan burger, breaded scaloppini, a cauliflower steak or simple organic vegetables on their menus. Wolfgang Puck, G.Baldi and the ever popular Venice stalwart Gjelina, all highlight their vegetarian and vegan-friendly plates.
The best vegan eats in Los Angeles:
These are my rigorously tested purely organic favourites in the most visited neigborhoods of LA.
Café Gratitude

The role model for many plant-based restaurants, located in the beach-lined Venice and the more central Larchmont Village, the best vegan eats in LA are to be found at Cafe Gratitude. The pioneer of tastefully decorated, lush cholesterol-free dining yielded loyal followers beyond the healthful locals.
Gratitude takes you on a spiritual journey of nourishing through its seasonal satisfying plates, bowls, magical elixirs, house made spritzers and cold-pressed juice blends with wacky titles like 'Blessed', 'Sassy' or 'Outrageous'. Their juice cleanse was developed to "restore both the mind and body not only through what we consume, but through love, acceptance, gratitude, worth, creation, abundance and generosity." With this mantra in mind, the social detox devotees can enjoy their body flushing juices while participating in the Cafe Gratitude's vibrant atmosphere.
The flavour-abundant desserts are so dense and packed with nutrients that it is better to share the nut-based cakes. A bite into the dark chocolate cube filled with heavenly creamy almond butter will send you jumping to the moon, while the lime cheesecake, lighter and fresher is the perfect sweet breakfast or afternoon treat with a cup of tea. Some non-vegans come just for these luscious agave sweetened indulgences. Most menu items change seasonally.
MUST HAVE:  FABULOUS raw lasagna, PRESENT bruschetta, BRIGHT sautéed spicy broccolini, guacamole with corn tortillas or flax or buckwheat crackers, or the wholesome sesonally changing COMMUNITY BOWL with brown rice or quinoa. The almond chocolate cubes and the raw nut-based desserts such as I AM AWAKENING Key lime pie or I AM ADORING Tiramissu. Sip on the warm IMMORTAL immunity tonic, the fizzy GUTSY kombucha on tap or the refreshing ZEN inpsired burdock juice.
Plant Food + Wine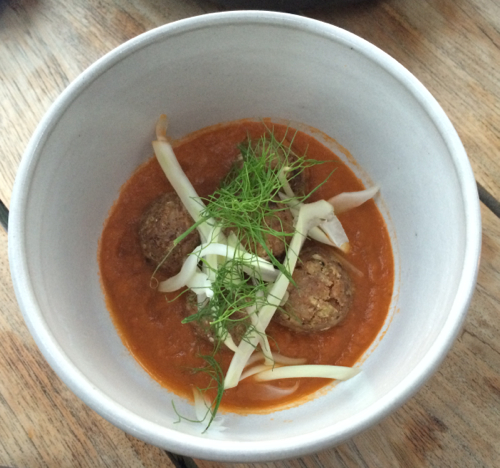 Opened by the guru of vegan chefs' education in America, Matthew Kenney, the squarely named Plant Food + Wine is another Venice favourite. 'Healthy' in the United States often translates as giant bowls of rich, often sugary sauces poured over vegetables or gluten-free bowls of grains and animal protein, but Kenney learned from the French nouveau cuisine that size also matters. His head chef's pedigree is impressive. He trained at many top European kitchens including the Copenhagen's alma matter Noma. At Plant Food, the chef creates organic, seasonal, plant-based gourmet small plates sprinkled with bright edible flowers and verdant herbs. Unless you order their nine courses market-inspired tasting menu, the nibbling portions may not fill you up. The cosy outdoor patio, heirloom vegetable garden and friendly service comfort most cravings. Their mostly raw seasonal menu flattered our European taste buds.
Beyond the raw coolness, some warm dishes like the Farro Balls accommodate the LA's chilly dessert nights out. The cocktails, by-the-glass selections, as well as their biodynamic and organic wine list are well suited for the setting. To truly rejuvenate though by eschewing alcohol opt for fresh juices or herbal spritzers. At Plant Food + Wine you will less likely consume too may calories thriving in the nut-packed raw foods jammed in large platings.
MUST HAVE: Truffle macadamia cheese with pickles, white strawberries, chilli peppers, bread and raw fennel crackers; Leaves; Chlorella Olive Oil Cake with Balsamic Gelato.
Crossroads

Tal Ronen, perhaps the most serious US vegan chef spotted his luxurious opening on Melrose with an eagle vision. West Hollywood has remained the city's trend setter despite the upcoming and more edgy Venice. With white linen covered tables, bulby chandeliers, massive wood furnishings and the classy bar attract many non-vegans in search for a meat-less break when dining out. The Bloody Mary cart with garnishes like an almond milk truffle dill cheese, dehydrated tomato wheel or roasted balsamic cipollini onion, will roll any brunch out with style.
Inspired by the Mediterranean, to me the menu seems like a homage to Italy. The main dining room is closed for lunch, but the adjoining bright café space is less busy while catering to the casual lunch seeking locals. The lunch is much more basic consisting mostly of sandwiches and salads. A warmly decorated private dining room and wine and cheese room with a retractable rooftop are fit for special occasions. For tipples the smartly assembled cocktails and wine list accompany any animal-friendly indulgent evening out.
MUST HAVE: Artichoke 'oysters', "Crab" cakes, Porcini truffle fondue, Tortelloni pasta, Scaloppini Millanese, Coconut sorbet.
Grazias Madre

While Crossroads is more elegant and classy, Grazias Madre cajoles by trendy and cool ambiance. San Francisco transplant and a sister to Café Gratitude, this organic Mexican cocktail den swished into the veganovores' vogue in West Hollywood. The Mexican team of chefs whip out the best vegan eats. The tasty and rich shareables, its lively, by trees and umbrellas shaded patio, and a hotspot bar scene, draw in a youthful crowd. Most of thee seasonal ingredients come from their own Be Love organic farm in California. Some of the dishes that are strongly patriotic of their Mexican roots (like the enchiladas) are hearty so you better share them.
The eyballs roll up above the impressive tequila list, while the organic or biodynamic wine selection and natural cocktails are more nutrient dense than the typical tipple. The most rejuvenating drinks are the warm teas or the American style iced teas like the immunity-boosting hibiscus. Ask for agave-free drinks to avoid any added sugar and for mocktails for an alcohol-free outing.
MUST HAVE: GUACAMOLE CON TORTILLAS, TACOS with cashew cheese, slightly spicy ENCHILADAS CON MOLE, margaritas.
Shojin Culver City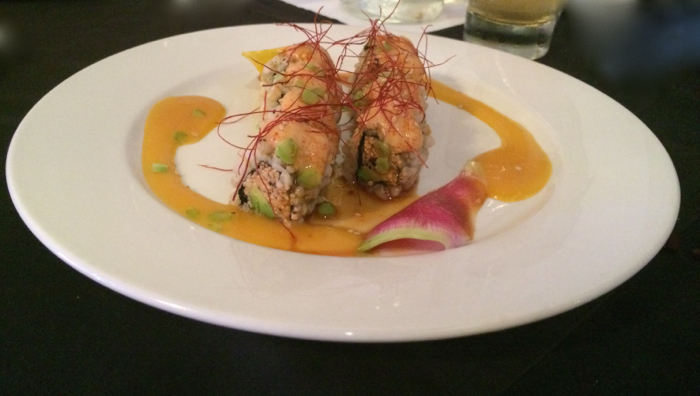 Do not miss the discreet entrance of this smarter vegan transport from the Japantown in Downtown, since Shojin in Culver City offers Asian best vegan eats in LA. Their organic shojin-ryori, which is a strict vegan Buddhist diet, is extended to accommodate contemporary tastes. The sushi rolls are the most interesting, tastiest, fish-free and therefore more sustainable versions of maki that I have tried so far. A smooth background music and the subtle and precise Japanese service inside the cosy and sensitively lit restaurant do not yield to the modern rush. Be patient, your food will arrive soon. The comfortable seats, tasteful art and a bottle of wine will relax and entertain any restless mind.
Trying both, the weekend brunch and a weeknight dinner, the evening broadened our options with a full a la carte menu along with a tasting menu. The recommended items proved to be the best vegan eats at Shojin. We were not very impressed by the Caviar over the Rainbow Roll and Sweet Eel Dragon Rolls. Go for the Dynamite Roll since it has been consistently ravishing. After the meal, their subtly sweet cookies (Earl Grey, spicy Chocolate Jalapeño or Lemon with Poppy Seed) pair well with tea or a floral rose infusion.
MUST HAVE: Spicy 'Tuna' on a Crispy Rice, Dynamite Roll 2.0, Shojin Crab Cake Tartar, Chocolate and Jalapeño as well as the Sesame Seed cookies.
Sun Café Organic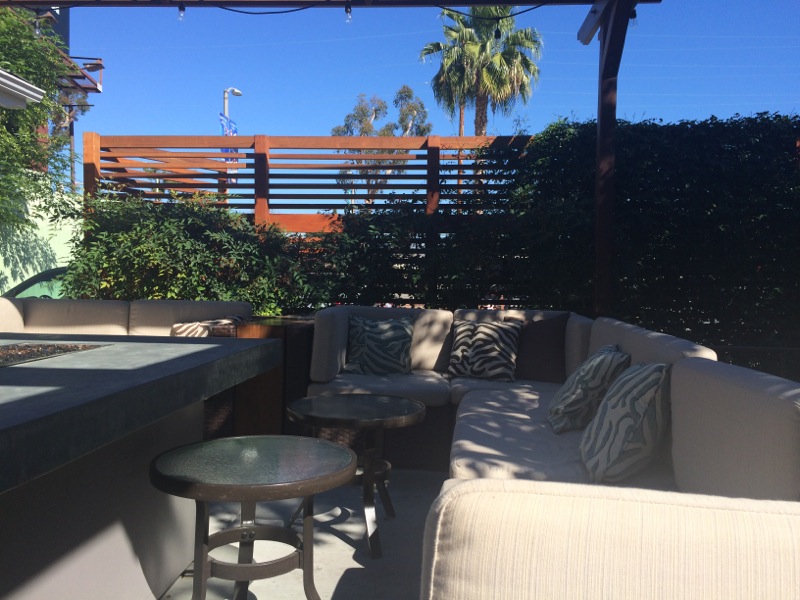 Studio City also has its own cultish spot for the health and sustainably minded. The Universal Studios frequenting stars and crews also seek the best vegan eats in this valley area and Sun Café Organic is one of the nicest places for 'plantvores'. Being mostly gluten-free and offering not too complicated but ingredient driven raw vegan food the superb concoctions of Ron Russell, co-owner and its veteran chef, draws in loyal healthy customers. Sun Café Organic has flourished over the years into a summery lunch spot outdoors, where also a take-out counter serves the time-pressed, while inside its Southern flare decoration invites for a dinner date during the cool desert nights. Colorful flowers rise from the pots scaterred around, and vines climb up on the patio where the fire sparks up any romance in the evenings.
All organic selection of 18 wines-by-the glass, seductive bottles, and craft beers on tap free your tongue for a joyful conversation. You can dine light, but the 'vegivoriously' transformed comfort foods such as mac'n' cheese, lasagna and pad thai without the gluten and carbs of typical pasta are as much satisfying as their naughty originals.
MUST HAVE: Caesar Salad, BBQ Cauliflower, Lettuce Leaf Tacos, Kombucha Dog on tap; seasonal specials.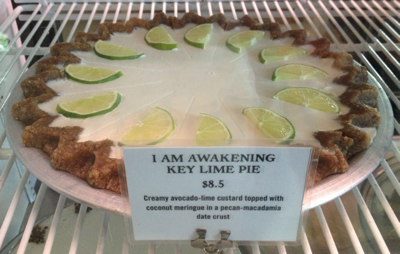 Weight watchers and allergy sufferers beware
"Healthy" became the recent hot marketing prerogative of many US restaurants, cafés, and even packaged foods companies. With this hype, and this word's fleeting meaning in the culture of progressive science that refutes one claim by its opposite braced by the newest research, it is wise not to overindulge even in these "healthy" tagged foods.
Los Angeles, radiating Hollywood's glamour, is the epicentre of the new diet trends that digest through the ravenous media appetites and the celebrities' quips that inspire the icons adoring world. Now, that the  organic vegan fare is available to all of you, beware, since nut allergy sufferers won't find their soulmate in the contemporary vegan diet since it became largely fixated on using nuts instead of dairy and meat.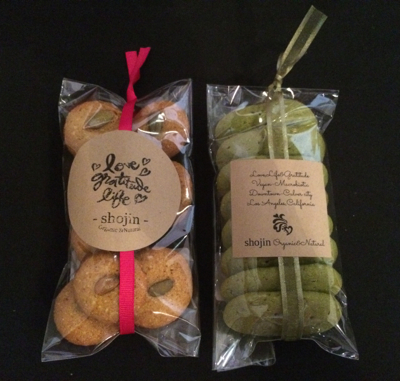 I gained almost 10 pounds when savouring the many filling, calorifically generous cookies, nutty bowls, burritos, soups, salads, wraps and ultra-energising "nourishing" smoothies. These energy fillers are fine for the serious athletes, but those of you watching the scale may panic, so do not overindulge and try to eat the same portions as with normal foods. The accent on yummy flavours makes it harder to resist, but listen to your gut, savor mouthful after another, mindfully, and you will get it right.
Salut! to this more healthful, animal-free, organic dining movement that is slowly being embraced by more global cities from New York though London to Hong Kong.
La Muse Blue philosophy: Balance, is the ultimate definition of health.