At Sai, not the Olympic athletes compete against each other in the international spectacle, but the Nagano natural ingredients accomplish their finest performance in the hands of the Japanese chefs' team at a remote ryokan in the mountains. Tobira Onsen Myojinkan, opened between the two World Wars almost a hundred years ago, has retained its fame as a hot spring retreat, but the delicate French dining is now overshadowing its in-house Japanese restaurants.


Sai, according to the chef, is the Chinese character for vegetables. Although in Japanese pronunciation "sai" can have other meanings, the veggies stand out on the gastronomic menu.
The natural organic cuisine of Masahiro Tanabe, a Japanese grand chef with distinguished French training, is brought to its sublime existence in the hands of the Sai's resident chef Tomoaki Handou.
Tanabe's adoption of the light nouvelle cuisine, stemmed from his cooking at France's leading Michelin establishments in Lyon and beyond, where he not just learned to speak fluent French, but adopted the nouvelle cuisine's accent on vegetables and smaller helpings of the animal protein than in traditional gastronomic restaurants.


Wholesome approach to each plate where the ingredients are synchronized as "a grand show in its entirety", not a single expression of let's say a seabass.
In the late autumn, a wooden carving of wild mushrooms on each table brought nature to diners minds in the dinner darkness outside behind the large windows facing a stream and forest. Starting with the Mountain of mushroom amouse-bouche of dehydrated crispy maitake and cauliflower mushrooms dusted with mushroom powder, underscored the chefs' intention to bring local nature to your mouth. Served on moss in a clay pot as if lifted from the forest ground in front of you, they were intriguing in their rawness but did not absolutely define the following courses.
The casually named Direct sales egg came from a nearby farm and was served in its shell. Both yolk and white were whipped up with cep mushrooms into a creamy and rich delicacy. Eggs are ubiquitous in Japan and superbly mastered domain of the executive chef.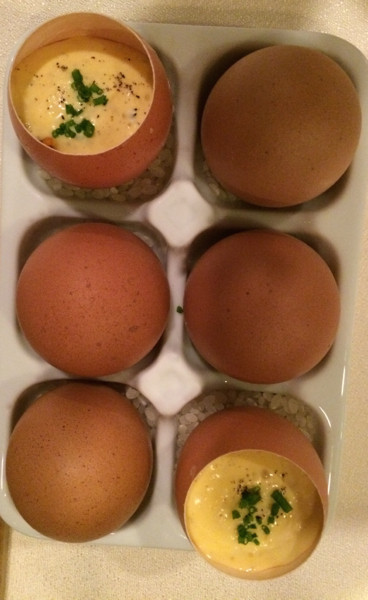 Being located at a Relais & Chateaux hotel, breakfast was also served to hotel guests. A must try are the Eggs Benedict since they were indeed the best we have had. Perfectly cooked, the buttery richness of the hollandaise sauce, moist texture of the mushrooms (in the bacon-free version), house cured salmon and better than anywhere English muffin bun won our palates over. By adding shaved radish and parsley, a multitude of contrasting flavors came into one complex perfection balancing the French richness with the chef's creativity.
At dinner, after the eggs the lightest plate Terrine of mesclun salad was served. What an unusual super fresh dish! The green leafy greens were jellified in the terrine with local tomatoes and avocado in a tomato juice. While Lentil soup may sound boring for a gastronomic restaurant, it was much more than that. Local freshwater prawn and black trumpet mushroom were enough for a sophisticated soupy bowl.


At Sai, local ingredients are celebrated while some selected imports are embraced. Foie Gras came from France and the lamb Australia. The chef could have skipped them entirely and include other local specialties such as beef from Kobe or Nato and fish liver instead of the goose liver. The exquisite rich yet delicate Eel served with local red rice were both from Japan, while foie gras added more gastronomic flare.
Both, flash from the sea and the land feature on the regular tasting menu, but if you pre-order the macrobiotic meal, the chef's specialty, meat and fish will be substantially reduced or entirely replaced by grains and vegetables.


Seabass came next. Its skin roasted and its tender meat softly slid from the fork into our mouths in the mixture with enoki and shimeji mushroom all in a gravy of sherry vinegar. The almost raw Leg of lamb from Australia, sliced thinly  and served with green pepper, saltwort and local vegetables, was lighter and more elegant than the usual lamb preparations.
To clean our palates before dessert, the Harvest of fruits in Niagara wine from Yamabe jelly also brought our minds back to Japan. There was no Frenchness in it, but this was to be amended by the following sweet Pain perdu, a French toast with Asian pear from Nagano and a scoop of milk ice cream. Much better and lighter than it French inspiration.


As a Relais & Chateaux property, the hotel restaurant imbibes in luxury. The French group's guide misleads its readers by stating that the cuisine is macrobiotic, which it is generally not as it has to be pre-ordered three days in advance as a special request. In Matsumoto, the nearest town, inside an ancient kura storehouse the chef launched Hikariya-Nishi restaurant based entirely on the macrobiotic principles.
Sai's calm setting away from noisy cities allows for a mindful enjoyment of each mouthful. Here, in the heart of Japan's "Northern Alps", amidst the wild nature from the inside of this secluded hot spring retreat let your gaze rejuvenate your mind and body while dining.
The kaiseki restaurant at the hotel was not as good as at other ryokans I stayed at and if you come this far, better dine at Sai twice. Although, after a week in Japan you might get tired of the no-choice menus at most restaurants there, the exquisite meal at Sai is worth the multicourse feast as it is as clean as it can be for a gastronomic experience.
✉  Tobira Onsen Myojinkan 8967 Iriyamabe, Matsumoto, Nagano Prefecture 390-0222, Japan
☏ +(81) 263 31 22 81