After an apprenticeship in pastry making Patrick Roger discovered the boundless muse of creativity in chocolate. He moved to Paris and let his carving art flow. The ocean of ideas soon floated to the most coveted award for artisans in France – in 2000 Patrick Roger was decorated the best chocolatier of France (Meilleur Ouvrier). At only 32 years old, this was a seal of approval by the French, that elevated him to the Olymp of the artisanal chocolate industry.

Chocolate art
Patrick Roger is not just a creator of vibrant hedonistic flavours, but also a true artist. From his raw material – chocolate as well metal, he carves giant sculptures at his workshop in Sceaux, south of Paris. You cannot bite into these marvels since by exhibiting them and using metal they are not considered safe to ingest.
His muses, the objects change seasonally – once a giant monkey adorned the window of his boutique on the Place de la Madeleine in Paris, other time a life-size polar bear wowed the curious visitors of his gallery adjoining the workshop in Sceaux. His free spirit pops out in his awe-rousing works of art. He confessed that for him "Chocolate is an incredible means of communication – it's monstrous. Everyone eats chocolate, so you can get a lot across."


His quest for perfection mirrors also his edible work. Sourcing herbs and fruits from his own garden next to the manufacturing facility allows for freshness and more control over the ingredients that he marries with his carefully selected cocoa from the best plantations around the world.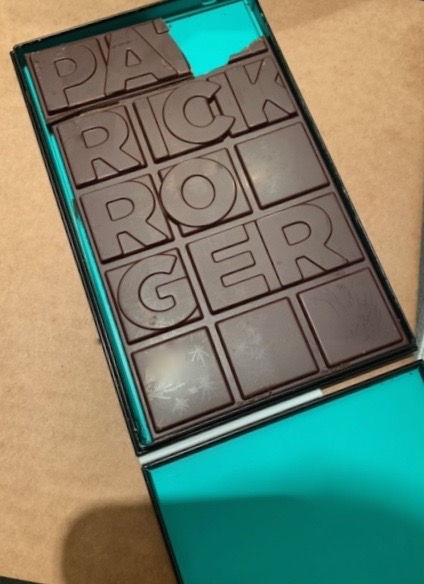 His sculptures are captured in a book called "Patrick Roger, l'Art & la Matière". You can buy it at the Patrick Roger chocolate boutiques across France and Brussels as well as online on patrickroger.com website.
On the many occasions I tasted his chocolate I was more drawn into his world of harmonious taste, and my joy from eating chocolate grew as I explored Roger's endless creations. I am far from having tried all of them, as every season he comes with something new, yet the chocolate hedonism became an inspiration for my every trip to Paris.
If there were some particular specialities of Patrick Roger chocolate house, then these would be the unique rainforest coloured Amazon chocolate caramel with its lime freshness, the Earth blue Cyclone chocolate caramel & plum, and the wild Savage chocolate caramel. I have sampled the Amazon and dived into its refreshing lime splash with harmonious deep South American cocoa sweetened by caramel gooeyness – subtle yet powerful!
There are many other palate-alluring creations crossing the creative boundaries of taste. Some with names like Envy – which is a chocolate caramel, Trinidad & Tobago – where cocoa is paired with rum, and others more seasonal, but Patrick Roger produces also indulgent chocolate bars, worth of any cocoa connoisseur's bite.

Provenance of cocoa for Patrick Roger
Sourcing the cocoa from around 30 countries, paying attention to the growers and the conditions under which the plants are cultivated, dried and delivered to his workshops, sets him apart from many bulk-cocoa buyers, that just mould the various cocoa beans together to form their mass products. His range of chocolate bars is extensive and revelatory for any chocolate connoisseur. From rare cocoa beans to more common, from single origin bars to house blends, the choice is immense. My favourites are Indonesia, Bali, Haiti, Sri Lanka and Vietnam single origin dark chocolate bars.


His newest addition to his already original set of sweet sensations are the Chocolate tubes of paint.
These new creative "containers" of chocolate offer a new way to relish the gold of the Incas and make an interesting gift for kids as they reluctantly return behind the school desks.
Filled with 64% dark Madagascar chocolate the Chocolate tubes of paint are a sweet, light return to reality for the little ones.
Patrick Roger also produces simple, more traditional and time-tested flavours. A praline filling made of sugar, almonds and hazelnuts, a simple ganache or dark chocolate enrobed orange peel and ginger are the leading horses of every chocolatier's stable.
Locations of his boutiques in Brussels and in France on patrickroger.com.