Britain's infatuation with chocolate is swirling into a delectable contagion now infecting millions of local and visiting passionate cocoa lovers. Finding the best London chocolate shops was a 'sugarific' detective work requiring years to accomplish if it were thorough enough. Here is my London chocolate report focused on craftsmanship.


Production of modern chocolate was fine-tuned in Belgium, France, Switzerland and now also in the UK. These countries are, judged by my well-travelled palate, generally ahead of everyone else. I consumed millions of chocolate calories worldwide, and despite its trendy and healthy image, there are still too many amateurish and rather commercial chocolate makers. I believe that love with chocolate is crucial in making a great one yourself, but still skilled craftsmen are indispensable in making the best chocolates. Therefore, not just the expression of terroir but also the artisanship of leading chocolatiers must be appreciated. One of the best in Britain is William Curley.
William Curley 
William Curley had repeatedly won the "Best British Chocolatier" award judged by the the Academy of Chocolate. Before embarking on his own chocolate route Curley worked at the UK's most celebrated Michelin restaurants, including a cherished post as the chef patissier at London's eponymous Savoy hotel. There he met his former Japanese wife Suzue, who became his muse in most of Curley's delectable pursuits. Combining classic western techniques with oriental flavours such as in Jasmine crème brûlée with caramelised mandarins defined their cooperation. Sadly, as they split his flagship branch in Belgravia closed down, but you can still buy his creations at a small concession inside Harrods. Taste the artisanal perfection in the Almond & Orange or Assam Tea "Mou" (Soft Caramel infused with Assam tea, coated in dark chocolate), and other creations like Orange and balsamic vinegar caramel. Get the cocoa dust into motion in your own kitchen with Curley's book Couture Chocolate that received the Cookery Book of the Year Award. For cocoa purity and simplicity do not look here since vanilla is used even in the 70% cocoa House Dark Blend, that is nevertheless deliciously rich, almost chalky, with hazelnut and cedar notes. The cocoa mass is sourced from the Tuscan chocolate producer Amedei.
Harrods Department Store, Knightsbridge, London
williamcurley.com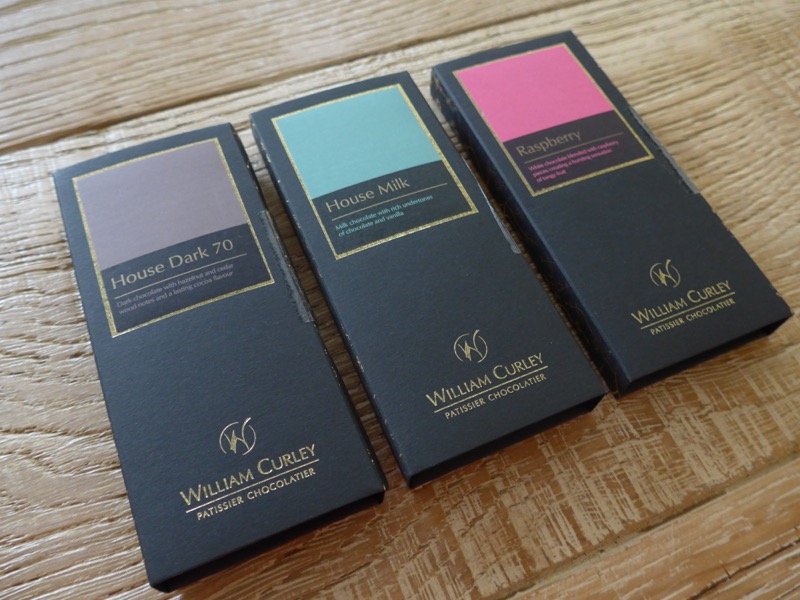 Roccoco
Rococo Chocolates has pioneered the origin focused, sustainable cocoa sourcing in the country. For over three decades Chantal Coady, of the rare female breed of British chocolatiers has ushered her Rococo brand to the forefront of the local cocoa conscience. The founding member of the Academy of Chocolate and a fierce supporter of global cocoa sustainability, opened her first flagship boutique in South Kensington. Now nested also in the posh Belgravia the indulgent Dessert Bar conceils the frequent chocolate and patisserie courses in the kitchens below. With indoor and outdoor seating, this is a perfect place to unwind with a sweat treat. Now seeking bars made from organic cocoa, the Rococo's 100% Plus Noir Que Noir dark house bar is one of the best pure cocoa mass bars I have ever had. Harmonious, with just enough richness to let the wallnut flavours subtly envelop your mouth, you do not miss the sugar.
The Earl Grey Tea 65% cocoa, the joint venture with The Grenada Chocolate Company for Gru Grococo in their vintage organic dark chocolate, and the Basil & Persian Lime in the Rococo bee stamped bar line, are my favourites.


 5 Motcomb Street, London, SW1X 8JU
 http://www.rococochocolates.com
Mon-Sat: 8:30am – 7pm; Sunday: 11am – 6pm
Pump Street Bakery
The rustic yet luxurious packaging reminds of the superb Allain Ducasse French-made chocolate bars and the quality of the cocoa-based squares inside is at least as impressive! These are, without any pretence, the best bean to bar chocolates in the UK. From their bakery cum cocoa roastery in Suffolk, the limited and numbered batches are supplied only to selected stores. After sourcing directly from the farmers, the cocoa material arrives in the UK, the cleaned bread oven is used to roast the beans, then the beans are ground and conched into chocolate in very small batches (25kg). Only the bare minimum of ingredients a sweet chocolate can have are used: cocoa beans, cane sugar and cocoa butter. Where possible organic raw material is used, no soy lecithin, vanilla and other flavour adultering substances are added to allow the ultimate quality of the cocoa to express itself in its most beautiful and pure delight. In their milk chocolates, milk powder of the succulent clotted cream richness is used with the above-mentioned cocoa triad. If there is only one bar you must try to satisfy your curiosity though, then go for their baker's signature Sourdough & Sea Salt 66% dark chocolate bar. Without disturbing the natural expression of the Ecuador's best crop from Hacienda Limon (66%cocoa) their crunchy toasted sourdough bread and sea salt meet in a unique, malty gourmet concoction. You can taste it without the bread in the Ecuador from Hacienda Limon 75% cocoa concentration. I am also crazy about the 75% Dark Jamaica bar sourced solely from the Bachelor's Hall Estate, and the serious yet delicately smooth 80% cocoa from 3 Marias in Honduras. Each bar has its batch number stamped on the seal so you can compare the unique distinction of the crop and chocolate roasting process.


Flagship store & manufacturing 1 Pump St, Woodbridge IP12 2LZ, Suffolk, online store, at the British Produce Room at Liberty. For London stockists check their website.
 pumpstreetbakery.com
 Mon-Wed: 9:30am-7pm; Thurs-Fri: 9:30am – 8:30pm; Sat: 9:30am – 7pm; Sun: 11:30am – 5:30pm
Willie's Chocolate
The journey of its founder, a cacao farmer and chocolate manufacturer in one William Harcourt-Cooze is as remarkable as are his personally selected cocoa beans and chocolates. His childhood on a wild stretch off the Ireland's south-west coast opened his heart to adventure and wild produce. For two decades 'Willie' has been planting and harvesting the precious criollo cocoa pods at his Hacienda El Tesoro in Venezuela where ginger grows wildly beneath the cacao trees. No chemical treatment has been ever used on any of the cocoa farms that the beans are directly sourced from. Roasted in antique ball roasters (restored by Willie himself), just raw cane sugar and natural cocoa butter (less than is usual) – no soya lecithin and vanilla – are added because "the best tastes always come from fine ingredients that are not mishandled or contaminated". Willie'a Chocolate uses only the less productive Criollo and Trinitario beans to achieve more interesting range of flavours than the largely used Foreastero strain of cocoa. Each bean is then conched for up to 11 days. For cooking the single origin 70 % cacao cylinders are very handy to crate also savoury plates (recipes on their website). Must try are the single district dark chocolates in the Venezuelan Gold range with the typical coffee and nutty aromas. I am fond of the Peruvian Gold sourced from Chulucanas as its plum and raisin fragrance is just so unusual.
Buy online at www.williescacao.com, at Selfridges Food Hall and other gourmet purveyors such as Sourced Market in London.

Hotel Chocolat British Cocoa Grower & Chocolatier
Hotel Chocolat took the concept of chocolate further than anyone else. With its own estate and hotel in the exotic Saint Lucia in the West Indies, the visitors can directly participate in the "Tree to bar Experience". Picking your own cocoa pod from a tree on their Rabot Estate, roasting the beans, and then creating your own chocolate and truffles sounds like a dream for adventurers with a gourmet disposition. Not all the chocolates, many of them single origin organic pure creations, some more crafted for the funky taste seeking customers, are from their own estate, though. Sourcing also from Colombia, Dominican Republic, Honduras, Peru, Ecuador, Ghana and Vietnam opens the flavour gates for experimentation. These single origin bars are titled "Rabot 1745 rare & vintage".


I tasted my first 100% dark cocoa bar at their branch near the London's Borough market, where you can also venture into a full meal prepared with cocoa or chocolate. From the pure range, the "Island Growers" cocoa from Saint Lucia was the most sublime with surprising grassy, herbal and vegetal aromas spiced up with peppery tones and olive oil creaminess. A touch of roasted oak rounds up this super complex cocoa beauty.
For a true sweet indulgence try the Pistachio Crunches in 70% dark chocolate. The ultra sweet tooth will clinch on the Marzipan Ingot in 70% dark chocolate coat. Hotel Chocolat is a large producer with over 80 shops in the UK, cafés and restaurants, a branch in Australia and three boutiques in Copenhagen.
The school of chocolate: 4 Monmouth Street, Covent Garden, London, WC2H 9HB
hotelchocolat.com
OTHER LONDON based chocolate producers & stores:
The Chocolatier: A Niche by Aneesh
Aside the established UK producers, I must mention the talented math graduate Aneesh Popat, who applies his mathematical and scientific background to create unique flavour combinations. The Chocolatier, Anesh, has created the signature 'water ganache', a lean line of chocolate truffles with as little as 20 calories per piece. The water ganache is made without butter, cream, gelatin or eggs to create a 'pure' vegan chocolate. Aneesh's Indian roots inspired intriguing creations such as the 70% dark chocolate bar with crunchy poppadoms and savory cum sweet mango chutney. Many Michelin stared restaurants feature his chocolates and you can also find them at Fortnum & Mason, Harvey Nichols, Harrods, Selfridges and some other locations.
the-chocolatier.co.uk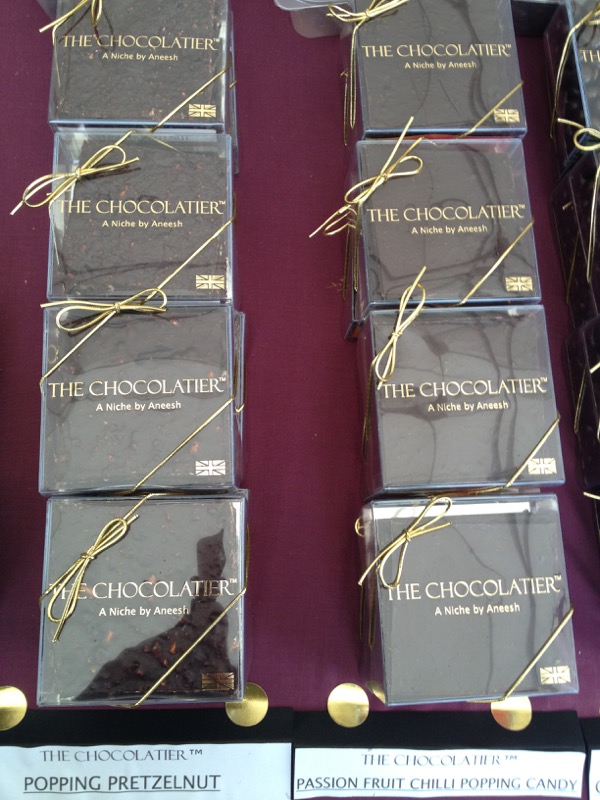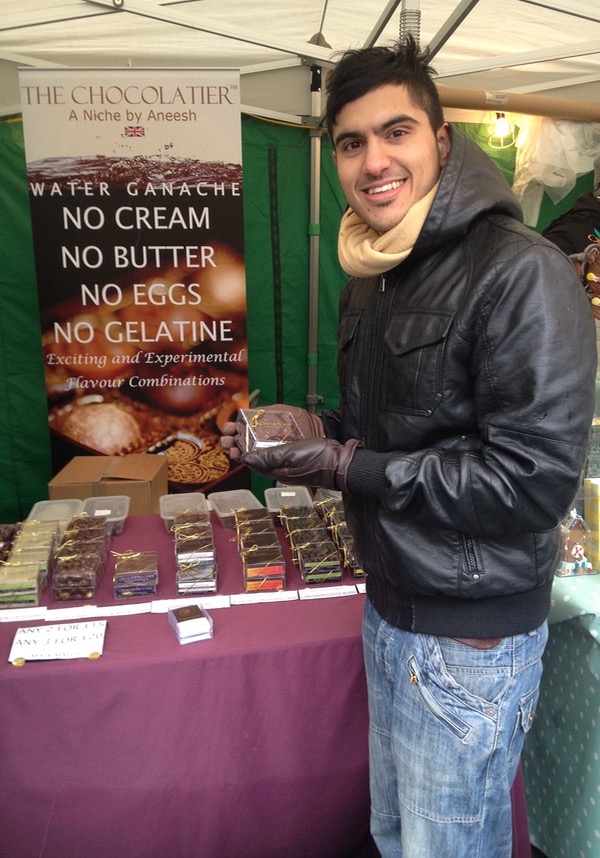 Also worth mentioning are the chocolates from Akessons, Amelia Rope, Bullion Chocolate, Damson, Original Beans, Paul A. Young, and upcoming talents just launching their chocolates featured in my review of the London Chocolate Show.
The best stores to buy chocolates in London:
The confectionery section on the ground floor (next to the Rolexes and diamonds) at Selfridges, Harrods, Fortnum & Mason. and Wholefoods. F&M as well as Harrods have even their own ranges of chocolate bars as does the East India Company.


Other good UK-based chocolate brands worth mentioning are the Artisan du Chocolat and Melt, both nesting in Notting Hill. Their fancy stores are attractive and their chocolate creations are very tasty, but far from the bean to bar philosophy and the focus on artisanship of my other selections in this post.
Chocolate shopping in London has never been more exciting. With the annual Chocolate Fair, locally-masterminded chocolate awards announced at the London Chocolate Show and many energetic entrepreneurial chocolatiers popping up like water from a hot pan, the chocolate lovers never had better opportunities to indulge.
My cocoa-purity-focused investigation revealed that sustainable and fair sourcing, acquiring top quality raw material, and dedicated, passionate expression of artisanal curiosity, increasingly define the competitive and mature global chocolate market.