Tea Mountain is an authentic tea shop offering directly sourced teas from Asia, rare but highly desirable contemporary ceramics by artisan Czech potters and an urban buzz striping minimalist experience. Sipping tea in the thoughtfully designed tea room puzzled into the leafy Křižíkova street, streams a calm feeling into your mind, as if nodding that this is not just another whim of trends that recently flooded the bistro crazed Karlín. Tea Mountain has climbed the summit of mindful locals enjoying high quality tea, its aesthetic appreciation, but also attracts solo workers who found their laptops more pleasant in the cosy room's relaxing embrace.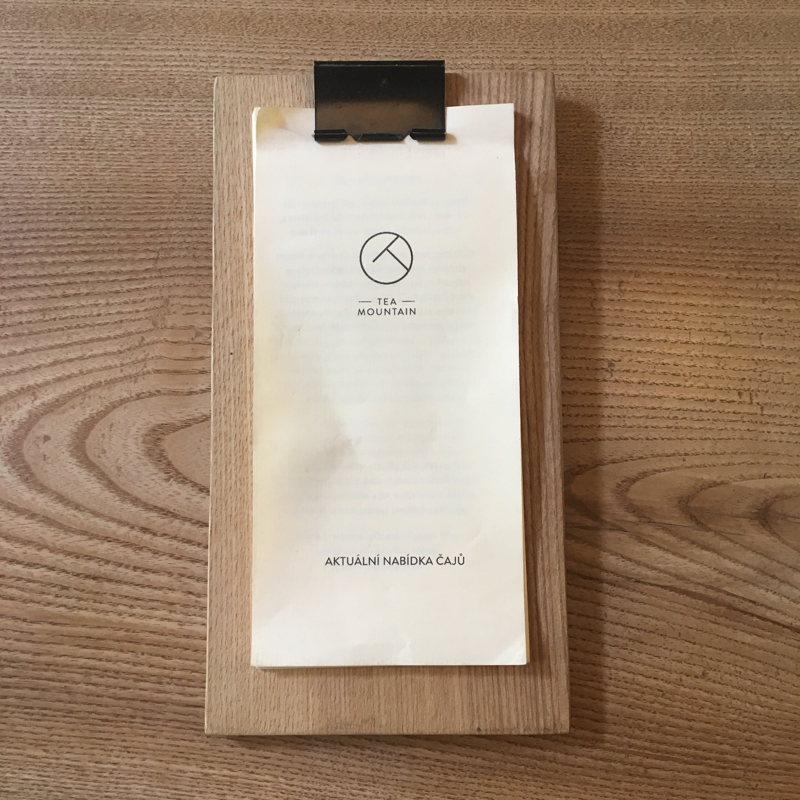 Finding the yin of Karlín
Stretching alongside the snaking bends of the Vltava river, the hip Karlín has been adored by some and victimised by other residents of Prague, yet I feel the zen, the relaxed ease, immediately and every single moment when my feet march over the doorstep. The yin, calming sensation inside Tea Mountain is complementary to the yang vibe of the nearby Eska bakery and Czech restaurant or the coffee-centric Muj Salek Kavy. The Czech rotating trio of tea enthusiasts bring the eastern tea spirit to the hip Karlín hood. Tea Mountain as a shop and tea room was opened in 2013 by Martin Špimr, a basketball trainer and a family man, who after running a highly successful online tea business brought the experience to the cobbled streets of Prague. He regularly travels to the Eastern tea regions to handpick but also to participate in making tea.

Eastern tea appreciation stretching West to Prague
What greets you inside the soberly sized tea room is a wall filled with clay caddies, artisanal Czech and Asian pottery, a handful of bare tables and a wood tea counter stocked with eastern classics but also some rather unusual pickings. Teas from China, India, Japan, Nepal, Taiwan, but also from Georgia, Korea, Thailand and Vietnam seasonally appear on the evolving menu. Some Camellias were brought in such tiny quantities that you might be the only customer bringing it home. You can get wild or by humans habituated tea cultivars at Tea Mountain, but the owner has a penchant for oolong. The choice from these semi-fermented teas is immense, and rare to see anywhere in Europe. From the quirks, alluring is the vintage oolong aged in lemon skin, which turned too lemony to my purist taste (carve it out with a pu-er cake breaking knife), but the three and even four decades old Taiwanese teas re-roasted under various conditions were more my cups of contemplative tea (except for the wet clothes, chalk and dust taste of the Tie Guan Yin 1981 vintage).

The treasures from Tea Mountain
You won't find many flavoured teas or tea blends at Tea Mountain. The very high quality Earl Greys are worth exploring. The Nepalese cultivar is particularly intriguing, and the neroli is just fragrant enough, not overpowering the perfect cool afternoon tea. One of the best Earl's I have tasted. Still, I like the pure classics in their best quality, like the Rock tea from Wu-Yi, the Dong Ding and Tie Guan Yin oolongs of the Fujian mountains, the excellent white tea like Bai Mu Dan not just from Southern China but also others from Taiwan and India. From the Indian Darjeeling I adored the Jungpana Muscatel Wonder. Ideally brewed shortly (1-2min) so it does not get bitter, and you will discover marzipan and sweet almond nose with velvety smooth, like a soft feather cushion mouth enveloping taste, marigold and muscat aftertaste.


Some of the rare experimental styles of white tea that captivated my palate there was the pure, white flower garden with tangerine scented milky smooth, sweet and deep herbal notes Lin Yu Chi Ruby Xin Bai Cha. Tea Mountain shares every detail about each tea harvest, the precise garden or origin and the process on its website. Not many tea shops do so, perhaps only Song Tea and Ceramics in San Francisco would give you such a clear insight into what you are buying. The young farmer Mr Lin has picked the two winter leafs and the young tips of the TTES 18-Ruby cultivar in January, let them wither for 72 hours, gently rolled and dried in warm air oven. Then, the leafs were baked on wood coal, which is the new style originating in the 1960s Fujian province in China. It comes from the Yuchi area in Nantou Province, not far from Sun Moon Lake that is more known for its black tea. Transparency creates loyal customers like myself. For Christmas, I got a white tea named the "brows of long age" bought by my Prague-based [wine] sommelier sister, a frequent customer, who often advises me on her favourite finds at the Tea Mountain. As the tea room became our grounding reunion sanctuary before our vinous adventures at night, she navigated me through their exciting collection. Growing organically in the capital Taipei area (San Xia about 400 m above the sea level) the San Xia Chin Shin Gan Zai Shou Mei was a very limited production of Mr. Wang Wei Chen. On the sun lightly dried for just couple of hours, and then for three days withered leafs, express the natural aromas of the local Chin Shin Gan Zai cultivar of the Camellia. The gentle, yet fragrant aroma of dried meadow flowers, honey sweetness, and long pleasant summery fruity aftertaste please my mind and taste buds on special occasions. During the summer, when I need to cool down, I get the newest spring harvest of Japanese sencha, gyokuro or other steamed green tea from the region.

A holistic tea lifestyle experience
For me visiting Tea Mountain is a multiple pleasure. The water used for brewing tea in the tea room is either partially filtered though osmosis, or more often Czech spring water sourced in Zdislav from Jablonne well in Podjestedi is used, either makes the tea tasting better. Environmental responsibility is also considered since most of the cleaning products for the pots and cups are certified organic, "bio" in Czech. Each time peaking at the new precious acquisitions of the aged pu-er cakes and bricks and dipping my nose to catch a whiff of the almost five decades old oolongs stored in clay pots, my tea soul is amused. These precious teas are often sourced in minuscule quantities during the friendly encounters of Martin Spimr with the tea producers in their countries of origin. He also discovered some talented Czech potters like Martin Hanus, Martin Hadrava and Jiri Duchek who occasionally exhibit and sell their tea ware and vases at Tea Mountain. This summer, I came just a day after the opening exhibition and most of the gorgeous, globally competitive, pieces were sold out. Only some little jewels still awaited to be added to my personal collection of tea cups, so I am glad to add the first pieces of Czech-made ceramics into my growing international collection. Now, that I can sip the tea in my country's creative spirit, I feel that my aesthetic and spiritual encounters with tea are more complete.
Křižíkova 488, 186 00 Praha 8 – Karlín, Czech Republic
Mon – Fri: 11am – 8pm; Sat & Sun: 2:30pm – 8pm
+420 604 386 963