As tea enchants the world beyond the city coffee parlours and more tea shops pop out, increasingly also the thirst for tea knowledge deepens and many adventurers travel to experience how it is made. After seeing how the emperor of the Chinese green teas, the long jing is crafted, I departed for Taiwan to touch, roll and dry my own black tea. As I am sipping my malty brew of the Assam tea strain that I made with my own hands at Hugosum, I appreciate all hand-rolled teas much more. Making tea by hand rolling requires lots of effort as my arms are getting sore just from the pure memory of my first tactile tea making. Hugosum dwells in the scenic Sun Moon Lake district in central Taiwan, where Chiang Kai-shek savoured pondering about his dissident political strategy towards the communist China.

Taiwan's rich tea heritage: from wild exotic teas to floral scented
Look above at the mysterious subtropical charm of central Taiwan. Here, the mists, altitude, and high humidity, all create the perfect conditions for high quality tea. Although Taiwan is most known for its oolong tea, the incredible tea making skills of its locals facilitate for a superb black tea to be made there. Around the Sun Moon Lake, the country's most celebrated black tea is made from the Assam cultivar, in 1925 smuggled into the country from India by the Japanese during the island's occupation. "The trial planting was so successful that Assam became the signature tea of the lake area, with a deep red colour and a pure, full flavour", writes Hugosum, but once the Japanese left the country the local tea production and export plummeted. In spite of the dire profits after its initial glory faded, the founder of Hugosum, Shi Chaoxing persisted and has been making tea continuously for over 60 years. Now a second generation family business, the focus shifted on education. Now there are seven diverse classes at Hugosum related to tea, its making and appreciation.
His tea shows that tea like wine shows subtly different character in a different terroir. While in India, the powerful dark brew is more spicy and slightly floral with its characteristic malty undertones and orange peel scent, at Sun Moon Lake, it is bolder, sharper, while still guards its orange fragrance, which whispers its use in the mosts popular tea blend ever made, the Earl Grey. In this black tea, orange and bergamot oil scent the leaves into an irresistible cologne. My favourite is made by the East India Company in London as the brand uses the highest quality ingredients.
Taiwan is lush with wild tea tree bushes, some yielding unmatchable complex flavours. Although most known for its oolongs, or semi-fermented teas, green, white and black teas are also produced. The last trio is scattered more as curiosities at very good tea shops. Currently I am relishing the floral abundance of San Xia Chin Shin Gan Zai Shou Mei (to simplify meaning the "eyebrows of longevity") white tea from Tea Mountain in Prague, while an excellent Taiwanese black tea is offered by Postcard Teas in London. Still, osmanthus flowers scented oolong and white tip Oriental Beauty are the most popular teas exported from Taiwan. Processed with a very low fermentation, they are very close to green tea, and their sweet floral fragrance is easily likeable when compared to any bitter black tea. Although, the tanginess needn't be so in the black tea, as the superbly smooth wild cultivar that I annually buy at my local store Le Teashop in Monaco proves. Enchanted by its elegant bouquet with a soft mouthfeel and at least three, but up to six infusions render this tea as my favourite black beauty out there. Taiwan promises an abundance of wildness, so I set out to feel it and see with my own restless eyes.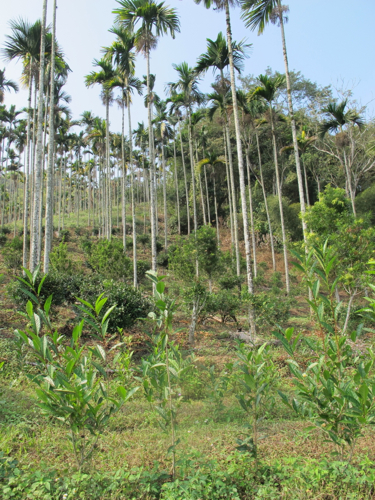 Wild tea bushes and tea plantations in steep mountain ranges of Taiwan
Before we rolled up our sleeves for tea making we hiked uphill to the tea plantation just next to Hugosum. Here, tall palm trees mingled with tall bushy tea trees. Seeing the wild, untrimmed tea plant strikes most of these who thought of tea being some little shrub. Their lush, verdant leafy heads looked rather authoritative in the jungle of greenery of the steep mountains around Sun Moon Lake. These were the direct opposites to the French polished perfectness of the tea plantations in Japan. You can plant tea either from the seed (sexually) or from the cutting (asexually), both giving you a different result. The later is identical to the original tea plant, while the seed is an entirely new plant. Our tea guide explained that not all seeds are identical as some pouches contain two while others three seeds (as shown on the image above). Like with any plant, tea proves that nature does not favour sameness.
Red and black tea is basically the same thing, but the Chinese consider the colour of the tea liquor as red tea and Westerners look at the colour of the fermented tea leafs so call it black.

Making black tea
As we returned back to the workshop, we were initiated into the process of making high quality black tea:
It was so much fun and hard labour despite having the first part done by others.
Harvesting of the the buds (green tea, top quality black and pu-erh) and top tips of the tea plant (most oolongs) usually happens in the spring when the freshest leafs bloom. Summer and fall harvests are common for oolong and black tea though.
Withering of tea leafs is a partial dehydration on the air so fermentation of the leaves spontaneously commences. Over a tightly weaved straw basket we gently rolled the green leafs from side to side.
Fermentation by air happens spontaneously so oxidation of the tea leafs turns them darker.
Fixation by high temperature stops fermentation and prevents further alteration of the tea.
By rolling the leafs' cells rupture and release nutrients, in the case of black tea the rolling is more intense.
Drying in a fan oven to remove any excess moisture so the leaves do not form mould and the flavour is stabilised. Our black tea was done now. After this step floral scents can be applied (jasmine tea, osmanthus oolong).
Finally, the optional roasting by fire which is popular with some oolongs such as the Rock Tea or over coal for a charred intense aroma. Roasted tea is also known as ripened tea.
The personality of each tea is decided by this process as much as the quality of the raw tea leaf and the correct brewing before consumption. The local black tea has a typical malty, full-bodied and intense woody tanginess of Assam. It should be brewed at 90°C (195°F) for 3 min maximum, otherwise it turns very bitter too fast. Then, have it with full-fat milk or liquid cream.


At Hugosum they make there styles of top quality hand-picked "one heart, two leaves"  black tea:
Ruby, Emerald" and Red Jade black tea.
Hugo in the local language means both "good fruit" and "Japanese delight". Shi has recently passed his tea making skills to his daughter Shi Zhuhua whom he proudly calls "Princess Assam".
The family has opened a small tea museum in 2015 , where visitors can learn, watch and even make their own black tea "to make a contribution to the cultural heritage in the land". At Hugosum the tea classes and tastings are organised daily upon reservation.
Make an appointment through this online form.
 No.5, Xiangcha Ln., Xincheng Village, Yuchi Town, Nantou County
+ 886 49 2897238