With ABCv, the multi-Michelin starred chef Jean-Georges Vongerichten empowers with his established stardom the new, upscale yet casual vegetarian era for New York. At brunch on weekends entire families buzz the white room at his ABCv. During the week at lunch male colleagues dine next to the more food conscious women, while at dinner non-vegetarian couples join the more eco-responsible diners. They all enjoy sharing the delectable veggie-focused plates.
The ABCv vegetarian restaurant by Jean-Georges sources its produce locally from nearby Union Square greenmarket and directly from the sustainable farmers in the fertile Northwestern US region.

Consciousness meets raw naturalism at ABCv
ABC Carpets & Home is an iconic Manhattan upscale decorative mall more millennial than Barneys and Macy's in New York. Snapping an entire block on Broadway, the ABC nests three dining projects by Jean Georges (more casual than any of his bistros and fine restaurants in town). Interconnected so you can maze through into the shopping area smoothly during the ABC's opening hours.
First came ABC Kitchen that honed a number of talented chefs like Dan Kluger of Loring Place in the West Village (a must is his chicken there). Kluger also headed ABC Cocina, where by Mexico inspired plates are served in a scantily-lit restaurant.
The latest of the edible alphabet trios, became ABCv (vegetarian).
Through the street windows watch what's cooking, teasing you to take-out baked delectables or go in, but reserve your table ahead. Transparency is trendy, peak into the kitchen at any time through the large window. The eclectic interior design at ABCv echoes the furniture, rugs, decorative – oh I can never resist – the exquisite dining ware, and the eco-lifestyle centric ABC Carpets & Home mall. Walls covered with eastern abstract art and quotes citing the popular Vietnamese philosopher and mindfulness guru Thich Nhat Hanh, a welcome note with "The bread in your hand is the body of the cosmos" inspire a holistic appreciation of your meal at ABCv.
Ironically, the acoustics in all of the ABC restaurants amplify the signature American loudness, so do not schedule any discourse focused meetings there. Eating at ABCv is about fun, socialising over vegetable-centric, healthy and delicious, seasonal food. Some plates span across multiple growing seasons owning to greenhouse planting.

Nutrition-centric vegetarian food
In the 21st century vegetarian cuisine attracts also non-vegetarians mindful of the impact of their diet on the planet and their health. The chef de cuisine Neal Harden executes Jean-Georges vision balancing our animal protein intake delectably. The menus are organised in groups – light & fresh, warm & hot, noodles & rice, legumes & grains, dosa & sandwich (breakfast and lunch only). The dessert menu arrives separately. Inserted are nutritional benefits highlighted by drawings of the respective superfoods like cucumber, dandelion and turmeric. Superfood is any nutrient-dense natural product.
I came right after the opening in spring 2017 and returned countlessly ever since for brunch, lunch and dinner.


Sharing is encouraged and most bowls and plates are set in the middle. The Slow roasted beets have proved themselves as a stronghold of tasty, bloody red but without the suffering of the cow, carpaccio. On the menu ever since the opening, the iron-rich red bulbs defy seasonality as like with potatoes, they can be stored for months. Spiced up with dijon mustard and chili aioli alongside a whipped avocado puree, umami pickles and leafy lovage, I have ordered this decadent bounty each time at ABCv.
Messy and succulent, the crunchy Avocado lettuce cups have also remained. The duet of  leafy wrap rolls stack in a half avocado, cumin, serrano chili, pepitas with a kick of lime. Baby mustard greens with fermented vegetables and mixed in chunks of avocado are also nice, light. Heavier is the autumn mash of Honeynut squash dip. Flap this tahini, sumac and mint delicacy over to the warm pita triangles, a very Eastern-Med of Ottolenghi influence.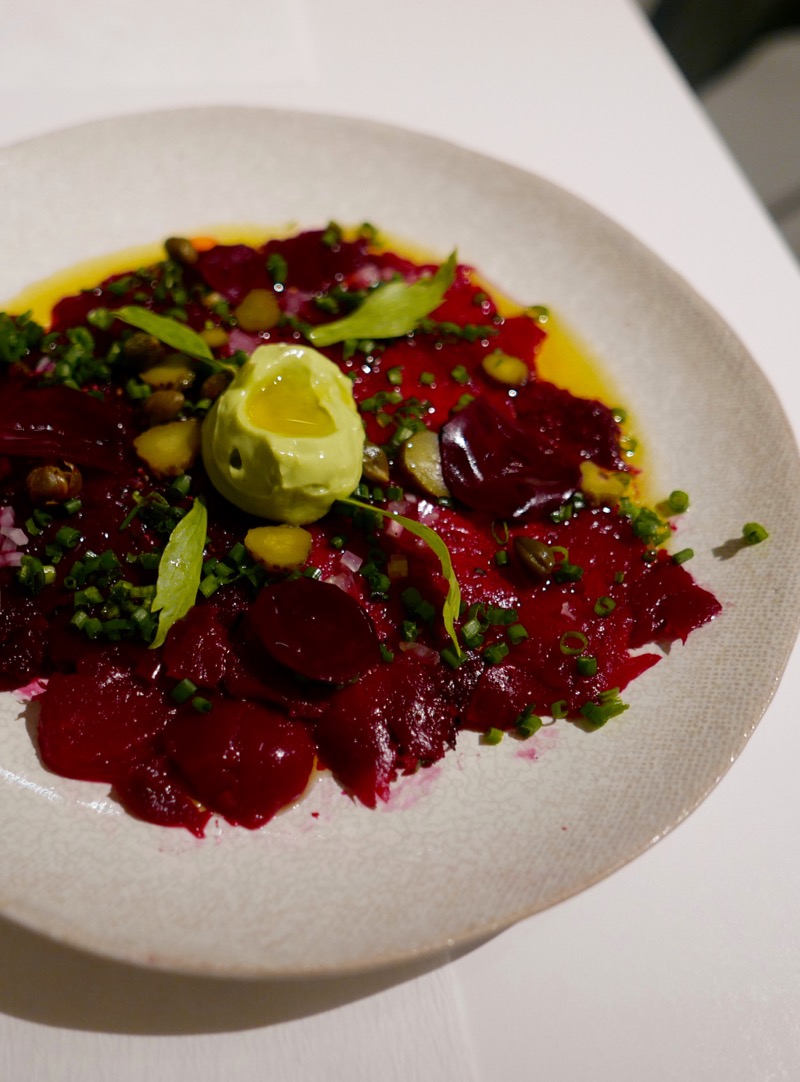 Also of the Israel meets Lebanon intellectual provenance, the popular and simple roasted cauliflower was dyed with golden turmeric, bolder tahini and pistachios. The head can be served whole, but the half portion option is a welcome deal, so you keep space for the Shallot and herbs labneh with crunchy raw seasonal vegetables like cucumber, celery and sunchoke chips. Mediterranean nuances prevail, but some like the Whole artichoke with olive oil and lemon are inferior to traditional recipes I am used from my home in the South of France. My palate is trained to the best, and the steamed globe artichoke with mayo-dense lemon dip at the Club 55 could serve as the model of perfection for ABCv.


Market carrots, savvily prepared with stone-ground nut and seed butter, chilies and again lime tiptoed in to bare the roots' innocence into a foxy kick of flavouring.
Fresh spinach spaghetti with broccoli, kale, preserved lemon, garlic, parmigiano and saffron crumbs surprise with their citrusy tang over the usual New York style pasta heaviness. Ramen and soba bowls tick the Asian noodle box.
From the larger sharings, plain or accompanied with sumac-seasoned yogurt dip, avocado and sprouts, the dosa is a hit. Baked like a large see-through crepe, with crisp edges, this lentil flour delicacy is a must order. This is an intimate dining at its apogee.
Fried wild rice was a bit too oily and in the American abundance over-combined so I never came back to this puffed mish-mash.


ABCv is also opened for breakfast. Wholesome bowls, the substantial dosas, low-gluten or sans gluten pancakes, the still on trend avocado toast (yet the best in town is served at Two Hands the Aussie cafe downtown), warm and sustaining Ayurvedic porridges, vegan pastry basket and eggs in many forms. I love the sautéed Wild mushrooms mixed with two runny poached farm eggs, shallots and herbs like dill, but a whole-grain toast on side is needed to accompany this juicy and flavoursome breakfast plate.


The dinner, next to most of the lunch menu offerings ushers some umami delicacies like the simply delicious Grilled shiitake mushrooms. Baked under a savoury hat of spring onions, caramelized fennel, yuzu kosho (spicy green pepper and citrus Japanese seasoning) green goddess sauce, this is magic. The Soft custardy tofu with crispy yuba (superb tofu skin) topped with white truffle shavings sends any vegetarian dinner into a gastronomic high! At lunch a simpler and cheaper (minus the truffle) version with ponzu vinaigrette is served.


For a dessert finale, the Vegan matcha crème brûlée enchants the powdered green tea tribe. Creamy, decadent, yet not too sweet. House-made sorbets like sea buckthorn, concord grape, peach and the unusual combo of blueberry with lavender dot refreshingly any meal. The breakfast and brunch staple baked from ancient grains base – the Einkorn pancakes with raspberry powder dusted coconut cream, succulent fig compote, fresh raspberries and a side of maple syrup, will ground you for the rest of the morning. This trio of pancakes can be sweetened to your liking. An oozing syrup is served in a lab glass jar on side.

Supercharged beverages at ABCv
The brief wine list offers most bottles by the glass coming from Oregon to Sicily. I succumbed to the temptation of mixing a cocktail in. I don't like my drinks sweet and the amiable bartender advised the perfect savoury Sea buckthorn and yobo soju with the balancing act of agave. With its trace mouthfeel of alcohol, the freshness was central to my enjoyment. The orange vitamin C bomb berry is a staple on the Swiss-German border as much as in Denmark, yet it was only recently that its fame sailed the world.
Cold pressed organic juices are staples in most modern eateries today. Served in long stemmed wine glasses, rare even for wine in the millennial America, the healthful beverages got a visually sexy vibe. Alcohol-free, the healthful herbal, vegetables or fruity vibrations titled like "Brain" the liquid green concoction brahmi, gotu, kola, kale, spinach, ginger, lime or "joy", "heart", "spirit" are refreshing and the touch of agave in some not too sweet.
Matcha latte made with dairy-free milks, probiotic fizzy kombucha from Portland in Maine on tap beams with changing flavours (love the lemon and ginger), and the tea menu goes beyond the peppermint infusion. I sipped on a warm elderflower brew, while space travelling to the Central Europe where those fragrant trees grow in abundance. Liquid breakfasts "super-fooded" and condensed into shakes are popular take-outs, ideal post-workout or in fast paced mornings.

The only shortcoming are high prices for the quite small portions, which is a plus as it reduces food waste. Stalking surrounding tables, at ABCv most diners ate what they ordered, a rare accomplishment in America.
Our applause goes to the entire trio of ABC restaurants inspired by Jean Georges' culinary savoire-faire for showing us how to balance our consumption with local, plant-centric meals reducing our carbon footprint deliciously.
38 East 19th street, Manhattan, New York
Daily for breakfast (8am-10:30am), lunch (12pm-3pm) to dinner (from 5:30pm). Brunch from 11am on weekends
+1 212 475 5829