Burgundy, with its joyous attitude towards life and wine making on a small scale, is perhaps the most historically significant wine region in France. Its sequestred vineyards contrast the 50ha average of Bordeaux. Between Lyon and Dijon dwell countless tiny estates split between farming French families, not as much insurance and luxury brands as in Bordeaux. The Burgundians have made wine mainly by respect of the terroir.
Burgundy versus Bordeaux
As my friend, a wine connoisseur, said over a decade ago: "In this economically challenging time it is Burgundy which caught my attention. It offers high quality wines while the prices are kept much lower compared to Bordeaux."
How times have changed since then! As Burgundy prices exploded, some vicious man-made damage to the vines scandals ramped up, so fences had to be added to the most precious vineyards around Vosne-Romanée.
Already during my first visit in 2009, I found valleys of price differences. Value in Mâcon and other southern appellations mounted in the Everest of wine – La Tâche and DRC around Vosne-Romanée. Visiting some of the top estates is virtually impossible, unless you have the right contacts of the major importers. We knew someone from Berry Brothers in London who got a tasting at Domaine de La Vougeraie by Clos Vougeot. What's is unique about them, is they have the monopole (the only ones growing specific grape or wine on a cru vineyard) of Chardonnay, Clos Vougeot. This deep, complex wine wonderfully accompanies fish and seafood meals, including Japanese omakase tasting.
The most desirable wine aging barrels are made in Burgundy, not in Bordeaux. Each cooper has a distinct level of toasting of the wood, which imparts a specific taste to the aging wine. Taransaud in Beaune is one of the well-known ones.
On the opposite spectrum of vinous tourism elsewhere though are the tastings, literally, in the homes of the producers. Authenticity still rules in this region, over the plush tasting rooms. There are some grander chateaux, such as Château Meursault and some négotiants, wine producers who buy grapes rather than grow themselves, and market them well, but overall it feels lovely rural. If I throw the ball, I can compare the farming-oriented Sonoma with Burgundy and the spectacle of Napa in California with Bordeaux style.
Prevailingly two grapes are grown. The technique expressive Chardonnay in whites and the sensitive and for most wine connoisseurs the most impressive red varietal – Pinot Noir. No blending, single grape varietals express that celebrated French term, terroir, best. For everyday simple pleasure there is Aligoté, that unlike the jewels of Burgundy have not found much of their way out of the region, so it is consumed locally.
Natural Beauty
While landing I observed the astonishingly colourful landscape of autumnal Burgundy, wondering if one can eschew cars and cycle or walk instead. As I learned soon, one can do either. Cycling paths between the villages are well signposted and so are the walking trails. We returned another year in June with our bicycles and enjoyed the Veloroute des Grands Crus very much. A lunch stop over with a wine tasting broke the 42km ride with some buttery escargots (snails), plenty of butter and homemade terrine.
Beaune is surrounded by villages with pompous names in the wine parlance like Aloxe-Corton, Pommard, Savigny Les Beaune, Meursault, Volnay, Vosne-Romaneé, Puligny – and Chassagne-Montrachet. If we judge by wine, than Beaune is the king of Burgundy.
Dijon is famous for its luscious mustard and Lyon for its outnumbered Michelin star restaurants (in 2009, there are 37 of which three have three Michelin stars!). But if we talk wine, it is Beaune and the villages around bursting with the most spectacular vineyards.
Famous producers around Beaune
The town itself is located in Côte de Beaune just below the Côte de Nuits. The later a home of Domaine Louis Jadot, Madam Leroy and the most bang for the bank Domaine de la Romanée Conti (DRC). All within 20 minutes by car from Beaune. In Côte de Beaune, some great négotiants and producers like Bouchard Pére & Fils, Domaine des Comtes Lafon and Domaine Dujac figure on the labels of the world famous crus.
Bouchard Pére & Fils is located right in the centre of Beaune at Rue du Château. Its best wines are Chevalier-Montrachet and the long named Beaune Gréves Vigne de l'Enfant Jésus. Joseph Drouhin is also very well established in town. They have a superb cave with very old bottles, and an exciting tour!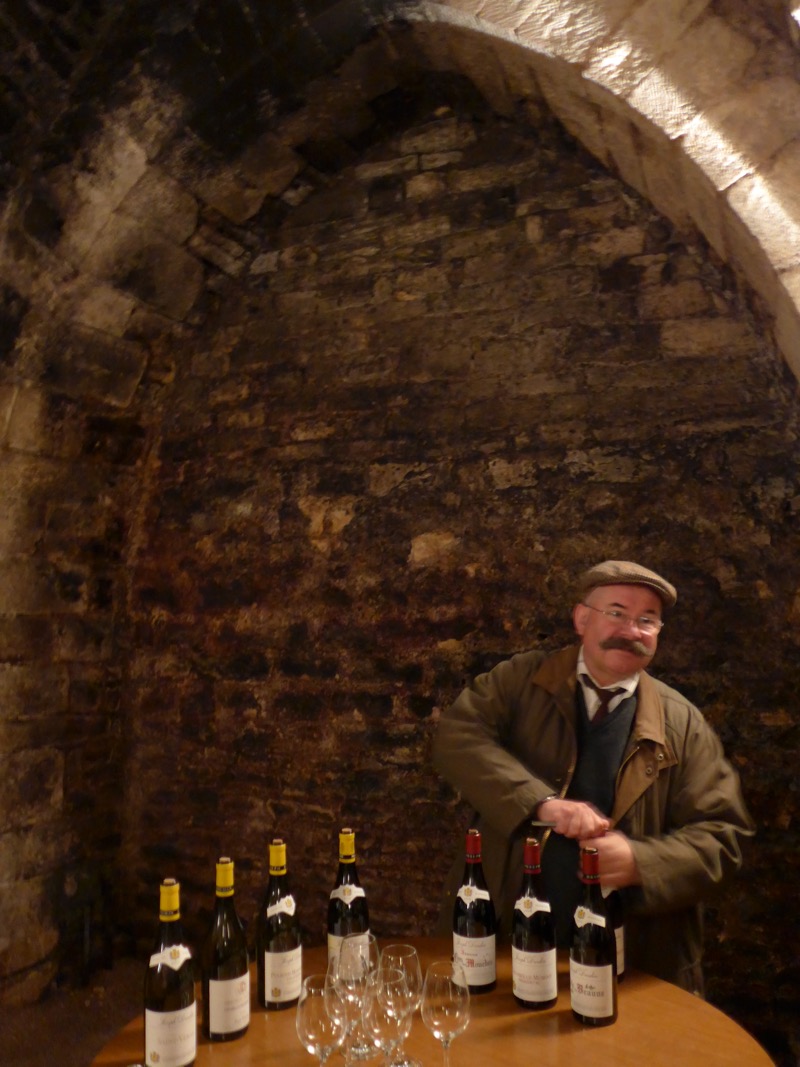 A stone throw from the town is Domaine des Comtes Lafon producing Meursault from the outstanding terroir Perriéres where the premier cru quality chardonnay is planted. It is a much better choice than the touristy Château de Meursault that has vineyards at Perriéres as well. I have tasted a couple of wines from this 11th century property and was disappointed by their lack of complexity. Still, as an experience, I really enjoyed sipping from the freely available open bottles while touring the 800,000 bottles cellar under the castle.
Our favorite Burgundy producers are:
Armand Rousseau – anything, maestro, family-owned
Domaine de Lambrays – has monopole over Clos de Lambrays Grand Cru, now owned by LVHM
Domaine Dujac – their Grand Cru Clos de La Roche is sublime complexity, family-owned
Domaine de La Vougeraie – for their wonderful white Clos Vougeot, family-owned
DRC – for a very rare treat, only had the Echezeaux and La Tâche
Groffier – Les Amoureuses Cru, family-owned
A detour from Beaune, but must be mentioned:
Ravennau – the best and most distinct Premier Cru Chardonnays in Chablis, family-owned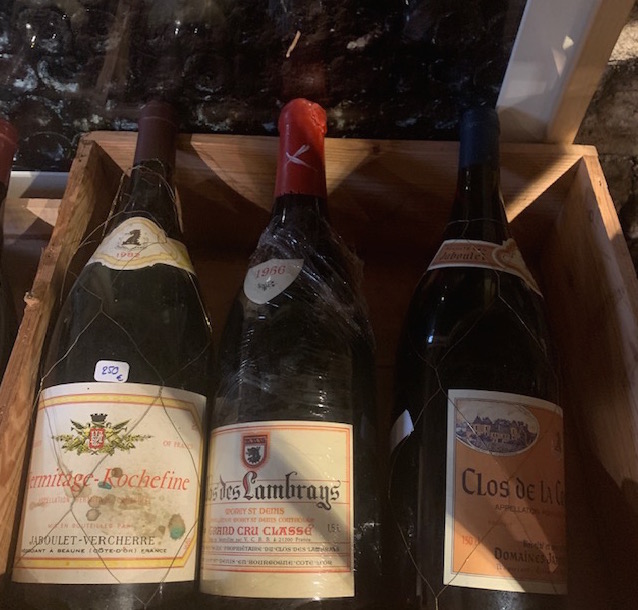 Where to eat
Eat at the ultra-casual and superb daily-changing menu of Caves Madeleine. The more upscale Bistro de L'Hotel offers not only typical Burgundian food, and its Gratin truffles will blow your mind (the local Chicken of Bresse is also a must try), but also a wide choice of local wines. The Beaune 1er Gréves 2006 –  De Montille was so tender and fruity, that we drunk the bottle before the cheese tray arrived! The wines by the glass on the award-winning list are also interesting to sip on to broaden one's palate.
What is amazing about Beaune's wines is that they can be enjoyed young – tasting gentle with a refreshing zing of acidity, but not as much as in the more age-worthy crus further away. Even though there is not a single Grand Cru in the area, the wines won't disappoint you. We all have different preferences and if your taste buds similar to mine, the fresh juicy reds from Savigny-lés-Beaunes will make you very happy.
The best annual event in the town of Beaune is the charitable wine auction by Hospices de Beaune, about which I wrote in another article.
Further info about the region: www.terroir-france.com/wine/bourgogne