Italian recipes, Spanish nudges, Japanese wasabi, French grand cru plateau, anything goes at Langosteria as long as it's the best way to show off the sea bounty brought to the great Milano fish market. The buzzing atmosphere and superb seafood at Langosteria Ristorante in Milano lure regulars in, yet it is consistency that is the magic key to its continuing appeal. The owner and his culinary team proudly take you into "Labyrinth of dreams and flavours, a journey in search of pleasure." After countless meals there over the years, I can confirm I dive in and come to the surface hedonistically enchanted in wanting to return again and again. The sea on Via Savona tastes as incredible as the best waters around the world.
Now, "Abandon yourselves to the seduction of this journey, be spectators, and protagonists in the search for sparks of creativity", as the menu ambitiously suggests, for what you are about to experience is more than just nourishment, it is the life under the water itself.
To start your appetite just before your orders arrive, a complimentary snack from puffed grains (recent change, as it used to be warm crusty bread, which I miss) and a teaser usually in the form of some seafood land on your tavola. Warm clams on a bed of diced tomato sauce most recently.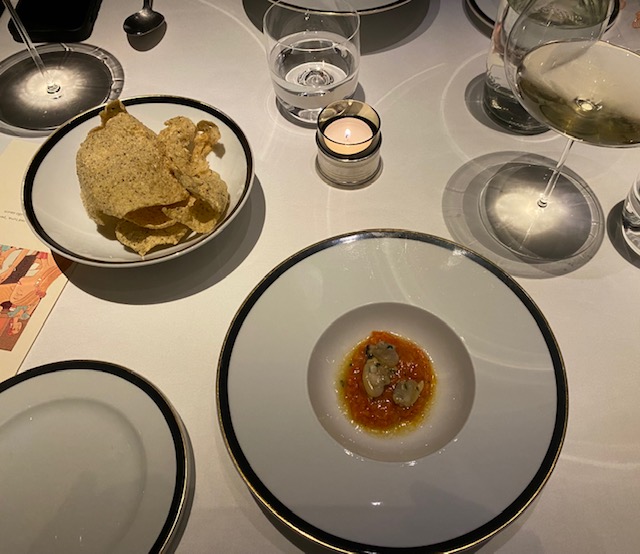 From the vast menu, we usually select one of the crudos. A raw starter like marinated artichoke with seafood carpaccio, Mazara del Vallo (Sicily) prawns carpaccio with radish, citrus and rucola, yet a must to start with is the slightly tepid signature seafood salad at Langosteria Milano. Tender squids, prawns and octopus bathe in an elegant olive oil broth. I am not a huge fan of tuna, unless it is the best cut served by top Japanese sushi chefs, so whenever it arrives on the specials list, I tend to skip, but once I tried the semi-seared tuna with sauteed girolles over a green herb broth that was better than most tuna dishes in the West. You can order an ice-laced seafood plateau to share either as a starter or larger main. Pick your ingredients from the aquarium facing all who enter the restaurant from Via Savona or just ask the waiters for daily catch suggestions. Beyond the usual oysters, sea urchin, clams, prawns, the rare percebes (often from the Spanish coast) can pop up. Get them by piece or as part of set platter.
To do your meal the Italian way, next comes the pasta mid-course. The seafood orecchiette, the langoustine linguine or spaghetti with Italian tomatoes are one of the best dishes at Langosteria Ristorante. You can also just have the langoustines cooked with champagne (butter) sauce or Catalana style like they also cook crab here with tomato sauce. Either are served in a large lidded copper pot, for the perfect temperature at serving.
Most of the menu items change slightly and are market on the menu as "new", yet the signatures remain or if you remember how you liked your seafood cooked the last time, the cooks happily prepare them for you.
The dessert menu includes the signature L'Agostin cake. Saint Augustine preached for many years in Milan and his legacy penetrates the city from Metro stations, old city gates to sweets gracing Milan's restaurants, yet the inspiration came from a recipe at a pasticcheria in Verona. With a whipped French accent, L'Agostin is a soft sponge cake with a decant mascarpone gelato, Chantilly, and Cantiano black amarena cherries. A brioche meets panettone. Sicilian Cassata, Campania's frozen fruits, sorbets, fresh seasonal fruit plate, flaky millefoglie and other sweet inventions will spoon off the evening with a delightful finale. Still having some space and sweets are not your thing? Then a special parmesan (from the vacche rosse breed) and 60-days aged Gorgonzola delectably fill the gap before a nightcap of Italian-roast espresso or a tisane.
Langosteria Ristorante in Milano has a few children already. The Bistrot and Cafe that we both tried for lunch, welcomed a Southern outpost in Liguria. The greatest fish and seafood seems to go to the restaurant though.
Grower champagne and other sparkling bottles extensively grace the wine list. Ideal for most of the food there. Yet, you also find superb volcanic Sicilian natural wine, big hitters like new Tuscans or special treats like Emidio Peppe from Abruzzo. The French cellar is notable, and who would resist a bottle of Chablis by Ravennau with seafood?  This is marvelous Milano restaurant, where we cannot stop returning to. Ciao, next time!