Andros, the northernmost and greenest Cycladic island nearest to Athens still disembarks more Greeks than foreign tourists. Most of them are weekend beach loungers or savvy hikers. The Aegean island's continuous 100km route of trails through alluring, quaint villages, fortified, centuries-old castles and Orthodox monasteries, plaster-clad chapels, Venetian watchtowers, pristine natural springs and small waterfalls next to up to over six millennia old archaeological sites is amongst "the Best of Europe" as recognised by the European Quality Certification Leading Quality Trails.
While Christian saints stopped by, the Cretans, Ottomans and Venetians once ruled here, and you can witness their presence with a chimeric touch of your own mind stirred by the architectural chronicles that survived the past wars and the rust of time.
Like its neighbour, the much smaller marbled and spiritually high island of Tinos, there are christian and orthodox monasteries, vineyards and self-sustaining agricultural farmland on the "Rocky One" as Andros is locally also known, next to other nicknames "Ydroussa" was another ancient title of this water-rich island. The most 'contemporary' name, Andros celebrates one of the successful Cretan kings, General of Radamanthys, who ruled over all the Cyclades [pronounce Kyklades] in antiquity.
Some places are not what they seem to be, they hide their treasures
If you are like me, avoiding crowds on holidays, preferring to explore hidden gems or more authentic places unspoiled by the ubiquity of global tourism, you will enjoy the star-lit Andros. Particularly the further, south-eastern side, opposite from the Gavrio port where mega ferries ship daily hundreds of Peloponesans to its most accessible beaches like Batsi.
There are a few hotels on the island, but best is staying at one of the "suites", small, locally-run homes and apartments. Some offer a plunge pool, own kitchenette, and overall tend to be more integrated within the local nature or architecture. I was above satisfied with my spacious living room cum kitchen, a white-washed simple bedroom and the lush valley of Eden opening terrace at Edem Suites ran by a young, very welcoming, anglophone and helpful Dimitrios and a lady who spoke a few words in English.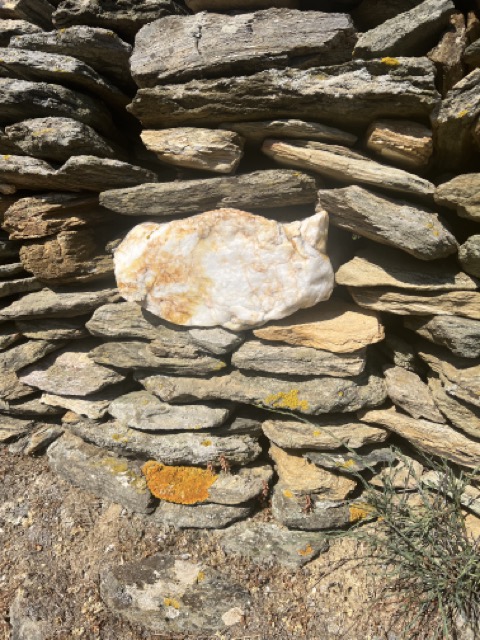 Andros island hike and locally fished, grown and pastured meals
Even during the hot Greek summer you can hike on Andros. The wind now surprises unexpectedly even outside its reign in winter and August, mid-June it felt well alive on my refreshed skin. I stayed for six days in Chora, taking up the meticulously signposted paths either in the mid-morning around nine for about two hours or after my daily writing commitments were exhausted from five in the afternoon. Sunset tints the hilly landscape from its North-Western Athens side. In Chora, tucked behind the island's highest peak this means a tad earlier. Well before nine late spring and early summer.
Usually, I would get back just in time for dinner at one of the local tavernas. My favourites were Endochora, Sea Satin in Korthi, and for a bit fancier, farm-to-table plates Dolly at Micra Anglia, the most deluxe hotel in Chora and the only restaurant accepting AmEx cards (which after exhausting all cash was my only dining option the last night).
I trialed all the trails starting in Chora, also known as Andros town as it is currently the most important municipality on the island. Not until their very ends except for one, but as some intersect I created my own, shorter circuits more suitable for my daily outings. I can confirm that the stone-paved path number "1" is indeed first in terms of diversity and natural shade provided.
A fig offers itself to my hungry lips
I take one longing to feel its island bliss
My hands soft youth like the Andros silk
And goats welcome with their milk
I pluck grass, seduced by the plant bounty
Turning to the sheep's watchful uncertainty 
I ramble further along the olive path
Laced with chiseled silica rock laid
By countless muscular human hands 
To signpost pilgrims' faith and mules' trails
This hot summer morning the Meltemi blows hard
Showering my sweat away and kissing me
As in this revelry I welcome the rocky island
The first Aegean to enchant me
~RB
The most scenic trail from Chora
My lids opened with the mid-June sun tickling me through the hollowed window shutters around 5:30. Seduced by the peach horizon layered like the Velvet cake in soft, delicate hues, I savoured my first morning tea on my terrace. Wholesomely anticipating my only free day on the island, unaware that this Saturday would turn into more of a pilgrimage than just a regular hike.
Up with the cockerels, I packed, ate the last dried figs (grown and packaged on Andros with sesame seeds and bay leafs to keep them from sticking to each other, smart), the dense local goat yogurt, bread sticks dipped in a sesame paste, and swiftly checked out from my blissful accommodation before nine. A local taxi lady would meet me at 12:30 at the monastery with my luggage (one handbag, plus a gift bag with Chora boutiques bounty — silk, naturally-blue-coloured spirit, dried figs, sesame tahini, olives, more of the addictive bread sticks covered in crunchy sunflower seeds). The 11.5 km trek (without detours), guides say takes about 4.5 hours, but I am a fast hiker, so even with a number of intentional and rather unplanned strays it took me slightly over three. 
If you do not have entire day to snail along the number 1 route there and back the same way (which I admit I do not love doing, too repetitive, too little time to explore more), after reaching the monastery you can take the 18 route (that spits from 1 in about 1 km) back to Chora. This way is about half the distance compared with crossing over to the opposite valley. Andros Routes, a website dedicated to inform on the condition of the trails, highlights unmissable sights along with tips for refuelling and potential detours so you can plan ahead. I am a vaguer planner. I prefer to roam, savour and fly free like a bird when traveling alone. I set a window in my day, the final destination with multiple options for discovery, one goes with the flow of the changing weather (wind in the case of Andros, because once it stops in summer, you roast like a potato and sausage on a pan glued with eggs, the local specialty).
Leaving Chora downhill into lush farmland, horses gazing, donkeys lazying, sheep and goats grazing the verdant carpets watered by naturally-endowed wells, a wild goat jumped ahead of me. Startled with a wide smile, I trod the stone-set pathway in an awed spirit. Fig trees, cypresses, oaks, planes, almond, lemon, olive, pomegranate and walnut orchards, shaded my head high with fragrant air. Abundant springs (wait till the beautifully lion-headed Menites springs for the safest bottle refill with drinking water) feed the flora and encourage animals to procreate. I felt like in the Portuguese countryside.
Connecting the the hillside villages, the shist and slate xerolithies of stone walled paths on Andros are unique to the Cycladic islands in Greece. I climbed into the first white-clad, terraced village, Ypsilou. Here, the local rachitic cats (they are the pickiest eaters I learned, give them bread and they rather skip a meal) were napping on the late morning sun, guard dogs barked from behind the fenced of gardens, jolting me anyway. I passed a sign for over a century old spring, but my Google Lens translator did not pick up "drinking water" so as a general rule I waited for a more elevated source to refill my thermos.
After the first path split, in Koumani village, route 10 met mine. I saw the first hiking group exploring a walled in building so I ventured inside, surprisingly finding an abandoned school. The post-independence edifice still fancied worn down posters of constellations, sea-centric map of the world (Andros's history abounds with seafaring tales), drawn pictures of Andros fauna and flora with poisonous danger alerts attached. A very practical local education, I thought. Skipping over the elderly group I continued through the village, distracted by ripe apricots fallen onto my path, so with a full mouth picking one after another, delighted, energised but a bit lost, I strayed off the signed route. On the less-trod dirt road I was drawn to abandoned relics of cars that would fit perfectly in modern museums.
Inner journey connected with symbolic surroundings
As desires and appetite seduced me away for my first detour, my walk turned inwards. Musing, is it something leading me or is it rather some deep layer of my heart that calls up from the abyss of unfulfilled longings from my past? So far in fact that I cannot recall any repressed cravings, suppressed truths or injuries to my soul. From Jungian psychology I learned that symbols speak to us universally, collectively, but I also suspect that some connection between our individual past and it form the current representation of that object. Like triangles. I was drawn to them on the Bermudas, here on Andros as at most Cycladic islands, the triangular shape adorns the traditional homes on rooftops, engraved decoratively around and attached to the doors. Most commonly, a collective symbol of the Holy Trinity, but for an individual there may be more to explore in one's awakened consciousness.
From healing springs around Haunted bridge
My self-analysis got exhausted with no water left in my flask, so I practically decided for an additional detour. Following the Menites Springs circular route after just a mile the refreshing gushing sources off the mouths of carved out lions set into green-clad wall blessed me for the hotter half of the route. Water tastes best when you are thirsty. Sweeter as my salty sweat made it seem so. As I replenished and got my kidneys back to work, the euphoria distracted me on the main road to Mesaria village spreading across a fertile valley splitting the North and Southern hills by two highest island peaks.
This is not a recommended "shortcut", but a way taking you on the busy car road across the island. Trailing back towards the picturesque Chora, I missed one of the sights on the mapped route One, the "haunted" Stoicheiomeni bridge. With a hindsight, I am thinking perhaps the arched stone bridge is indeed haunted and I was not supposed to get close to it. Well-wishing is a good self defence in whimsical situations like this. Anyway, my chosen route guided by my "smart" phone was not rewarding either. Do not trust Google maps! After a few blind cross paths, I got angry guard dogs barking my heart away, hit a fence and mulched through a hill of dry bushes. After a couple of annoying failures, I found a connecting road turning me back down the valley gorge into the village at the foot of Gerakonas, the second highest mountain range of Andros. Extra mile or two. A pack of geese trodded before me on the concrete road before I turned across a creek over a stone bridge to my final climb.
PANACHRADOS MONASTERY
Snaking up, the mostly staircase path higher up scented with golden weaver's broom flowers felt as if I was going away from the castle-like structure of the monastery above me. The xerolithies guided me during most of the final ascent. Some of the monasteries on Andros are uninhabited and only during specific festivals interesting or open to visit and experience. Panachrantou Monastery is not only the most friendly to welcome outside visitors, but also offers head-turning sea view from its cliffside height. Towering above Fallika village, the 10th century monastery engages with the followers of the Orthodox Church in sacramental festivities as I witnessed after climbing up just around noon. Inside, all gilded decadence typical for Greek Orthodox interiors, a precious sacred icon of Virgin Mary allegedly painted by St Luke was adorned by sacramental gifts.
Eleni, the friendly lady for my pre-arranged multi-stop transport back turned up knowing all the monks. Her family farm house is in the village just bellow, so she spent her entire life visiting the amicable group of priestly men. She showed me around the monastery, even the kitchen where she offered me from one of the silver bowls the chewy fruit and rosewater loukoumi sweets made by in the monastery, and I refilled my flask from the lion-mouthed spring on the premises.
She drove me across the yellow and purple covered hills down to Korthi. The wind battered the car so strongly that unused to the Cycladic Meltemi one worries about falling down the steep cliffs. Down by the sea, we lunched with our frothy coffee fredos (shaken iced espresso) at her local favourite Sea Satin. While we waited for the relaxed-pace waiter, she told me of her 102 years-old grandmother also living off the family's own organic farm just under the 'blessed' monastery. The island is a village. She seemed to have known many people around. The sublime Kretan salad composed from the freshest local vegetables, pickled Andros capers, Greek samphire, olives, bread rusks and the sweetest plum tomatoes was by far the best I had on this for two weeks lasting Greek trip. With some extra bread and olive oil, refuelled, I could walk some more.
As per my interest in archeology, she drove me north across to the open Zagora site. The winds messed our hairdos and the car doors were an additional workout to close firm! Finding that, there is not much to see along the route 7 through the over six millennia old Zagora, she drove North to my ferry in Gavrio. Attentively pointing at the best sunset viewing spots, I was allured to return to Andros soon! Still, so much to explore in the relaxed, slow-life pace the Greeks do so well. Kalimera!