Little Pine was conceived through the love of animals by Moby, the award winning west coast musician, who adopted vegan activism and Los Angeles as his mindful lifestyle nests.
Moby's vegan activism is voiced through Little Pine's comforting, on great taste-focused, yet balanced plant based cuisine. Like at Crossroads, another great vegan restaurant in LA, Italian and Mediterranean nuances meet the chef's creativity on the plant-based plates. Little Pine serves a weekend brunch and a seasonal dinner menu in a candle lit intimacy daily. Sharing all is encouraged in a community centric philosophy. Integrity is served on Moby's plates since atop the delectable food all proceeds are donated to a selected animal charity.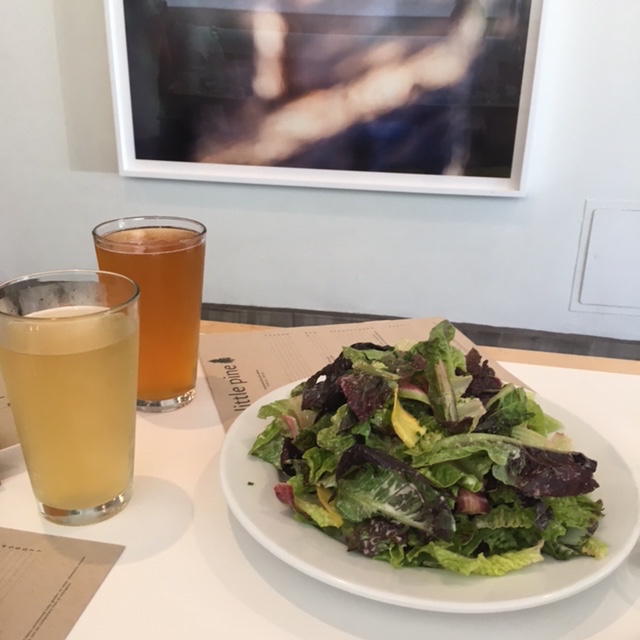 Further, eco-consciousness holistically resonates through Little Pine. Filtered water is served in re-usable glass bottles, recycled paper menus and reducing food waste by offering carry home boxes for unfinished plates, are increasingly the norm in casual restaurants. Little Pine is relaxed enough that you do not need to dress up, after yoga leggings are totally fine here.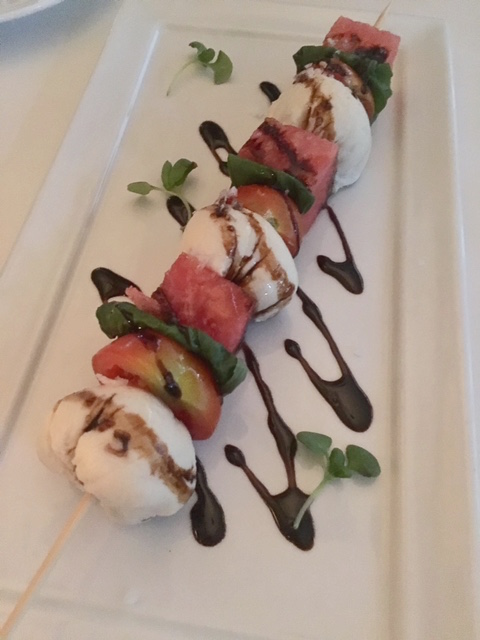 Almost everything is made in-house, no packaged vegan cheese and fake meat wrapped in plastic foil roll into the kitchen. A delicate vegan house mozzarella pinched on the Caprese skewer alternating watermelon and tomatoes and painted over with a viscous stroke of dense balsamic vinegar was served at dinner late in the summer and early fall. The nut-based mozzarella balls would beat most of the dairy mozzarellas in terms of taste as well as melting away texture. Unless, you compare it to real buffalo cheese or care about calories, then the cholesterol free, but with healthy fat energy packed nut stuntman is a no brainer.

Less appetising were the vegan sausages dipped in a hearty marinara sauce floating over crisp polenta. The baked polenta with roasted tomato sauce saved it and we cleared our plate without hesitation. Also on the Italianate note is the side of fresh focaccia triangles served with an extra virgin olive oil. In fact, one of the best focaccias we had in America. For no gluten sensitive foodies a must order as are the perfectly prepared al-dente ravioli. The vocal chord was a deep bass in each mouthful sliced off the three large artichoke and spinach ravioli noshing in a smart accompaniments of sage, toasted walnuts and cranberries. Succulent, satisfying and indulgent. For gluten-free pasta the vegan Macaroni and cheese at Little Pine or the seasonal risotto can stage as your large plates.

A large plate of young Broccolini, hazelnuts, avocado mousse, red onion, could have been half the size, or at least with the option to get it smaller as it is more of a side dish better eaten next to some plant protein. In October broccoli was also balled into dairy free take on the Sicilian rice arancini with pesto. Heartier warm bowls and plates enter the menu with cooling weather. There is usually some soup year round, from a seasonal vegetable gazpacho to potato leek hot soup.

For a hearty sweet brunch try the nut ricotta pancakes, but you can also dine light since the vegetables take over half of some plates like the Tofu scramble with roasted potatoes, home made ketchup, cherry tomato salsa, warm sourdough toasts and a vibrant bundle of green rocket with pink rainbow turnips. The refreshingly light Heirloom red gem salad with watermelon radishes, rainbow carrots dressed with mustard vinaigrette doubles on the brunch and dinner menus.

The desserts also change seasonally, which means that the best key lime cheesecake ever, will be accompanied by some other natural bounty once the Indian summer is over. Seated on refreshing sweet lime coulis, the cookie base was subtle and the coconut whip surpassed any dairy whipped cream my tongue has ever come in contact with. The key lime sourness balanced the nut cream "cheese" sandwiched in between the two. The Brownie Sundae my husband ordered was sadly the only disappointing serving at the Little Pine. The chewy and powdery texture of the hot fudge cocoa base was unappetising, while the peanut butter soy-based ice cream atop was not really iced, but rather tasted as a rich flavoured pudding. Lucky for him, I was inspired by the generosity of the restaurant owner, Moby, and eager to share my superb cheesecake.


The one page wine list hints mostly on the trendy natural wines served in stemless glass (PYT in Downtown is also infatuated by some unusual natural, added sulphite-free and low-intervention wines, while the ever so popular Gjelina in Venice skins off the scum and distills the best natural wines into its one page card). Pickings not only from America, but also France, Italy and Spain at Little Pine. Starting with California Pinot Blanc and moving to a Spanish single varietal Graciano, I enjoyed the diversity, but the unusual Chardonnay by the Berkley based Donkey and Goat winery was too bread-like for our taste, so we moved on.
Scaling down the alcohol level with large servings of fizzy fermented tea kombucha we had with the brunch, the black tea with peach came out as our favourite, Moby is a tea to teller so the non-alcoholic beverages are equally interesting at the Little Pine. House-made almond milk or organic soy milk can enrich the chai or coffee lattes. A wide selection of green, oolong, black, white tea by "T" brand or herbal, yerba mate and guayusa is all poured over with triple filtered water. I chose the herbal blend of tangerine and ginger for its warming comfort, but also lemongrass, after dinner tea for digestion, rosehips and hibiscus to supply Vitamin C, while the cucumber mint flavoured native American plant guayusa is great for low acid caffeine boost.


Silver Lake is now breeding the East LA knack for restaurants. From the all day vegetable-centric dining at Botanica to the best selling "Everything I Want to Eat" long queues pulling Squirl, the residential and with low-key artists planted neighbourhood is like in all directions stretched Abbot Kinney Boulevard in Venice. The East Los Angeles has not yet become as hipster, so hurry in before the international selfie 'trendsters' arrive. I wanted to dine at Little Pine for years, but the long drive was deterring. Yet, there is so much more to see (contemporary independent art galleries in Hollywood and the Griffith Park a short drive away) and do (pilates and yoga studios steps away, Thai spa,…) on the eastern side of LA now and if you go on a weekend, the traffic is much more smooth, making that hybrid Uber ride worth the trip.


The design is welcoming, feeling like a wooden hut in the mountains tucked in the Rowena Avenue with a five table nation a the back. There is a shopping corner so if you wait for a vacant table, browse through the mindfulness enhancing book selection, natural birch and black pepper scented Little Pine candles and other lifestyle enhancers located smartly by the entrance. The kitchen is right behind it so peak in for an inspiration.
Take out and delivery through Caviar lets you order if there are no tables available during the most desirable hours. Moby dines at Little Pine often. At our first brunch there, he sat right next to us. The returning diners can rest assured that the ultra friendly service and the quality of food remain up to the hight standards that the black frames sporting, grey bearded and calm spoken thin man set for his charitable, design-driven and ecologically sane community gathering space in LA.
 2870 Rowena Avenue, Silver Lake, Los Angeles, CA
+ 1 323 741 8148
Daily for dinner from 5pm, plus brunch on weekends from 10am-3pm