Lanserhof Am Tegernsee in Bavaria is the most contemporary resort for fasting and one of the most advanced holistic medical clinics in Europe. The LANS Med concept includes burnout and stress coping, immunity boost, a sleep clinic, performance and body-mind regeneration through Energy Cuisine® next to complementary therapies such as cellgym, cold chamber and customised exercise. Each of the stay-in branches of this medical spa group is set in a beautiful natural environment with minimalist and sustainable building design. Bedding in a five star hotel, medical staff at your disposal, any health test you can name, massages, facials, yoga, swimming and all inclusive three healthy meals (alkaline, mainly organic, locally sourced and seasonal) each day. Welcome to the perfect package for your well-being set in nature. Athletes, seniors, models, and fit couples mingle with overweight guests striving to lose it fast. Everybody finds a better balance at Lanserhof. You either eat wholesomely and are very active or you snuggle into your room sip infusions, broth and fast.
Fasting is a current diet trend, and its proven health benefits (autoimune, cardiac and dermal diseases) kick started my husband's regular fasting program. I wrote about the tenets of fasting, here I dip more into my own experience at Lanserhof Am Tegernsee resort in Southern Germany. The original branch in the Tyrolean Austria at Lans, is more lowkey and cheaper. There are less classes, talks, less herbal infusions, the surroundings are not as breathtaking as Am Tegernsee, and only a few rooms (spa wing) were renovated to the Tegernsee luxury standard.
I went deeper in other posts on the psychological, sensory and spiritual aspects of supervised food abstinence. Many composers, writers and other creative people have voluntarily fasted, hence my interest in how my mind will be affected furthered my resolve. At Lanserhof, it was not a cheap experience. At home though fasting is risky for your health, for each of us is different and can have serious health problems. At the private clinic my blood pressure and pulse were measured daily if needed, and experienced medical staff checked you to keep you safe. If you can afford this five-star purge, having the support of trained medical staff, the newest technology, supplements and advanced holistic therapies at your hand, this is the ideal, most pampering setting for a wholesome cleanse. 
Wellness with a fairytale setting in Bavaria
The only place I could ever fully fast has to be surrounded by pristine nature. Aiding my effort to erase food from my hedonistic mind for a few days, Bavaria, with its pre-Alpine landscape, lush cows' pastures, painterly chapels, sprawling lakes and fairy castles seemed as the perfect setup. Tegernsee is beautiful, and cycling around outside the holiday season is easy and safe. Mostly, the paths are separated from the main road circling the clear blue lake. The only hills you have to climb are back to the clinic, here the electric bike available at Lanserhof helps, so go for it. The entire loop took us two hours. Spring (count with lots of rain) or fall are the best times to enjoy this abundant region, not too hot neither freezing. It affected me physically but mainly emotionally. Nature gives me more mental energy to focus, read, write and simply be.
Healthy activities at Lanserhof go beyond the physical
Plenty of healthful distractions fill up your schedule if you want, while you still can rest. Lectures in English, German and Russian in Room Inspiration support your resolve (I enjoyed the Happiness talk by the bestselling German Florian Langenscheidt, who has studied it for over 30 years and lectured on happiness at Harvard; a better sleep lecture is useful to any city dweller). Hot baths, sauna infusion, once per week gong meditation and live music sessions from jazz, flute, guitar, through piano soothe your mind. Creating comfort is key to a more pleasant fast. You can wear your robe or workout clothes all day, but dinnertime is smart casual. Wearing warm clothes is essential as you get colder than usual. Blankets and the warm liver pack you should use before lunch and after dinner in your room asist with your comfort.
Warm herbal infusions abundantly offered ready on tap on each corner comforted me tremendously. In the morning I sipped the more invigorating ones such as ginkgo, ginseng, peppermint and thyme while afternoons introduced more calming barley, hops, rosemary, chamomile and others.
Lymphatic drainage of the upper body with suction cups also eased me. Some detox treatments are very intense so plan just resting after them. The detox algae wrap in a steam chamber really tires you, and the sticky honey pinching massage left slight bruising on my tights. Electrolyte foot bath removes toxins through the pores of your feet, the color of the water can change to orange, gray or anything weird, but it is meaningless. I loved the energizing foot reflexology with Marco, who is passionate about China and teaches qigong classes twice per week. The morning "awakening in nature" sets you out onto the verdant golf course, walking fast and then activating your joints through exercise, a wonderful start!
Supporting our struggle and keeping us busy with daily group yoga classes, gentle elastic band strength training, back muscle training, stretching, and outdoor walks of various lengths. The yoga teachers had each very different style, but all were gentle, fascia and restoration supportive asanas. Beginners mixed with advanced yogis call for a compromise, plus those on the fast cannot be pushed too hard. Mindfulness was the main tool.
Alkalising, detoxing, supporting and supplementing for health
Everyone at Lanserhof drinks an alkaline Epsom salt solution before breakfast, spoons bitter digestive drops before each 'meal' (if any), adding an acid-base balance capsules or powder three times per day to alkalise the body in between. The body releases acid substances while detoxing, so to avoid problems you must ingest alkaline beverages and supplements. Mineral (Kalium, Magnesium) and vitamin supplements were further prescribed according to individual needs.
The only drop of alcohol you get here is in the bitter drops. The plant-based Lans Derma Products supplied in your room were free from any proven toxins, yet I did not like all of them. You get to choose your favorite fragrance of the body lotion, I love Vitality. Their conditioner just did not work. Further, there is no body brush, while the Mayr regime stipulates daily body brushing before morning cold-hot shower. There is a Kneipp foot bath available to everyone at any time until 4pm daily.
The doctors at Lanserhof are specially trained in the F. X. Mayr Prevent® programme. They administer frequent medical check ups and supportive or cramps alleviating colon massage. You are measured, your bioimpedance (distribution of strength) is calculated, biometrically (body composition) tested and your blood, stool and urine analysed for deficiencies and sensitivities. Intravenous infusions inject nutrients fast into your bloodstream to support the cure. The German rigour penetrates the clinic, although the scheduling makes mistakes, so always double-check and avoid schedule clashes with your mind and exercise program. Also beware of your allergies and dietary restrictions as I was served soy products despite having them listed on my table. Ahead, request empty windows for classes you wish to attend. The restorative yoga five days each week and a qigong were my must does. The mat pilates is a great core builder and I had once an entire class one on one.
Perfectionism reeks even outdoors on the gingerbread houses and chapels in the region. It is a pasture for the eyes to cycle around.
Beyond fasting: the LANSmed clinic programs
Visiting specialist doctors can check your heart, skin and intestinal health. Much is not included in your initial package, such as the medical consultations and the manual stomach massage. The private healthcare cost is high. Expect hundreds of Euros for blood tests, colonoscopy to additional infusions (amino-acids for hair and skin, iron, electrolytes, vitality, liver, …).
Performance is an active program that can be complemented with cellgym® and ice chamber for more energy and vitality. Weight-loss is supported by the newest technology such as Endospheres® microvibration and other anti-aging or slimming machines literally dissolve fat in your body and firm the skin. I have not tried, but for those seeking physical perfection, these are great tech options.
FALL DETOX:
If you need a beauty boost facials there is Rohini, Pharmos Natur, Subtle Energies and Royal Fern for green luxury, while medical anti-ageing customised skin care by MBR, UNIVERSKIN analysis, oxygen jet peel, radiofrequency and TDR® for immediate visible results. I did once the Lanserhof Sublime skin active lift facial, which was finished with my favourite kobido technique massage. The hair salon uses green Italian brand Davines and Wella (very ok my husband) for color. Add on rejuvenating body treatments from natural hydration with pure Ecuadorian aloe and body wraps are much needed as the detox taxes the skin with dryness. Treatments specially developed for men were adapted to their unique needs.
SPRING DETOX: snow surprised us on the second week in May!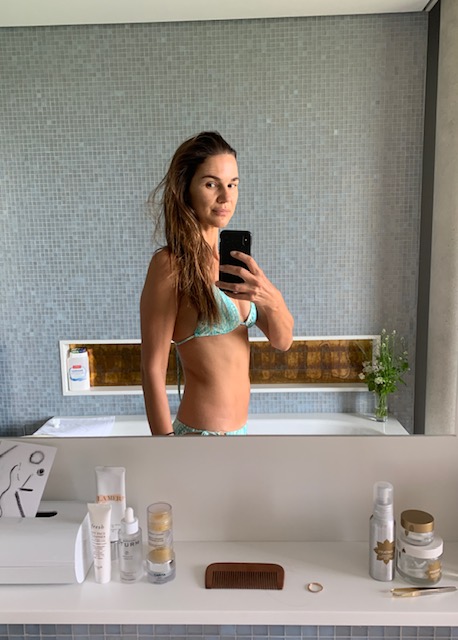 Energy Cuisine and fasting with the Meyr method at Lanserhof
Like ayurveda, the F. X. Mayr method is about supporting your digestive fire. Your gut and intestines are going for an alkaline treat. They get a much needed rest after working nonstop. Having it all prepared and without any temptation in your cupboard or a minibar makes fasting at Lanserhof much easier than you would think. I started slowly, with just a short fast, a trial. I am encouraged to undergo a longer one if my health needs it. After the three full days of the water fast, I was shocked how much a half slice of toast filled me up! Slight headaches and very light sleep were the unpleasant side effects, so I would not recommend fasting for someone with a jet lag. Also low blood pressure can make you dizzy.
The fast itself was not bad, but the liver detox I was recommended by by doctor due to my regular wine indulgence punished me with the worst, sleepless, sickening night of my life. Drinking a glassful of olive oil mixed with grapefruit juice and liver-detoxifying herbal supplements stirred a nauseating sensation for the hours about to haunt me. Even the warm hay pack administered to my liver in my room the day before to activate the organ did not lessen the torture. A double sword when you fast before. I would not advise anyone to undergo this intense detox while fasting. A liver intravenous infusion is advised afterwards.  
I fasted only for three, almost four days, so I tried most of the chewable detox food served in various quantities and complexity levels. Immediately before and after the fast you go on the lowest food intake. Chewing, like in macrobiotics (promoted also at the Sha Clinic in Spain), is an essential component of the Mayr cure at Lanserhof. Dry or stale bread are the best trainers. Crackers are much harder to masticate 30 to 40 times. So is rice or potatoes a level up, hence an additional bread is served with it at Tegernsee (not at Lans). Although some of the food is purposefully bland (carbs-rich and very low fat), you will find your own favorites and appreciate the energy cuisine level up much more. The bread rolls taste stale, the cracking spelt flatbread is alright, but for most the crispy cum chewy buckwheat toast is best.
A clear vegetable soup came at dinner. At Tegernsee, acidophilus or goat's milk or a choice from plant milks that can be served warm if you like (my favorite was the more dense oat) or goat, sheep or soy yogurt with dry diet bread, cracker or toast (gf options include a nice buckwheat toast, buckwheat biscuits or a papery corn waffle) subbed for breakfast and lunch.
A level up at dinner are pureed soups (fibre is more complicated in your intestines so needs to be added slowly) and steamed vegetables with the fasting breads that can be enjoyed with the anti-inflammatory cold-pressed linseed oil. Breakfast started with a toast, vegetable spread (avocado, carrot, spinach and chickpeas or weekly special such as the fresh sheep's cheese with caraway and herbs), milk, honey or maple sirup over porridge (oatmeal is best, but quinoa, rye, rice, spelt are also offered). Rice, one type of steamed vegetable, toast and sprouts at lunch. The curried soups were our favourites (such as sweet potato, celery), but the carrot with coconut and rice milk cream was great too.
In Level III you get extra calories with more fat and protein in breakfast (love the coconut yogurt) and lunch (fish, lean meat and vegetables or vegetarian like blini with spinach, optional soup or dessert). Dinner is the rich soup with diet bread, unless you want to go light with only a broth.
The Energy Cuisine at Tegernsee is for active people, athletes, but also for anyone interested in keeping with the balanced eating back at home. It was ideal for me and I felt a huge boost in energy when I moved to this diet. Breakfast includes more choices than Level III, one type of fruit, yogurt, porridge, muesli, ham, jam, butter! and is served like continental breakfast, sometimes it includes eggs. Our last meals before departure shifted to this delicious menu. Dinner includes vegetable cream soup and a main course with bread. My eyes lit up as there are four courses at lunch and not plain simple as the lower levels of the Lanserhof diet. In fall, I went for venison as it was the hunting season in the region (served with cranberries, roasted pumpkin and puree) and ended with an artisan cheese plate from local farms instead of an apple strudel. I left happy.
In spring, local grilled trout with Bavarian green asparagus was nicely done. We requested specially the white asparagus. Knowing that here they grow the best in the world, we bought some for home. The Lanserhof team generously gifted us a carry on picnic bag and ice packs to keep it cool. Surrounded by organic farmland, Bavaria was blessed. What a treat! For gourmands at any level, those massive thumb-thick white spears shaded underground were best served simple as we asked just for rice, served plain at Lanserhof and an extra olive oil. No sauce was needed to decorate the queen of its class. As the Germans proudly and rightfully say the "white gold".
We had some fun during our stays. Board games and live music entertained the rainy evenings. While in spring the days get longer so a stroll after dinner felt wonderful with those views. Golfers can hit some balls at surrounding 18-hole course. The first short fasting was quite bad for my immunity though. Subsequently traveling through Israel to Asia I got a very bad cold needing antibiotics. Try not to travel extensively after an intense detox, add Vitamin C. The pampered and rested body is more vulnerable, but the psychological and spiritual experience is worth the stay.
Our second time at Lanserhof was towards the end of the first wave of the Covid19 pandemic outbreak. As a clinic, Lanserhof Am Tegernsee remained open. All you needed was a test prior to your arrival and their medical certificate got you across the border control. This time I knew what to avoid (liver cleanse, spelt roll, bland soy and sheep yogurts, boiled german potatoes and headaches if you do not hydrate enough), so I enjoyed four days of bread and milk/yogurt fast (much easier than the full water fast). With a jet lag I did not want to weaken, but strengthen myself. Soon, I moved to the higher levels of nutrition to energise our stunning spring hikes, cycling around the lake, and proteins to build our muscles after strength training on the week two. We felt so clean and balanced, ready to face the world slowly opening up after the first wave of this global crisis.