Healthy Tulum food is easy to get in this millennial cool destination fit for cosmopolitan good looking tribes. Plus, my food guide to the best Tulum eats would not be complete without mentioning also some signature healthy themed outcrops one must browse through for a complete experience while in Tulum. Lucky you healthyvores there are plenty of plant-based, fresh fruit and vegetables focused, organic, whole foods and superfood options along the Tulum beach strip. The boho-chic after all eat sane.
Moving naturally in Tulum
First, walking is the best mode of transport. Perhaps even swimming's but I don't advise cycling at night on that scantly lit, third world road cum pedestrian narrow path that is the only way to get through. Unless you have a wide-wheeled bike made for the beach, skip the wheels. There are not many gyms and long enough and zero lap pools on the Tulum beach strip, so you better move by dancing, walking and swimming or surfing in the ocean.
Stroll over the dusty, potholed road for breakfast or better – shoes off – along the powdery sandy way to a casual beach lunch or for just an energiser of blended matcha smoothie or kombucha (fizzy, zero-proof, by a scooby transformed tea) on tap.
To go or just squat around the straw-roofed kiosk Matcha Mama get your açai, cold brew or matcha fix, even a plant-based frozen nice cream. For a vitamin blast in a smart selection of smoothies or wholesome food bowls bench at Los Bowls healthy eats. Just around the corner you can shop for lovely authentic high quality souvenirs.
Trendy healthy Tulum food options by the beach
Some healthy-minded morphed into vegan fashionistas demand their superfood bowls at breakfast, lunch and even with the detox juice "cocktails" at dinner. In Tulum one finds their perfect spot easily as almost any beach hotel offers their version of the Brazilian surfers cool, alas the açai bowl and its sibling, the dragon fruit purée over the familiar assembly of grated coconut, oat granola, wholesome seeds and nuts topped with fresh berries. We had ours at the – dip your toes into the beach sand – Be Tulum hotel. Not bad, but certainly in Brazil, Miami South Beach as well as in California we had better though. If you are not a food snob like I am, you will not judge. Experience can sometimes kill the joy from the tested and tried already.
Nomad Tulum, a super hippie chic hotel on the beach also offers plant-centric meals at its Morocco meats eastern Mediterranean cuisine. We loved the mezze platters. Superb baba ghanoush (eggplant dip) here topped with crushed pistachios) also the steamed deliciously seasoned broccoli with tahini lemon sauce was nice and the falafel balls with turmeric humus were crisp. Good selection of alcohol-free drinks, homemade iced tea and juices. Ignore the well-trod puffs and low-set couches in need of freshening up (at least a more frequent washing service) and just flow with the music.
Healthy Tulum food is still served casually. There is one proper vegan restaurant called gorgeously Love Tulum. It is closer to the town alongside the tight, traffic pothole ripped beach road and pleases plant-based eaters all day long without a break. My locally based meditation and inner yoga teacher frequents Love Tulum. It is her favourite spot for a wholesome dinner sans margaritas.
For locally made, eco-responsible and fair trade shopping I recommend Spiritum Tulum. Wood and palm leaves bohemian style boutique alongside the beach road in Tulum close from Be Tulum and Casa Malca.
Spiritual nourishment in Tulum
There is yoga in Tulum, naturally, but much of it is of the acro, gymnastic, pin your pose on your social media board breed. Except when you practice with Madhu (humyoga.net), the India-born and trained guru of mine changes your mind, helps to control your emotions as much as your relationship with your body in the deep realm of awareness. She made me a more peaceful person by calming my anxiety and hectic lifestyle patterns (no commissions for me, but she was my well kept secret until now as I feel it's time to share her magic teaching skills with those who need it and there are millions of us).
Tulum experience includes paid for cacao and temazcal ceremonies, guided ayahuasca mind-expanding sessions, even sexual healing soirees (a new word for the old thing?). Spirit-soaring practices abound on the Tulum beach. Such commodifying of bohemian rustic lifestyle over the past decades has infiltrated even the most remote, jungle cool destinations. While some are in, I seek either genuine authenticity or even more safety as much as possible, so I rather attend a ceremony in Zurich with an experienced and in health trained professional or with a trained psychotherapist who knows the safe boundaries. Shamans today sadly are often scammers, beware! Traditionally, one did not pay a shaman for their healing.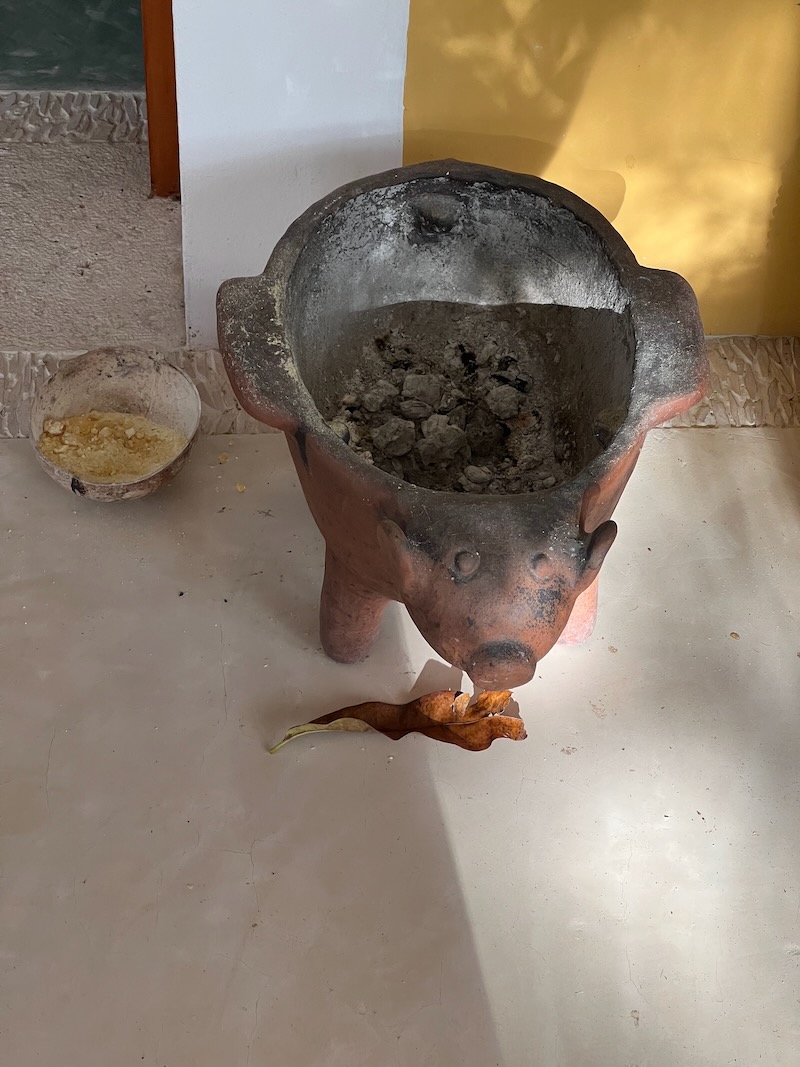 Do not be misled by false advertising since Tulum is not any more that remote, unspoiled jungle glamping destination it is known for. Unless you venture further afar into the Yucatan jungle along the Tulum beach strip, here the overnight stays are at hotels or small guesthouses ran in a boutique spirit. If you long for a true luxury escape with an incredible spa then drive almost half way back towards Cancun and stay at the divine Hotel Esencia where I found calm and inspiration.
The prices in Tulum today are more St Tropez than Mexico of its budget heydays! Also, do not bring any valuable jewellery and watches. It happened only recently that a man was killed for his Rolex in Tulum.
And not last, be present, savour each moment of your holidays mindfully. Even though there is a good wifi signal throughout the Tulum beach strip, disconnect form the outside world for a day or a week, it feels liberating!