Tulum beach has changed eons since Pablo Escobar hid savvily here in the exotic Yucatan Caribbean-lacing jungle. Yet, some inspiration-stirring heritage came from this most legendary Latin American drug lord. This time, it's the Americans flooding over the border into Mexico to escape the strict law enforcement on drug access at home. Somethings as silly as low-cost youthful face preserving retinol creams, available without prescription, to more serious "outlawed" medical services like abortions. It's ironic that these days there is more liberty across the border than exists in the 'Land of the Free.' 
On Mexican soil, open minds together with an abundance of ingredients flourish and stir the passions of the culinary realm. The world's most celebrated and controversial chefs are drawn to the allures of Tulum, creating high demand and elite access to the strip's hardest to book, and indeed a must try, eatery — Hartwood, a simple grill done well.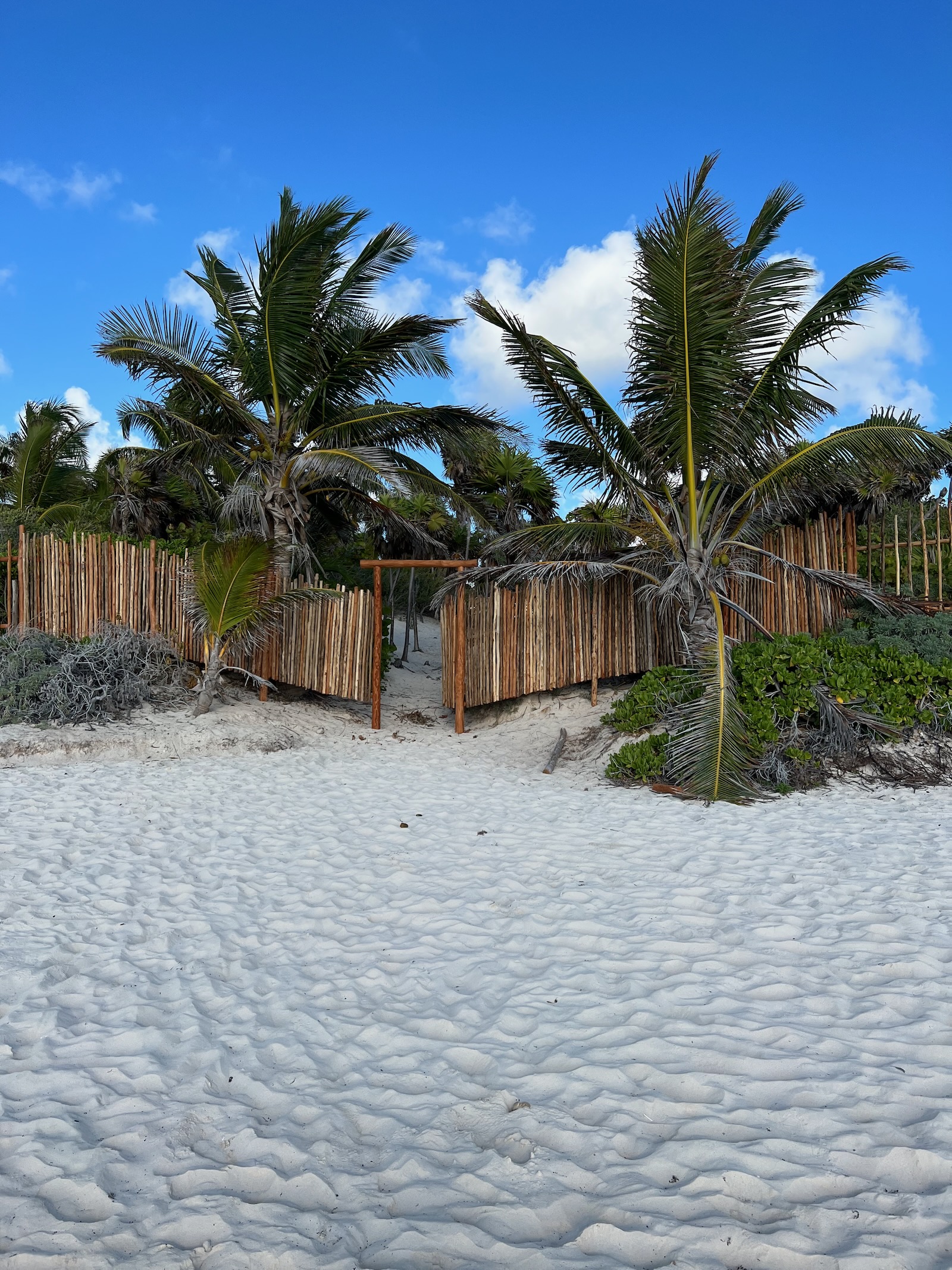 The Tulum beach vibe
Here on the jungle side of the Tulum beach road, chef Redzepi (a spoiler alert!) along with the support of his Copenhagen team, occasionally stages a pop up of his iconic European restaurant. While the experience embraces the beach vibe and smokey native aroma of the 'coco fuego,' I even witnessed chef mindlessly putting his bare feet up the seating benches during service (a lesson: never touch your seat with bare hands before putting a taco in your mouth).
Redzepi plans to return to Tulum now that his former No 1 restaurant has shuttered (after two decades in business, and immediately after finally receiving his third Michelin star.) Citing an unsustainable and socially problematic model of modern fine dining, he has set his ambition on creating international pop-ups and prepared exotic food ingredients for home cooks.
While he has now moved on to Kyoto, I wonder if his questionable hygienic standards will cause a stir in tidy Japan as did his serving mouldy asparagus to my pregnant friend, or the numerous food poisoning scandals his Copenhagen institution caused? On one hand, he's a maverick and innovator of regional food sourcing and fermentation alchemy, while on the other, he pushes the limits of food safety with questionable scientific adherences.
I've made my peace and I am letting him be. Beyond the more appetising results of fermentation I share one passion with the Danish chef as I too fell in love with Tulum on the first bite (after those sublime fish tacos at a random highway stand on our way in from Cancùn airport!) Yeah, the food in Mexico can be sublime, but if one only craves the best, here are the most delicious, ingenious and delightfully ambient eats along the Tulum beach we had the pleasure to devour between the extraordinary, days-lasting (Indian groom, Jewish bride) wedding festivities that drew us happily over from afar.
Beyond attracting some of those with a libertarian state control aversion, Riviera Maya has a colourful history of seafaring native rattles between the secluded locals and the more expansive Southern tribes from Chiapas. Not all the Maya were the same, I learned from our anthropologist guide at the Tulum Ruins. The food in Mexico is regionally as diverse as in China or India, the other abundant cultures with deep roots of their localised culinary traditions.
The Noma effect has influenced the local dining scene somewhat, yet not everyone turned into fermenting cabbages and whatever is found around. Rather, the Mexican tradition in Tulum was freshened up, got plated more artfully and became jazzier.
Ambient eats along the Tulum beach
Intriguingly, all of the more creative, contemporary restaurants are located not on the hotel-dense sandy beach side of the road, but across the dusty potholed rustic chic thoroughfare that in high season gets ultra slow life. It is faster to walk to your restaurant on weekends than taking a car. Parking is virtually impossible on the Tulum beach road strip so hired vehicle is the only option next to your own feet.
While the feel of the surroundings, the visual, aural and olfactory attributes count in the gastronomic ladder along the Tulum beach, these can stretch as wide as a stone-clad carpet of an open wood grill to a romantic chic alfresco decor with ambient music. The majority of the greatest restaurants on the Tulum beach strip are outdoors. Spray on that mosquito repellent, ladies leave make-up free (first nobody will see your face details in the scant lighting, second it is usually so humid and anything on your skin will feel, well blah) and never wear heels (don't even pack them), especially the straw-thin models that will sink into the dirt, the cracked wood flooring or sand meets rocks you exclusively walk on here.
Serious foodies must goes and no goes
Forget any meals at the former Escobar's bunker evolved into an eccentric, with horror-obsessive, popish and controversy-stirring art hotel. There you will also spot quite a few orgy-themed pieces (photos above) and parties going 24/7. From my own bedding experience, sleeping at the heavily guarded Casa Malca may induce some rather unpleasant dreams, even though I usually do not succumb to superstition.
Above all and must reserve well ahead, Hartwood hasn't ceased attracting great food lovers happy to eat casually and well.
While Hartwood is a grill-centric restaurant in Tulum, you can start with refreshing jicama root salad (something between radish juiciness and bite and daikon), fish and seafood ceviches, crispy tostadas topped with anything from raw tuna to whatever swims around. Oven-baked empanadas whiff in yet more Latin American cuisines blending over the centuries. From Venezuelan arepas to Argentinian staple empanadas. At Hartwood they stuffed these perfectly crisp charred pockets of dough with grilled pork.
For the mains, the grill is the centrepiece at Hartwood. The menu carried around on a charcoal board shows seasonal local fish, octopus, lobster, Angus beef, and the must have baked giant red beets. Simply prepared to sate and not overwhelm with complexity. Harwood is best for no fuss food in Tulum.
When in an indulgent mode imbibe on the spectral margaritas (based on Mexican tequila) and mezcal cocktails mixed here perfectly. Refreshing, gently sweet, much less so than outside Mexico. Stop by the high bar and surrounding lounge tables if you cannot reserve a table, someone unlucky may not show up.
If you crave wine you get the best selection at Bar Atila. While they claim to be a "Yucatecan brasserie", here natural wines meet Italian pizzas with local ingredients, creative flatbreads, perfect with the wine, even Asian style cooked clams spark the menu. Mexico now produces some decent bottles, so give them a try. While not a mind-blowing meal for seasoned globe trotters like us, Atila is a good spot for other than Mexican cuisine. A neat atmosphere, more comfortably furnished than the rustic, but sublime Hartwood, it is one of the more upscale options on the strip.
The most sophisticated creative plates are now served at ARCA. For Tulum beach quite a smart restaurant, but you still be fine in flip flops and nice shorts. We started with the homemade pulque sourdough bread from the wood fire oven served with local Amish butter, half-mooned with black mayan salt from Celestún. The prettiest plate on our trip goes to Dzikilpak, a roasted pumpkin seed dip spiked with crispy corn, sunshine-hued squash blossoms, charred scallions and green tomatoes, soaking in heirloom coriander chive oil. On side, crispy tostadas accompanied this most complex dip I have heart of. From the mains, the Octopus al pastor, guajillo adobo, lentil purée, lentil granola pickled radish was further seasoned with xcatic salsa and epazote herb was perhaps too many flavours on one plate. The beef steak served on hot charcoal setup was very good.
Our drinks, mine NAKED IN TULUM blend of Mezcal, Ancho Reyes Verde, Aperol and Lime was bittersweet refreshing. My husband's EL SOLAR also based Mezcal (Amarás Espadín type), Hibiscus, Chipotle Piloncillo Syrup, Lime, and Chapulin Salt Rim was more exotic. Spicy, sour, sweet, but also the dehydrated larvae seasoned salt rim added a very authentic Mexican twist.
The most delectable, creative contemporary meal we had was at Wild Tulum. The warm baked avocado starter bathing in elegant tomato sauce topped with breadcrumbs, corn agnolotti pasta sprinkled with fresh flower petals and the grilled octopus were so good that we went twice. It is super dark in the wooden bar-centred jungle alfresco restaurant so tricky to take good photos, but that is what also make this flavour-focused restaurant so appealing. Forget social media and just savour the sexy moment with every mouthful. It was so good that I forgot my purse there, and while inquiring at the restaurant the following morning I was relieved to learn that the staff put it in the safe immediately. Professional service, romantic vibes and of course excellent cocktails.
For vibey cocktails Gitano has established itself as the gem in the unchaste crown of the Tulum beach strip. The quality of the drinks is impeccable. We sat each time at the bar so we could interact with the skilled mixer. Inquiring about his favourite tequilas, Mezcals as well as learning about Sotol (distilled from Dasylirion wheeleri, a desert plant) I found one my favourite smoky spirit fragrances. On clear night, watch the stars above the palm tops.
This raw nature meets first world gastronomy in a lively, casual, not showy vibe originally attracted many wild souls to Tulum. One cannot stop the would be influencers broadcasting on their social media from every visually perfectly framable corner today. The Tulum beach and the ruins are heart-stopping though, so put your shades on, ignore the crowds who actually are not there but virtually elsewhere, and savour the best this Yucatan jungle spirit now offers. It will change again as everything, everywhere.
My guide would not be complete without mentioning some signature healthy themed outcrops one must browse by for a complete experience while in Tulum. Read my post on Tulum food for the hip, healthy tribes even if you are not one of them.