St. Hubertus is now one of the most coveted restaurants in all of Italy and certainly the most transformative culinary hive in South Tyrol. Yet, to be a great chef today is a political as much as an economical action. Norbert Niederkofler is one of those leading chefs activists, who stirred to meaningfully transform his autonomous native region of South Tyrol into a more sustainable, authentic and independent micro-economy. His annual event Cook the Mountain attracts transformative culinary talent from around the world, while connecting with local artisans and dedicated farmers, foragers, lake and river fisherman, hunters and dairy masters. I wrote about a similar concept of culinary get-togethers titled Cook it Raw  that challenged the world's leading chefs into creative adaptation by traveling them into unfamiliar locations. Chef Niederkofler brings the chefs up on the mountain to find and share connections and ideas.
His own team at St. Hubertus orchestrates fine dining seeking quality and local tradition of the product. Michele Lazzarini, the South Tyrol native and well-travelled sous-chef (starting with the Italian culinary legend Gualtiero Marchesi, then cooked in St Moritz, Chile, Denmark, Peru and Sweden), highlights the essential meeting of creativity and ethics in their outstanding book Cook the Mountain: "if you work together, you have to stick together and help each other out". Theirs is Alpine cuisine elevated yet grounded in the local soil. As Andrea Petrini, Italy's foremost food expert and the founder of the Slow Food movement wrote: "Less is more, poverty is the real richness."
Cook the mountain by forging relationships
To lift up your own restaurant you must engage and motivate the nearby providers of ingredient resources. By recognising the worth of their effort through mentioning them on the gastronomic menu and in these famous chefs' cookbooks, mutual appreciation and trust soar into genuine relationships. A great chef is like the conductor and a tuner of an orchestra. He directs the instruments of ingredients played by the producers into a perfect concert. Further, since emotions always come into consideration by the Michelin guide's inspectors, most three Michelin starred establishments recognised the importance of these connections and the stories told at the dining table. St. Hubertus was awarded its third star once this emotional storytelling was evident on the delightful menu.
Meeting with adversity: Following in nature's footsteps
In the mountains, the importance of catching the moment, the tiny window of seasonal abundance, and the craft of preserving the produce for the lean months in nature, are of the utmost importance. Curing, dehydrating, fermenting, freezing, pickling, pulverizing, vacuum packing busy the team during the overflowing fertility of the summer. Chef Lazzarini poetically sums the synchronised mindset of that harmonious moment: "There is no time like the present." The contentment with and the respect for the product directs the cooking. Beyond wasteful originality, taste and the responsible use of the entire animal, fish or plant inspire the chefs at St Hubertus. You taste pumpkin oil, not the olive that does not grow up here, pig's head, rabbit's kidneys, trout skin, and the ultra-short asparagus season stretched by waxing the whole stem in. Also beverages like the elderflower kombucha were thought out to preserve the memories of the recent season.
Up in the mountains the seasons limit you but also invite savvy adaptability. That is why so often mountain cuisine was defined by aged cheese, dried meat, pasta, potatoes, flour, pulses, dried nuts, jams and pickles. Norbert Niederkofler is the chef who with his young energetic team have proved that one can awe at the human inventiveness even in hard conditions of winter.
At the table, visually, the dining ware reflects the mountain rocky style. The works of the local perfectionist ceramicist Christian Falk show in the hand moulded bowls and plates made to order by the chefs who discuss their needs with the craftsman.
Genuinely elevated Tyrolean cuisine
Chef Niederkofler's cuisine can be classified as Northern Italian, influenced by the seasonal nuances and hardships of the altitude. Berries in all forms show up in unexpected dishes, since it is their needed acidity, less aggressive than vinegar, and more at hand than the Mediterranean citruses. Such as with the game, frozen in the desserts and even with pasta and sea buckthorn juice over gnocchi. Further, apples, mushrooms, cherries, goat, lamb, even the old mouton finds his place on the menu. Many of the organic vegetables come from Valentin Innerhofer. Onions, root vegetables, the local star radicchio, leafy greens in spring, whatever the ground gives.
Growing attention to seasonally sensitive foraging and preserving ingredients reshaped St. Hubertus from the chef's initial Francophile leanings originally to more locally chiming sustainable microcosmos harbouring local producers proudly under his three Michelin recipes. St. Hubertus also joined in reducing food waste. To do more with less increases the true, not marketed, worth when you consume the best artisan produce available.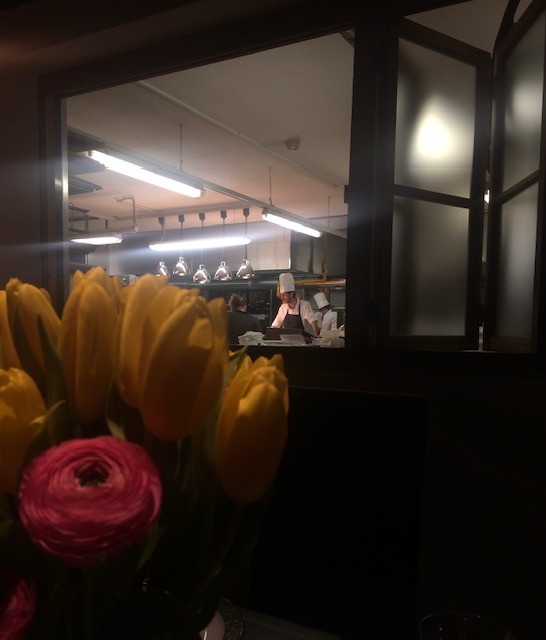 Culinary experiences at
St. Hubertus
For us, first was a large family feast at the chef's table at St. Hubertus, then came the pandemic years of wanting to return, and finally savouring reunion with my father in law during his annual ski trip to Alta Badia. He has been visiting the crossover of the bright Italian Dolomites and Austrian Tyrol for over 20 years and ate at Norbert Niederkofler's ever evolving restaurant ever since its conception.
Nose-to-tail cooking barks from the menu you get at the start. We love this gesture, having a menu ahead is a hint of what is to come, still with enough space for surprises fuelled by anticipation. In the current carte blanche trend sweeping the world as fast as the pandemic did, a frequent traveler wears off the – we leave you in the dark – concept. 
Starting with a snack of thin crisp Buckwheat tartlet filled with blood cream, leek and braised white onions, and a hat of aged mountain cheese. The later by sustainable master affineur Hubert Stockner, who uses only hay milk for the maturation of his ripening cheese wheels in a former war bunker dug into the side of a rocky mountain. Next to it on a bare stone was served a delightful marinated and smoked char with reduced horseradish seasoned cream dip.
Then came crackers mixed with buckwheat flour and lamb fat adorned with dried elderflowers, Alpine thyme, flaxseeds, pumpkin seeds and other local dry mountain flowers and herbs. Preserved summer on a carpet of baked creativity.
Moving to Whitefish tartare with elderflower, green elderberries and wild garlic seeds pickles we learned that sourness is achieved by locally foraged means, not by citruses from the South. All fish comes from the lakes, not faraway oceans or seas. A trout cheek, deep fried trout skins and the trout meat tartare is one of the signature dishes.
As are the poor's man animal proteins such as milk tripe; cows diaphragm; lamb heart and sheep's rib; bone marrow of mutton; rabbit kidneys with polenta nachos; pork head with berry powders and veal tendon chips. Not for everyone, but this is a three Michelin star kitchen so you can rest assured you are in for a more refined treat than just the whole animal stew. 
Before the meat feast, we got a Carrot bbq (cooked in ash) with local blueberry lentil chamomile "miso" sauce. This vegetable plate can be dressed with burnt leek oil or a "soy" sauce made of lentils and wheat or spelt as we had. A sublime intermezzo!
A double proofed 30% rye sourdough loaf landed on our table still warm. What a delight. Served with Thermomix whipped creamy butter from Michael Steiner's family dairy, whose 15 horned cows provide also milk for the curd and yoghurt used at St Hubertus. You can visit their state of the art designed tasting room in Muhlwald.
The Risotto course changes often, but ours was with an orange pumpkin and intense mushroom ragout. Sometimes, dried mouton meet is used over wild garlic in the spring version or you get Orzotto made from pearl barley, one of the oldest grains. The signature recipe is with mountain hard cheese, fenugreek and chicory "coffee" in winter or wild herbs in spring and summer.
Even though South Tyrol wants to claim independence, a pasta course is regularly included at St. Hubertus. We tried the wintery rich Spelt ditalini pasta in game essence.
Still, the most impressive course in our most recent tasting was the Eel with a glaze made of eel carcasses and beef consommé. Served on birch twigs, the skewered river snake nested on a bed of moss. Just the side of eel broth with mountain pepper leaves and lemon balm was too oily.
The two meat courses included tender veal in two variations. Slow boiled and a tongue marinated and slow cooked for six to eight hours with vegetables, herbs and spices served with lingonberry root vegetables Terlaner (local white wine) sauce. Previously, we tried the Veal topped with pearl barley, black currant and purple potatoes. Certainly, perfection of cooking is taken seriously at this three star restaurant, while you get a slightly different dish each time you dine at St. Hubertus.
The sweet courses also evoke the mountains. Assisted with contemporary culinary techniques bonding high tech equipment with traditional naturalness, the accents of nature spark. The "Marshmallow" is a stone pine essence meringue with green apple sorbet and sorrel browned at the table gently with smoking charcoal. It tastes even better than it sounds, fresh, frothy delicately sweet, but more sour pre-dessert. The Cornelian is another small sourness-focused sorbet of sea buckthorn with foraged wild berries.
Next comes another signature dessert called Dolomiti white. An elderflower ice cream with milk foam, egg meringue and milk chips combines the superb dairy from Michael Steiner. And so you won't leave craving more sweets, the finale comes out grand with an Italian chic presentation of a brioche served with cream, candied white, yellow and red beets. Sweets dreams before you even set you foot into bed. At our previous meal we were treated to one of the best Apple tarte tatins ever, scooped over with a sublime vanilla gelato, complete perfection.
The wine program is also locally focused. We went for the wine pairing exploring tiny wineries' bottlings that probably rarely see their regional borders crossed. While many are indigenous grape varietals such as Terlaner, a surprise (with a whale symbol) bottle was the Dolomytos. As the mixed spelling suggests made by a Greek winemaker who moved to South Tyrol while planting his country's indigenous grapes, his message seems – well the Greek brought the wine to Rome. We also savored some lovely bright Pinots by Girlan and Weingut Abraham. While you dine, you will also learn plenty about the local wine.
A quarter of a century at the helm of St. Hubertus, Norbert Niederkofler has created and evolved at this signature restaurant at the Hotel Rosa Alpina. The local birds chippered that he will direct the Aman hotel group culinary concept. Since the luxury group's greatest weakness was dining, his appointment heralds great times ahead.
Nested in the South Tyrol painterly village of San Cassiano, St Hubertus is now recognised as one the world's greatest restaurants. In the legion with the American Dan Barber, Peruvian Virgilio Martinez, Danish Rene Redzepi, Brazilian Alex Atala, Italian Massimo Bottura and many inspired others, who prove that by looking within one's garden and specific microclimates, a chef can best improve the food system locally. Norbert Niederkofler with his team are forging the path for a more independent, sustainable future.
For these not ready for a four hour gastronomic meal, a more casual option has popped up on the top of the mountain. The chef's second business The AlpiNN Food Space and Restaurant can be reached in winter only by the lift to Kroneplatz, but you can drive or hike up in summer.