In my recent Top tea shops in London list I included my trusted, re-tasted best tea boutiques in the British capital. Still, there are some other good, diverse tea shops and lively tea rooms in London worth visiting. Each has its strengths and weaknesses, and it was the later that discriminated each of them for my top five choices.


Mei Leaf, Tombo, Twinings, Tiosk, T2, Yumchaa and XU's Tea House did not make it into my Top tea shops in London list for these reasons:
Mei Leaf in Camden is a great learning place for tea, herbs and how they benefit your health. Their vast, mainly Chinese and Taiwanese tea selection is laudable. Yet, mixing in cream teas, "functional" beverages, lattes and Chinese herbal medicine distracts from pure tea experience (Yauatcha incorporates tea more smoothly into its dining concept). The 'tea' house is touched by Eastern Beauty in one corner, but watching the Chinese Clinic customers lining up at the dispensary or sipping tea in a Chinese cosmetics store next door where a couple of contemporary cafe-style tables were added, hardly comforts calm seeking tea lover. If health is your primary concern when buying tea though, Mei Leaf is your perfect tea cum herbs dispensary in London. As the poster at the Chinese Clinic says (bellow image).


Twinings has beautifully upgraded its tasting bar, including masterclasses, thematic tastings in its iconic 3oo years flagship store on the Strand. Further, they now include more high quality loose leaf selections (the tasting bar acquired the step up in quality "Loose" in its name) than their signature mass-market powdered tea bags. Yet, after buying a range of teas and compared them at home with the same teas I purchased from my above top tea shops in London, theirs paled (my personal opinion). The Flagship 216 Strand store is worth visiting, tasting some tea and check out the parapheanalia exhibited in the narrow, buzzing tea shop. The Tea Antlers from Malawi is an interesting brew to try.


Tiosk in Hackney has an intimate, hipster aura. The English style teas and a small of tisanes are not broad enough to include in top tea shops in London. Their tea ware collaborations with a local and Japanese potter impress minimalism admiring aesthetes.
Tombo is a Japanese cafè with wholesale Japanese tea offer on three locations across London. Their partnership with top family-run Japanese tea purveyor Maruyama-Seicha from Shizuoka is commendable (along with Ippodo the grandest tea brand in Kyoto), but the poke bowls meet matcha ice cream, sundaes, cheese and vegan cakes, lattes, ice mango matcha smoothie anyone tainted their tea experience. Their ceremonial grade, classic and pastry matcha powders are not certified organic. For me this is a problem. In Japan tea farms use pesticides without reservations in the lower altitude where humidity challenges each harvest, yet you are eating the whole leaves in matcha, therefore this is the only time I insist on organic farming practices. Too commercial for my globetrotting tea palate.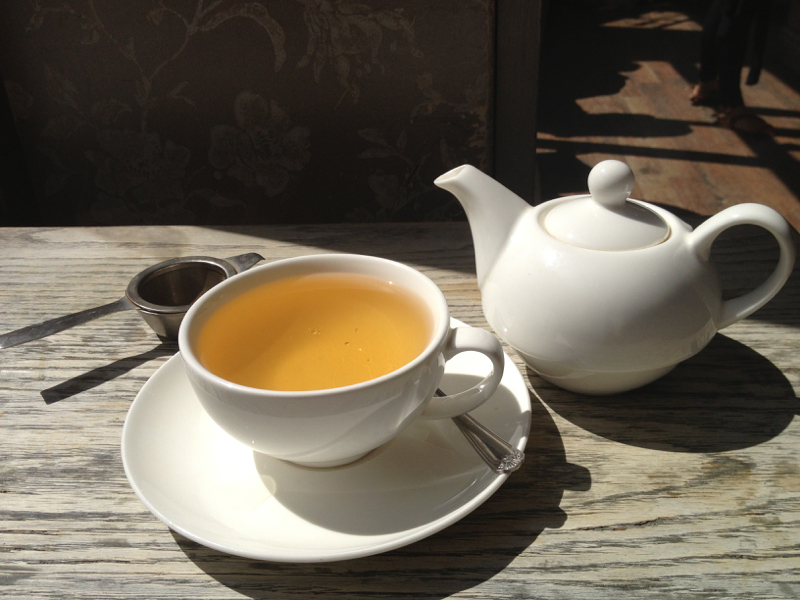 Yumchaa is a nice place for cakes and loose leaf tea blends. Mixing flowers, herbs and spices with tea has been popular in France for centuries, Yumchaa is the parisian "maison du thè" of London. Well, there are more teas to choose from than at such Parisian tea houses, and some of the blends are unique to the house. Beyond its SoHo corner, Yumchaa has grown to five other branches in London. The newer, Fitzrovia naturally-lit spot feels most hip.
From the most hip meets tradition tea rooms in London, XU's Tea House in China Town ticks all the millennial whims of Asians, almost. In Chinese tea houses one goes also to eat, and the food at XU's is hit and miss. I went with a group of Asian friends who know better their food than myself, and with each morsel they initial excitement faded. The tea was great at least. Downstairs you can have tea and sweets, play mah jong, while sipping on premium quality teas or tea cocktails.


T2, the colourful stores have been popping across Western cities over recent years. In New York's Soho, any corner on Prince Street is a gem. T2 markets and packages a commodity that people started to pay more attention to after coffee. Full stop. There are plenty of better tea rooms in London.
The bubble tea kiosks are about yummy pleasure 'strawed' out from a plastic cup. I love the salty cream topped oolong with tapioca pearls or grass jelly, but since my awareness of plastic waste increased, I drastically reduced my purchases. Some brands start using higher quality tea in their iced or hot, often flavoured (Starbucks-style) beverages, even organic dairy and plant-based milks. Still, tea is not coffee and traditionally, well like coffee used to be, should be a sit down, contemplative activity, not a take-away fast treat. It becomes a totally different experience defying its original purpose. I am entering the arena with this claim, ready to combat anyone who challenges my conservative view on tea.
Sadly, some quality-driven great tea rooms in London closed. One of the potential great was Tea Smith in East London. Great design, superb teas, fun tea bar, even chocolates from the best local patisserie (William Curley). It is not enough to be great to succeed.
Most authentic, rare tea rooms in London shield themselves away from publicity. Particularly in a metropolis famous for its afternoon tea parades and dusty workers' tea, keeping these gems under the trendy radar is wise. Serious tea connoisseurs follow the world of mouth or look at noncommercial, to tea seriously devoted websites like La Muse Blue. Thanks to my updated Top tea shops in London list, you too now can experience the highest quality teas available in the British capital.