The best Thai food in Bangkok is found on its streets, in private residences and luxuriantly restored mansions.
My selections were co-curated with my local, food-savvy, designer friend Moo Chulalux Piyasombatkul. She has dined in her hometown more broadly than any Westerner can muster, tried all the voted best as well as up-and-coming restaurants, and guided me to her Thai favourites in Bangkok. Each visit, she takes me to different places, her family's old favourites as well as into the most talked about (or not yet known) openings in town. She reigns confidently on her home turf.
Thai food in Bangkok then and now
From when I lived in the Thai metropolis almost two decades ago, times have changed quite dramatically on the local dining scene. Luxurious shopping malls are not the only, surgically clean, design driven, high-end locations for new fine restaurants to settle. Now, you can sit at the chef's table in her grandmother's private house or tuck into a discreet dining room in a narrow soi in Sukhumwit. More money in the local pockets, new luxury hotels springing up like flowers in the spring, and well-heeled visitors beyond the backpacking Europeans that have traditionally flooded the capital, opened the gates for more culinary diversity. The always smiling Thai chef Ian Kittichai has done his laudable deal in modernising his country's food in the Thai capital and beyond. Our favourite from his large family of restaurants is Issaya Siamese Club set up in an old Thai mansion. With his gastronomic empire growing, traveling to food festivals (we encountered him in St Moritz), consulting and frequent Tv appearances, it is unlikely that he will cook where you eat though.
My following recommendations include purely restaurants where the founding chef is in the kitchen.
Ever since the local tourism board sponsored Michelin to come to Thailand to rate its dining scene, Bangkok levelled up its gastronomic reputation with other global cities. With the stars awarded to for-decades-established street eateries, elegant classic restaurants as well as to more contemporary experiments, the mouths of international travellers opened up to new possibilities of eating out in Bangkok.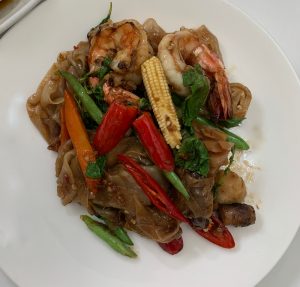 Best Bangkok street food
The crowds flood to the famous spots and create hard to book stand-offs. Clogging the street in Chinatown, the cameras snapping a septuagenerian cook stirring giant woks over direct fire in goggles and a wool skullcap in the tropical heat of Bangkok. Jay-Fai runs with her family one of the must try street eateries. Book by email months ahead or queue, but my advice is to get the first seating at 2pm as the busy cook tires from her daily marathon of Chinese-influenced Thai cooking. Seafood rules over the menu. Her giant crab omelette is a must. A whiff of egg rolled into flaky, generous chunks of Southern Thai crab is served with spicy chilli sauce. Simplicity made into perfection! Share the Drunken noodles, Dry Tom Yam of stir-fried seafood, and the Rice porridge with hard boiled egg, giant prawns and squids for comfort. Jay-Fai's relatives chop and serve the wok-fired bounty in a well-maintained, superbly clean environment.
Still, the street food as in most of Asia is even more exposed to the dangerous, ultra heavy pollution from the ever crazier traffic threatening the reputation of Thai food in Bangkok. Be mindful of unprotected roadside offerings by the busy thoroughfares.
Nested in the clean environment of an indoor mall is my Thai friend's favourite som tum served at SOM TAM NUA. The North-Eastern Thai staple of shaved raw papaya marinated in spicy sauce with peanuts has won awards. There are several branches, but The Central Embassy Mall's (5th floor) convenient location in the shopping and hotel-saturated Phloen Chit area won us over. There many other plates, often with pork, but the varieties of the papaya salad are fun to compare.
For Thai-style chicken over steamed rice khao man gai (ข้าวมันไก่) head downstairs to Eathai, the Eataly-style grocery store cum food court of Thai provenance in the basement. Without queueing in the street food section find Thai signature dishes from all regional cuisines – central, southern, northern, and the easan food. The Traditional Thai crispy pancakes here are my friend's mum favourite.
SRI TRAT: traditional spicy Eastern Thai food
For indoor, traditional, no fuss, pungent and spicy Eastern Tai meal head to Sri Trat. Be ready for a serious fire in your mouth! The pungency of the chilli sauce in a pot with tofu is accented by betel leaves wraps even when you say you want it mild spicy. Even some locals cannot handle the level of heat here, beware.
PASTE: female push for sustainable local ingredients
Thai female chefs spearhead local, sustainable farm sourcing for the best Thai food in Bangkok. The chef at Bo Lan was one of them, but the level of cooking has evolved as the following ladies head the hyper-local culinary revolution in Thailand.
Paste is tucked in a luxurious shopping mall, but the female chef Bongkoch 'Bee' Satongun was recently awarded as the Best Female Chef in 2018 edition of Asia's 50 Best Restaurants. As a regional pioneer she has curated the local dining experience for maximum flavours in her elevated, contemporary style inspired by historical aristocratic Thai cuisine. Common dishes, forgotten old flavours revived from her research through old cookbooks and by extensive field trips across Thailand. The Royal alongside simple, provincial recipes continue to inspire chef Bee, whose culinary background was spurred in her childhood when she helped at the family-run food stand. Recently, her second restaurant opened in Luang Prabang and I tried it in its early days. Laotian cuisine is tightly knit with Thai, and the chef further explores the natural bounty of this landlocked neighbour in her signature elegant style.
BAAN TEPA: New breed of internationally-trained Thai chefs back at home
Soon not-to-be secret, the hardest table to book in Bangkok will be the just opened Baan Teppa.
This is chef's table only restaurant by the young, first Top Chef-winning Thai female talent Tam Chudaree Debhakam. Set in her grandmother's house (Baan means home in Thai), where a small garden was planted organically with Thai herbs like lemon grass, various strains of basil, kaffir lime and pandanus leaves. You are for a locally unique, authentic, unpretentious, almost countryside tasting-menu-only experience on a communal table set up right in front of the kitchen. Chef Tam personally sources Thai ingredients grown by small farms in the North. Her culinary stint at Dan Barber's Stone Barns Upstate New York opened her eyes to these rare, small-scale produce in her own backyard. Her all female team shares her values and includes an experienced sous chef from the Brooklyn's lauded Blanca.
Scouting for Thai biodiversity yielded gems unknown even to the savvy locals. Cocoa from Chiang Mai, forgotten fruits and vegetables from Chiang Rai, and herbs accompany the southern seafood like the superb, pour-over fried prawns.
Her emotional approach is in touch with nature, and her experience, memories, as well as the sustainably sourced ingredients form her east-meets-western culinary techniques cooking.
Around you, fermenting in jars is kombucha, Thai fish sauce, and tightly sealed in boxes, the dry ingredients that can pop up on the constantly evolving menu. She embellishes local rice originally, like the black rice berries served in a giant lotus leaf with pan-fried fish and ultra-concentrated fish soup or the Jasmine rice topped with the decadent salted duck egg relish and prawns heads sauce with a custard-like texture. The menu changes seasonally, with March taking up the next shift.
SORN: Traditional Thai food in a fancy coat
Served with a pinch of an attitude (a new wave of service in Thailand, somewhat familiar with the French fine dining snobbism), the authentic Southern flavours at Sorn, spice up seriously your culinary experience in the Thai capital. Moving from his home region to the Thai capital into a restored traditional house in a tiny inlet in the maze of Sukumwit, the chef-owner Supaksorn Jongsiri, known as Khun Ice, comes from a Thai culinary family in the South.
Sorn made international headlines as foreign foodies snap the almost impossible to book (the phone lines rarely get through) experience. We were lucky to sit at one of the two tables fronting the kitchen. Clay pots of rice, seafood and meats simmering over direct fire. The service a mixed bag, unlike our sour female waiter, the cooks serving some of the food are very friendly. Particularly my Thai friends were taken aback by the sour attitude and the distant feel of the head chef. There is a rumour that locals are discriminated from the reservations, and for the rating glamour foreigners are put ahead on the table list. The food is great though and the creamy coconut Tom Yum was the best I have ever had!
LE DU
The Best Thai Restaurants in Bangkok seek inspiration beyond the old Siam's borders. A merge of Thai ingredients with Western cooking techniques at Le Du grew into delicious renderings of jackfruit, crab, coconut, durian and other local highlights as snows, crumbles, creams, jellies, and purees. Do not expect the level of breadth of the previous chefs's menus, as Le Du offers a compact menu of seasonally sensitive Thai plates. Although the name suggests French seriousness, the vibe is the most fun and lively from my non street food picks.
For the sugar lovers, my friend Moo knows the cure. This is the treat of her childhood memories that she still, occasionally craves today. Mont Nom Sod has since 1964 pleased the sweet tooth of Thai families, but also provided a rarity back then – fresh milk. Still, today some get the glass of dairy with their crunch, but it is the warm steamed white toasts spread generously with condensed milk, coconut custard, butter, pandanus, and other jams that fill up the original location across the City Hall until late at night.
Last, you cannot visit Bangkok without trying a proper Thai tea. The Cha Tra Mue brand has since 1945 provided the Original Thai tea. There are a few branches across town. The Central World location offers sweet Thai lattes (traditional with an intense condensed milk or unsweetened), pure Thai-sourced brews as well as soft serve, while at the international airport you can boost your energy with a more limited selection of their signature beverages. It is as if you visited Colombia or Brazil and did not have coffee, in Bangkok sip Thai tea. Herbal iced infusions I recommend are bael fruit, lemongrass and pandanus leaf. All refreshing and caffeine-free. The nail polish red roselle also known as hibiscus is rich in Vitamin C, but too sour and intense to my taste. The butterfly pea is too blue, even for La Muse Blue!