Still the global capital of luxurious tea hedonism, London is an interesting place to buy tea of any kind, provenance and quality. Therefore, it is shocking that Eater's selections in London are about any cafe that came to the authors mind, it seems that tea is a side business. Including coffee shops (Prufrock, Store Street Espresso) and pastry parlors (Wa Café) in their best tea shops in London map. All that while omitting a growing family of great tea rooms and shops dedicated preferentially to camelia. I went to all just to double-check. The guide's amateur contributors take you to 'tea shops' where proper packaged tea is not even sold or served over-brewed (as I witnessed at Claridge's)! Eater's edited Where to drink tea in London choices are overwhelmingly an insult to a serious tea lovers' taste. A seasoned cosmopolitan tea connoisseur does not buy trendy matcha lattes, steamed on most of the good stuff killing boiling point, powdered tea bags diluted with milk, artificially flavoured 'candy' brews, but above all seeks purity, quality and expert advice.
As a tea jetsetter with a cupboard stuffed with quality tea and rarities I summoned on my exotic journeys,  I was disturbed. Taking up the challenge, I revisited some of the best tea purveyors that I wrote about years ago, keeping some, while including more exciting newcomers on the London's tea stage.
Tea in London involves some brick stores, yet for example Jing Tea, Rare Tea Company and the family-run Lalani & Co only retail online or at highly selected gourmet shops and are chosen by some of the best London restaurants (Core, The Clove Club, Gauthier and Sketch) and hotels (Four Seasons). Here, I selected top tea shops in London selling directly extraordinary small-batch teas. I visited them countless times, so I am including only serious quality tea shops. These specialist boutiques are best for their international tea selection sourced directly.
Postcard Teas
Postcard Teas provides only the best quality leafs from precisely focused small tea plantations (less than 15 acres). The Mayfair tea boutique has attracted the most savvy camellia connoisseurs seeking to buy tea in London. Teas from China, India, Japan, Korea, Taiwan and Vietnam are in store, always the newest release of the particular year, but also aged pu-erh that tends to be better older. Limited quantities of organic herbal infusions, handmade English teapot covers that keep warmth inside the pot for longer, rare handmade Japanese ceramics and tea accessories made by contemporary artists in Japan round up the shopping spree.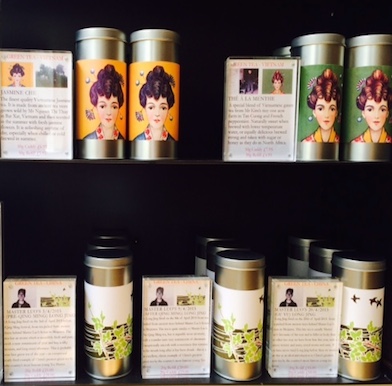 True to its name, the artistic labels for the airtight tea tins at Postcard Teas can be used as greeting cards to be send on your behalf to anyone, anywhere in the world.
 9 Dering St, London W1S 1AG, United Kingdom
 +44 20 7629 3654
Mon-Sat: 10:30am – 6:30pm
My Cup of Tea
Like in a classic pharmacy, this is how once tea used to be sold in Asia and Europe. Bringing back this nostalgia in a contemporary design, My Cup of Tea allures your eyes, nose, and palate through natural beauty. Inside this little dispensary, you can sniff the fragrances from the perfectly lined up army of large jars. The annual crop of gyokuro from Uji reeks umami, while their best-selling sencha was selected by a tea master in Japan. My Cup of Tea has broadened its Japanese tea focus to China and Taiwan recently, and its assured provenance of the tea leaves keeps the healthy purity in check. They also offer superb, fragrant herbal infusions packed in compostable muslin bags. My favourites include the Aromatic Herbal Chai, Cleansing Fennel & Green Rooibos Infusion and the Flowery Blend. The Japanese roasted hojicha and Taiwanese oolongs such as the peachy and hazelnut evoking organic High Mountain Oolong are must try.


My Cup of Tea teaches ikebana flower arrangement and tea connoisseurship, but other mindful classes are regularly scheduled, so subscribe to their monthly newsletter if you are interested to be informed in advance and get their freshest imports of tea in London.
 5 Denman Place, London W1D 7AH
🕗 Mon-Fri: 10am-7pm; Sat: 11am-7pm; Sun: 12noon – 5pm; Lunch break: 1pm – 1:30pm
 +44 20 7287 2255
The Chinese Tea Company
The Chinese Tea Company is a genuine, traditional Chinese tea shop in London. Nowhere else in the British capital will you taste gong cha in an intimate merchant to customer seated ceremony. I always buy my tea after tasting a recommended range in China, Taiwan and Hong Kong. One should set aside plenty of time, slow down on a weekend or after-work afternoon and reset the city clock to tea time. Founded by a woman, her Chinese roots draw her east on her annual tea buying trip into her homeland. Each spring, new harvest is shipped into the dimmed tea shop. Green tea like Dragon Well, pristine white tea like Silver Needles, oolongs in their rainbow of oxidation – from light Tie Guan Yin to dark, deep Rock tea (Wu Yi), red tea (known as black in the West), plus raw as well as cooked, aged pu-erh. The round discs of pu-erh wrapped in sturdy paper tissue decorate next to Chinese calligraphy scrolls the shop's interior. Here, you can buy ceramic tea pets, gong-fu cha tea sets, clay tea pots and lidded porcelain cups for your home brewing.


Tucked at the back of the Portobello Road, you must walk under the bridge and enter the unassuming shopping arcade to find The Chinese Tea Company on your left. Avoid the market days when the shop is more quiet, allowing plenty of time to try their teas.
281 Portobello Rd, London W10 5TZ, UK
+44 20 8960 0096
Mon-Sat: 11am-6pm
Be-Oom
The first Korean tea bar and shop in the UK, Be-Oom was founded by a South Korean native who missed a contemporary yet authentic Asian tea experience in London. Her smallholding family farmers tea selection is not wide and South Korea by far does not produce as much tea as Japan or Taiwan, but includes unique site-specific herbal infusions sold in glass tubes ideal for a gift set. Themed by their health benefits from the mind to the body. Mindfulness includes First Sparrow green tea from Boseong, Wild Magnolia Flowers and Persimmon Leaf from Hadong, all ideal for meditation. From the camelia breed I enjoyed the high mountain semi-oxidised Hadong Black first flush tea. They also have malcha, powdered green tea like macha in Japan. During the day a light snack like sublime seasonal chestnuts (with mascarpone, homemade persimmon jam and poppy seed crackers) or more sweets can be ordered alongside your pot of perfectly brewed tea. Filtered water is used for all servings here. In the after work hours, cocktails with Korean shochu pop onto the menu and the tea counter turns into an intimate bar.
I liked her well priced Korean ware so much that I did half of my Christmas shopping at Be-Oom (modern tea set and ikebana vase next to an incense stand). The tea canisters and boxes are beautiful so highly givable. The narrow place is very interactive if you want as the counter service connects everyone closer as does the day food market outdoors.
27 Exmouth Market, London, EC1 4QL, UK
Tue & Wed: 11:30am–6pm (Thurs & Fri 11pm); Sat: 10:30 am-11pm: Sun 12noon-5pm
Yauatcha
Yauatcha is Michelin-starred stylish dim-sum restaurant retailing a well-rounded range of Chinese, Taiwanese and Indian teas. With all the healthful brews bag in some of their handmade macaroons (rose and jasmine are exquisite), desserts or chocolates (green tea and sea-salted caramel truffles are my favourites) on the ground level store. As a contemporary interpretation of a traditional Chinese tea house designed by Christian Liaigre, Yauatcha is a swish Soho hotspot. Have a Chinese meal paired with tea, creative tea-based cocktails, alcohol-free smoothies or original Jasmine Iced Teas (Kumquat; Cucumber and lime; Strawberry and vanilla; Lime and passion; Kiwi and lime; Raspberry and black pepper). Bottles of fermented kombucha are toasted with flamboyantly as with a refreshing brew of beer.


From pure Chinese green tea, jasmine or osmanthus scented green tea, Taiwanese complex oolong, vintage pu-er, First Flush Darjeeling, India to Organic Sencha from Japan, the tea menu at Yauatcha in Soho is constantly in flux, but always crafted to pair with the signature dim sums and other Chinese food here.
 15-17 Broadwick St, London W1F 0DL
 +44 20 7494 8888
 Mo – Sat: 12pm – 11:45pm; Sun: 12pm – 10:30pm
Camellia's Tea House
There are many lofty tea rooms in London, but Camellia's Tea House is more accessible, albeit you find their teas at fancy UK hotels such as The Lanesborough, the Mandarin Oriental and Shangri-La at The Shard. The healthy tea blends and infusions were created by one of the founders Lubna Madan, a qualified Homeopath. If you have any health concern such as a cold, allergy, diabetes, high blood pressure, insomnia, high cholesterol, bad digestion, skin problems or just need to detox or relieve stress, you will find the right blend.


The name originates from Camellia Sinensis, the botanical name for the true tea plant. Organic lifestyle followers will be in their natural sixth sense as they import only from specialist tea gardens known for their quality and pesticide free growing. Camellia's Tea House is a retail shop, where Traditional Afternoon Tea, Tea Sommelier Tea and light bites can be enjoyed on site, but also tea education centre directed by Ajit Madan, co-Founder of Camellia's Tea House and the first International Tea Education Institute (ITEI) Master Tea Sommelier in the UK. For each tea there is a brewing guide and their health properties highlighted both on the label. Their online Tea guide" helps with selecting the right tea according to your ailment, country of tea origin, time of the day, type of tea and strength.
 64 Great Russell Street, London, WC1B 3BL
 +44 207 242 2308
Mo – Sun: 10am – 5pm

NOTE: I'm not including certain good tea shops for specific reasons. Depending on your purpose, you may even prefer those that blend English tradition with contemporary flavours more like Twinings Tea bar, the East India Company I included in other posts.
AFTERNOON TEA is another theme. As a hint Claridge's did not pass in my quality and service focused test, plus I prefer my scones warm. Tradition meets authenticity, creativity meets taste in my best afternoon tea in London experiences, so check La Muse Blue out to learn where touristy or trendy cannot persuade a hard critic.