Gastronomic ceramics at the greatest restaurants in France tend to be most locally connected in the rural regions where the artisans settle.
Like the legendary chef Georges Blanc in Vonnas, Règis Marcon transformed his village of Saint Bonnet Le Froid through his three Michelin restaurant. His family runs a casual bistro, bakery, gourmet shop, but also inspires creative talent like artists to settle in. A gastronomy lover Julie Solo moved in from Marseille in 2019 to open her first atelier that she named Á Mains Nues. Meaning literally "nude hands atelier", it captures her minimalist approach to ceramics she learned from a parisien Emmanuelle Wittman for three years. Now in her visually comforting boutique cum studio, she creates organic natural forms so delicate that one musts take a feather grip when touching some of her pieces. Like fragile flower petals or silky as French lingerie, the finesse of her pieces is extraordinary.
Her works seduced the three starred chef so he commissioned her to create vases for the fine tables and most recently a coffee service. Working in white mainly, with some black, the contrast of rusticity against finesse in Japanese and Korean works inspires her. To add warmth to her cold colors, she likes to add a touch of gold. Increasingly, sandstone forms the base under a transparent porcelain slip enameled with vegetable ash. As she collaborates closely with the best in French gastronomy (The World Patisserie champion Marie Simon in Beaune), as well as up and coming talents (Grains de Sucres in Lyon) her ceramics also evolve.
Follow her on Instagram @nue.ceramique and you will be embalmed in the beauty of her creativity.
6 Rue du Vivarais | 43290 Saint-Bonnet-le-froid | France
Closer to the Alps in the Savoy region (Haute Savoie) near the pristine Annecy lake, Jean-Paul Bozzone spins the potters wheel with his raku and other by far-east inspired ware. On the northern side of the lake, his selected works by the three Michelin starred chef Laurent Petit, harmoniously accompany the experience at the eponymously locavore lake-meets-land restaurant Le Clos des Sens. Decorative vases, vast plates, cosy bowls and tiny guinomi reverted upside down to serve some amouse-bouches of the chef's cuisine vegetale. Some of the earthly pieces are custom-made, but often the chef and his welcoming wife drive over to La Poterie du Grand Pont to see what was just fired in the oven. The greatest Japanese potters, contemporary as well as the legends like late Shoji Hamada (Mingei folk-style pottery), would bow their heads over the masterworks made in France. One of his bowls (pictured below at Le Clos des Sens) reminded me of Roquefort (the French AOC blue cheese).
74210 Faverges-Seythenex
|  France
In Arles further down South Cécile Cayrol wheels pottery classes in the heart of the ancient cobbled town of toreadors and Van Gogh. Her studio La Main Qui Pense can be translated as The Thinking Hand. I am particularly fond of her use of the nearby Mediterranean sand on her frosted series. In one word I would capture her work as la terre, the soil. Sunset tones on her vases and bowls, sun bleached hues on cups, but also glazed plates.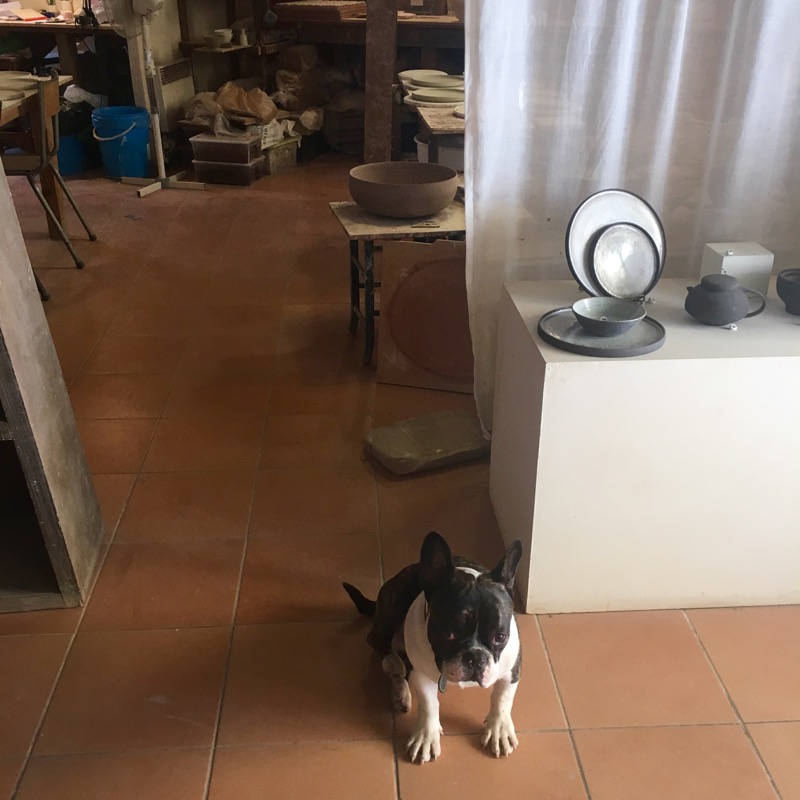 Her collaboration with the great chef Glenn Viel at the nearby L'Oustau de Baumaniere yielded practical pebble-shaped plates, sanded olive oil and vinegar jars, salt and pepper dispensers, and surely more is to come. This mutual project is rooted entirely in the Southern soil. As much as three three starred chef sources from the bountiful Provence region, natural geolocation inspires the works of C. Cayrol (her signature on the bottoms). Her dog welcomes you calmly at her very Provençal atelier, so each time I stop by to check out what new she created. I adore her bowls, vases and tea service that are glazed only inside and left to the withering environmental elements on the outside. Intriguingly, I wish that we were like them. Protected in our psyche and did not care as much about the outward appearance as we usually do.
Arles | 15 rue Tour de Fabre |  France
In my Gastronomic ceramics series, check further out how wild the Best Restaurant in the World goes in working with designers in Spain, how the Japanese tableware changes with the seasons or who in America employed an architect of his building to insert some vessels into the restaurant's repertoire.