In the lively vein of the Zurich Hasidic jewish neighborhood, casually, yet with a bright welcome, Maison Manesse treats you to a fun meal in touch with contemporary tastes. A red and green Michelin star for sustainability, the kitchen's creativity is worth not just the stop, but in the gastronomically still somewhat impoverished Zurich worth traveling across the town as we do frequently. The Austrian chef Fabian Spiquel, a knife and fork tattooed on his arm, cooks tasty, locally sourced, flexible food.
Maison Manesse is for everyone appreciating sustainably sourced fine meal in a relaxed atmosphere. The restaurant's flexible menus welcome all dietary restrictions and lifestyle choices — from an incredible wine list, a creative house-made drink program including non-alcoholic concoctions.
Casually rustic, wood meets colourfully painted brass, this popular restaurant is not set along the lake luxury or the hip fourth district bohemia. Just off the highway in the Jewish neighbourhood less than half an hour walk from the compact city centre, Maison Manesse hides behind neon pink doors spawned over with ivy.
Flexible and sustainable can work together
The bright name reflects the Manesse Platz in front, but there it ends. While not serving kosher food, local sourcing with sustainability focus their radar, and in so open eco-enthusiasts clap with appraisal. We also appreciate the customer-friendly diversity of the menus.
The MAISON EXPERIENCE comes in four or six VEGETARIAN, PLANT BASED or EVERYTHING mixed plates. This tasting menu is "a collection of the team's favorite dishes inspired by our relationships with the best local farms and distributors." On the menu you find the sources for the LAMB: CORTESI SERGIO from Puschlav; CHICKEN: Alpstein; PORK: Naturpark Beverin (Wergenstein) and Zur Chalte Hose (also ANGUS BEEF) in Kusnacht; PIKE PERCH from the Swiss part of LAGO MAGGIORE bordering Italy); SALMON TROUT from Bremgarten or BRÜGGLI in Sattel; EGGS: Hofblum in Samstagern; CHOCOLATE: Zurich-based Flor and Taucherli; POTATOES: Freddy Christiandl and BROAD BEANS by Family Heinrich both from Albulatal; HONEY from WABE3 in Zurich; VEGETABLES and eggs from Steffan Brunner Eichhof in Aarberg.
Water is filtered into reusable bottles. Wine or non-alcoholic pairings are available, but for aperitif the sommelier's own infused gin collection towering in giant glass jars on the splash-painted bar counter is a must try. Hazelnut with green apple aroma smelled the most intriguing, better on the rocks. Since I like the local Zurich-made Gents tonic with my gin, I sipped on the reputedly the most popular ginger, chili with lemongrass infusion from an ultra wide, long-stem glass. Over festive periods special flavours pop out so watch for them if gin is your thing. I opted for the Hopfenstrasser Rose during the recent Christmas. Sans booze, the house redcurrant water kefir, homemade iced tea, and creative juice blends can spark up your water regime.
Across the Swiss seasons with Maison Manesse
After a few tasting experience menus, we prefer to start with a la carte snacks. The fried yuca chips with truffle mayo were crunchy and thick-cut, the vegan mayo was based on soy cream. More on the fresh side, the romaine lettuce cups stuffed with watermelon, white asparagus and lovage sprinkled with marigold petals in summer. Also pickled kohlrabi rolls and savoury cabbage semolina strudel with chestnuts and cumin this winter were on the lighter side. We also loved the Zucchini, pistachio hummus and wasabi sesame. The Australian chef's roots reflect in a multi-cultural immersion in one bite. With a white wine aperitif once, the broccoli gruyère balls with quince had a Sicilian whiff of arancini, but with a rich Swiss touch of the cheese and sweet quince jam topping. Another time steamed buns with pulled Swiss grass-grazed beef were served literally on fingertips of a hand sculpture set on the table.
Maison Manesse caters wonderfully to vegetarians and vegans. I usually go here for at least one of the plant-based snacks, because they are so creative and appetizing.
A bag full of daily fresh rye sourdough with whipped buttermilk butter poured over with herb-infused oil lands casually on your wooded tabletop.
Next to those few, small, creatively decadent snack options, there are no starters and mains, just plates, cheese and sweets. If you do not go for the tasting, then it is recommended to get at least three courses.
While the menu does change slightly every couple of weeks, it mostly plays with different, intriguing platings of the same dish. It shows how one recipe can look quite differently depending on the current mood in the kitchen. Also a touch up with another ingredient than you had previously  is fun and comforts with familiarity. My husband enjoyed the lightly cured salmon trout. Once served with carrot kimchi and leche de tigre like ceviche marinated in spicy peruvian sauce, the river pink fish instead of the Peruvian corvina (seabass) totally change the taste of the dish. A fish mainstay on the menu, on another occasion a touch of sour freshness with pickles or citrusy zest changed it up.
Seasonal vegetables inspire the kitchen team. Winter is about roots from celeriac, jerusalem artichoke, pumpkin to cabbages, but once spring kicks on, the colors on the plate become a rainbow. I always go for at least one plant-based plate at Maison Manesse. A generously sized Radish salad with fried Caesar's mushrooms and smoked shiitake freshened up the oily intensity of the rare summer mushrooms. Most of these courses are richer for most of the year. Savoy cabbage, mole, nut crumble and sweet corn cream was sublimely satisfying and delicious. I tasted once my husband's Chanterelle goulash with quark dumplings and lovage. Like gnocchi, the with dairy-lifted dumplings were rich and the sauce Swiss- intense. The Brussels sprouts, smoked carrot and coconut were not as exciting, but Red cabbage baked in salt crust, porcini, jerusalem artichoke, morels and apple roared my red wine palate.
Still the fish and meat are reasonably sourced. Our favourite meat plate over the years was the organic Swiss Alpstein chicken breast, onion puree and grilled lettuce. Cooked sous-vide, the bird was perfectly soft and the vegetables added just the right rich balance to the light meat.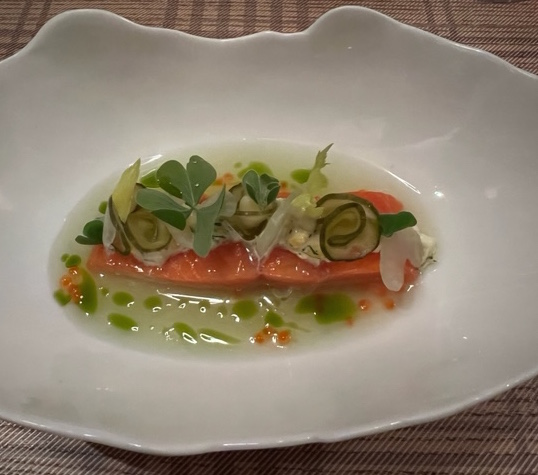 Sometimes we add a Swiss cheese board with chutney, plus an extra slice of the house superb sourdough. Sourced from the best producers and cheese shops in Switzerland (Jumi in Basel Canton, Willi Schmid in the Canton of St. Gallen – Andreas Caminada, Switzerland's most famous chef currently also sources there). Impressed, we bought the soft, creamy goat Geisseinrolle similar to the Geissenbartli we loved at Maison Manesse and the Jersey Blue at the recommended Tritt Kaserei store in the Viaduct gourmet hall in Zurich the next day.
When going for one of the tasting experiences, a pre-dessert of snowy local fruit sorbet freshens your palate up and a trio of sweets pampers in tradition meets contemporary bowls blending frozen, dried, fresh, and creamy textures. Finale of small fruit jellies and changing flavours of macarons zap you sweetly up.
A sensible wine list for every palate
Offering one of the best drink programs in Switzerland, not cultish, but open to great, affordable and premium rare wines, most in ready to drink older vintages, the cellar at Maison Manesse must be the best in Zurich. The reasonably priced wine list pleases like fine connoisseurs (we splurged once on a Mouton Rotschield 1988) and treasure seekers as well as those seeking good value not limited to well-known wine producing regions. Small vignerons, rare gems, and local Swiss Pinot stars (Bachtobel No3 2011, Fromm 2012, Studach 2016) were always in great shape. From Viña Tondonia blanco (this Spanish beauty calls for a sufficient age, so delighted were we with the 2004 vintage), through Hungarian Furmint blend, the Lebanese great Château Musar (we had 2012), Italian biodynamic trailblazer Emidio Pepe (2013) to the shooting star of our favourite French Château Rayas, we travelled on each occasion across the world's greatest vineyards. By the glass, the bubbles impress anyone serious about sparkling wines, not just the labels. Once, instead of my usual gin apero, I appreciated the organic certified Loire Les Chatainieres from the indigenous Romorantin grape by Herve Villemade. Wine-wise, we never get bored at Maison Manesse and it is the place we often take visiting friends.
While the kitchen can take the pace on low gears, especially once it gets busy, the service at Maison Manesse is perhaps the best balanced, friendly cum helpful in Zurich. When it is warm enough (you rarely find "unecological" heaters in Zurich) a shaded terrace on a side across from a supermarket opens up more tables, but we much more prefer the inside ambiance.
Address: Hopfenstrasse 2, 8045 Zürich
Phone: +41 (0) 44 462 01 01
Hours: Lunch & Takeaway: Wed – Fri: 11:45 am – 2pm; Dinner: Wed – Sat from 6pm