We truly need some laugh these days and chocolate can tickle your bellies and literally spark the minds. Theobroma Cacao had evolved into quite a comedy, a play between ideas and, especially in America, wild claims. Artisan, small-batch, raw, unconched, unroasted, vegan, volcanic, paleo, gluten-free, guilt-free, refined sugar-free, stone-ground, direct trade, the more inventive the labels are, the more the price per gram increases. Surely the chocolate trends caught up with food trends, but the food of Gods also stirred an immense creativity, "dropping of egos, fears, and falling in love" (as the founders of Zenbunni confess). Highly quirky and addictive. The Wild West at its wildest self.
Chocolate in America has become a political, lifestyle guru promising you literally magic in a "superfood" bar.
Bliss in a bite of chocolate
In this post I am not just into the hipster labels on chocolate bars, but perhaps for your entertainment, reveal the most unusual flavours I came across in my with chocolate addiction globally expansive life. I have eaten, literally, tons of chocolates from around the world, and while more of a purist, preferring my single origin chocolate bar with three ingredients, I am always curious to taste that unusual combo of flavours concocted by another fertile mind, perhaps after smoking some pot? You can get your Cannabliss in a fine tin box made by Rraw. If you are for something more macho, chew on a rock from Siberia powdered into Great Bean Chocolate. Mystical mushroom blend or seaweed with quinoa crunch cast a spell over "each bite like a sip from your won sparkling fountain of youth". Vitality at its peak! Coffee and Guarana hopped into made in Slovenia raw filled chocolate, anywhere in the world we crave more energy, a universal quest which chocolate suits to perfectly.
In the superfood trend troupe, adding "healthful" spike into the calorie-rich treat. Sure, the "high vibing Ceremonial Grade drinking Cacao" tonifies the body and the mind.
Wild-crafted, medicinal chocolate
The ingredients really got wild, and many are medicinal herbs from various traditions. Some you may not be familiar with, while others may pull that Google out or stir sour faces just imagining a bite in one's mouth. Arctic fungi, horsetail, shilajit (that rock from Siberia), wormwood, kola nitida, camel milk, rosehip, mesquite, yacon root, Muirapuama, Warana, it gets more California eerie with "magical maca" or "moon juice bar" by Venice Beach "rabbit hole" crafters Zenbunni concocting alchemical chocolates.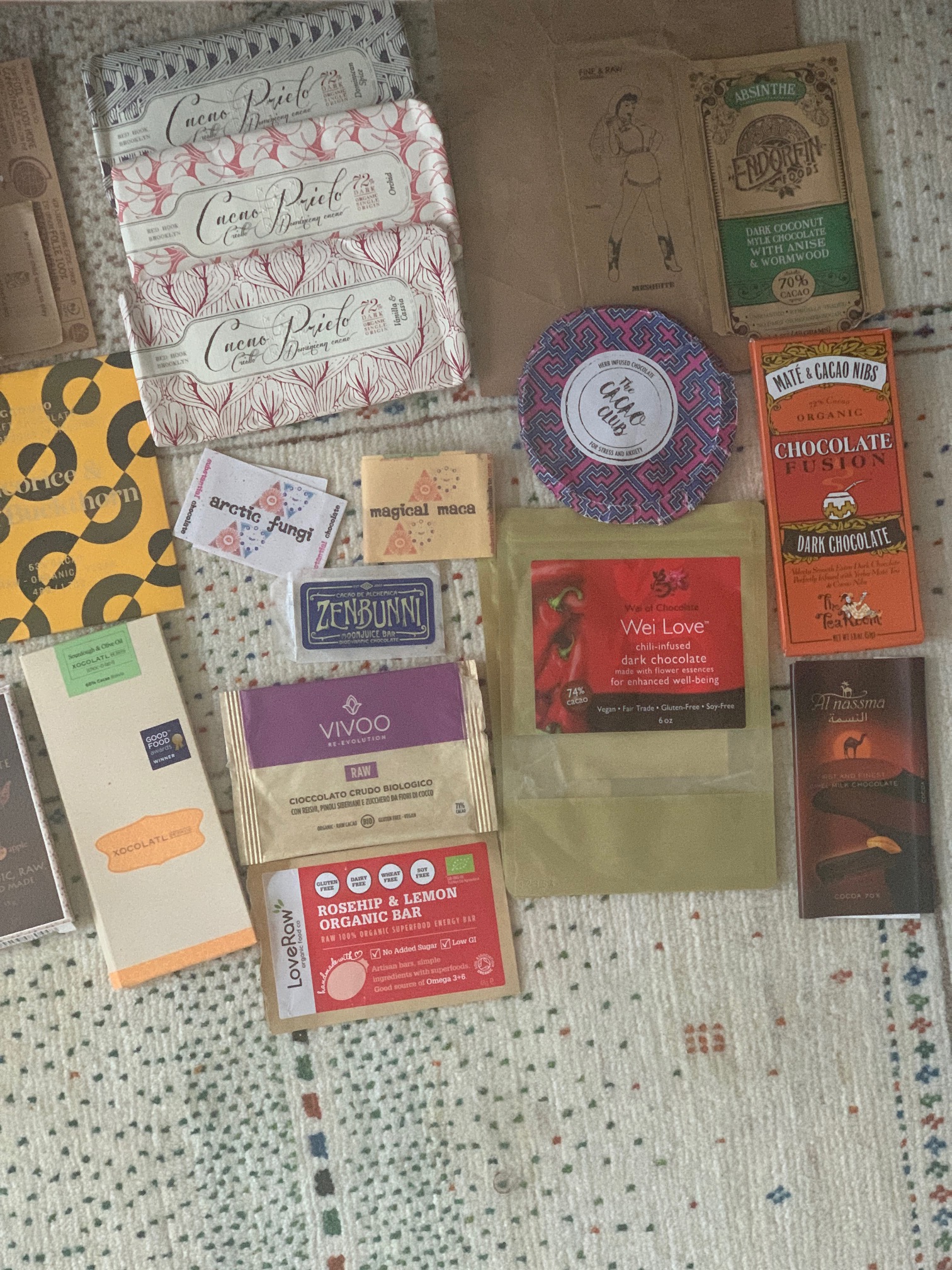 Sprouted cereals like buckwheat in the "organic raw bliss" made in Illinois and semi-grains like quinoa pack in protein, dried mulberries sweet iron, while Speeduchoc created a pricey bar for sportive and intellectual performance composing of Liriosima Ovata "the force of nature" and Pauillinia Cupana "the energising plant" sweetened with low GI "Xivia" (xylitol, good for your teeth but trouble for the digestive tract). Enough brainy stuff, let's move back to some fun. Starting with the "first and finest camel milk chocolate" by Dubai-based Al Nassma, my first was the finest, and last moment of ever putting anything with the strangely tasting camel milk into my mouth, ever.
A bite into Great Bean Chocolate promises to "prepare to dominate at arm wrestling", while Markham & Fritz chocolate makers advise on pairings not just with wine or tea, but also "with a daily dose of mindfulness". Chocolate was made for the Gods, indeed and even for the overachievers. Chocolate squares boost your stamina in their "must-have sidekick to accomplishing any goal. It's like your own personal trainer, for the mind, body and soul." Oh yes, the "Nut Nirvana" by Chuao is all natural bliss (a blend of roasted nuts) coated in a dark chocolate mass. Nevertheless, I am not convinced about the health benefits of their crisp Potato Chip in milk chocolate bar.
Cocoa pandemic with wildest, locally infused turns
Indeed, the creativity around chocolate has taken the world by storm. Like a virus, cocoa infected anyone from health foodies, through chefs venturing into chocolate business to meaningful creation seeking startups.
In France saffron, even cheese made it into luxurious chocolate by Jean-Paul Hevin. Not all French, Italian Gorgonzola in one morsel, while fresh goat cheese in another, were paired with dried herbs enveloped in a coat of dark chocolate.
In Italy "la perla della taiga" or Siberian pine nuts and incantated fragrance of reishi mushroom by Vivoo song arias in a mouthful. When I visited the World Expo in Milan devoted to food cultures, "re-evolution" fumed in the air with a chocolate room filled with Made in Italy beyond tradition, spot-on millennial creations.
Helsinki-based Goodio whisks in sea buckthorn and liquorice or Cranberry and rosemary with gin, while a celebrity chef from Latvia spikes in acorn, coffee, freeze-dried quince, hazelnut, this sounds like a cake recipe, doesn't it?
In Copenhagen, Noma, obviously did not hesitate to add dried worms into a dried fruit with fresh flower petals over their white chocolate slab.
Boozy and virgin infused chocolates
The British added some booze, beyond the Scotch whisky, English Sparkling wine with "a touch of Chambord" was poured into a dark milk chocolate by the Rococo Chocolates in their couture collection. Meanwhile in Brooklyn, a used bourbon cask adds the final touch in one Raaka chocolate bar. Smoky lapsang souchong tea with some additional herbs and spices made it into their Lapsang Chai virgin chocolate. Tea and coffee are popular cocoa companions: Argentinian mate, Japanese matcha, Indian chai. Another virgin trend are herbs used in distilling spirits such as Absinthe. Made by Endorphin Foods honestly this was not a pleasurable taste journey rather a functional digestif. Fernet meets hazelnuts in 72% dark chocolate in Oregon.
Originality versus good sense flavour match
While some match the cocoa taste profile like bread with butter — beware, there a great bread and excellent butter (like Bordier) and then in the plastic wrapped sliced loaf with an extended shelf life tasting not unlike paper — others seem not have a clue.
It was in America and also in Singapore, where my eye bulbs popped out from their sockets. Durian chocolate bar (one of the stinkiest fruits from Southeast Asia by Chocoélf), pine pollen, bacon, even marshmallows chopped into a chocolate bar (quite a hype in the US  where the LA's Compartes and Chicago's Vosges take the reign beyond your imagination). Vosges' ginger with wasabi in the Black Pearl Bar tasted like something I do need to pop into my mouth again. Ramen in your chocolate anyone?
Sensual chocolate concoctions
Yang Ylang in Mahal by California Jade Chocolatiers elevates the alleged aphrodisiac effect of chocolate, while lullabies from Arkansas in Ooh La Lavender with Patagonia Honey. Imagination spins my head by now.
In Brooklyn cocoa got more sexy at Cacao Prieto (I visited with a friend happily discovering that they distill whiskey in their Red Hook base, tasting included) with floral oil extracts from orchid, cassia bark (a more exotic name for cinnamon) or Dominican Spice, getting hot in here! Not as hot as in the Napa Valley, where the team at the three Michelin star Meadowood blend Horseradish into their dark chocolate ganache, I must admit, I quite liked that kick! Still, the lemongrass did not fit with chocolate.
Loving you back in the cruel world
Playing our vulnerable emotions during the Covid pandemic, is an easy sell. Chocolate is associated with the feel good times, so "ingredients" like happiness, love, energy have infiltrated the labels. The French Love Chock inserts for you a "loveletter inside". While some millennial "artisan" chocolate makers add a bit of "love" into their chocolates, I got the best laugh when bumping into "chocolates that love you back" by Nutricocoa in London. Their portioned, no-sugar but with honey sweetened Colombian cocoa minibars were labeled by days of the week as "A delicious alternative to multivitamin pills to help women maintain a healthy mind and body". Holy cow! What a genius – make pills into a delicious mouth bite, melting on your tongue so softly, with an added aphrodisiac properties, voila, the naked woman on the packaging rounded it well.
The marketers know that "we eat meaning" (source: Ferrandi Food Trends course).In the second millennium, "plant-based" products (oat milk by Raaka), trace minerals, California love, probiotic coconut (with added Bacillus coagulants), and beat that "stress and anxiety" with herb infused chocolate from The Cacao Club (ginseng, ashwagandha, hawthorn berry). But the tip of the volcano exploded in me, when Sarah from New York-based Sweetriot wrote "everyone has dreams. mine was just an especially crazy one. I wanted to create a company that would change the world, and thus, I created sweet riot". She sources cocoa, quinoa and sugar cane from latin America, ships them over to Italy to be made into chocolate and then ships them back to America, it's all kosher and vegan. What a change, ha!? Excuse my pinch of irony, but marketing and labels really pump my abs sometimes.