Poetry does not have to be written under your bed covers (well, sometimes I do that too) or in a rusty, with vintage posters laced bohemian poetic Marais hang out. A calm place of cosy comfort can be found anywhere you can hear the muse whispering the stanzas into your mind. Le Marais was once the hangout of poets, but now it is more a bundle of loud hipster shops, cafes and bars. Still, there are niches in the tight stack of the narrow streets, and I found them. So crawl in with a notebook and a pen. Laptops, well, and 'smart'phones are not as romantic companions as the old ink and paper.
I have just attended my first poetry workshop in Paris. Organised by the Paris Institute of Critical Thinking in the heart of the Marais, the cards were drawn for an intensive creative feast. All of us, budding or mature female poets in our small group were curious to explore the depths of our creative wells. And while many prompts stirred a focused outpour of creative writing, one stroke me most: the tutor, a poet herself, asked us to write down Things Better Done Slowly. A wonderful idea! I thought, penning down a few activities that slipped out of my mind in the time-constrained exercise of mindful association.
Here are my ideas plus one I identified with most from our collective list:
baking bread (sourdough culture)
brushing my long hair (first thing in the morning and the last at night)
eating a hot soup and Chinese soup dumplings (burned tongues!?)
food shopping at markets (it took long to grow, let's talk how shall I cook it?)
kissing the beloved (no comment)
letting a morsel of chocolate melt on my tongue
the entire a day (like in Gauguin's Tahitian paintings; photo above)
swimming alone in a safe pool (wholesome sensuality)
sharing tea with a friend (alone the pot of tea gets cold fast)
sipping fine wine (too precious)
walking in a great architectural city or a park (the details)
I highly advise to pen down such a list yourself. Then use it at least during the weekend to switch onto a low gear. As the parks around the City of Lights abundantly showed me — the leaves will eventually fall.
Bringing these wholesome blurbs and wishes to life, next came a coffee break, later a lunch break, and then another break, … We had time to put into practice what we preached in the heart of the poetic Marais. Aware of this opportunity, I used all three pauses for mindful slowness.
First, a morning pause. Not taking away, but sitting down with a flat white and a scone in an internationally-run coffee shop that I was randomly attracted by in the Marais. Only later did I learn that this is perhaps the most Instagrammed cafe in Paris. Excellent coffee, and that is rarity in Paris, so head to the tiny cafe Ob-La-Di until it still exists. Named for a Beatles song meaning "life goes on" (Ob-La-Di, Ob-La-Da is a phrase by a London-based Nigerian musician that Paul McCartney borrowed for the song). The cafe is owned by two Frenchies and a Swede, but since the inspiration on the menu and the design are very global, "Let It Be"). The ephemeral nature of such places has awakened me during recent periods of lockdowns. Commercially unsustainable businesses relying on non-virtual attendance of people suffered most. So there, in this place of fragile existence, I wrote this ode to cross-cultural indulgence:
Trespassing the once raised borders
No lid to screen my lips
Dipping in like roses
Wet with juicy dew
Opening my mouth anew
Plush touch of the frothy brew
Its hot steam capped by a milky cloud
Alone not, my joy rerenders time
Between me and the wholy this
Marbled drops of the beans
Echo my caffeinated bliss
Imagine an accordion and this musical instrument's movement — stretching wide and slowly contracting. Read the above part of my poem again. The meaning of the lines expands and narrows, one after another.
As I break rules once set to be changed
I sit down not with tea and scone
A Japanese barista in muted tone
Serves me scone aux myrtilles
I dip with my lips en abondance
Aussie flat white and a British treat
In the Paris now shuning French resistance
Allowing for this far flung feast of my papilles
~
French words: myrtilles = blueberries, en abondance = in abundance; resistance = resistence; papilles = taste buds. By now the crumbles from the scone were all over my lap and the draft.
Having a proper length of a lunch break, I could savor my day of slow being and doing indulgence in poetic Marais with an authentic poise. Next, being in the proximity of my favourite Japanese tea room in both Paris and Tokyo, I headed a few minutes down to the Sabō room in the house of Ogata. The Japanese have been fully aware of things better done slowly for centuries, invented a super prolonged tea ceremony (known as cha-do), ikebana flower arrangement and other mindful artisan expressions of zen. The founder of Sabō, designer Shinichiro Ogata intends to bring the essence of this japonisme abroad. Season was ripe for persimmons, the Japanese kaki being of a superior quality to most European specimens, and knowing this I had to indulge in another sweet delight. A blend of local French butter stuffed in the semi-sun-dried persimmon hedonistically works magic. Just try. Be open.
Bared honesty of a warm heart
When you realize
Feeling fully aware
This is what I love
The eyes want
To cry out
Your soul
Part by part
A butterfly out 
Flying free
From changing time
Like inhaling
The garden scent 
In a warm tea
Held by both hands
Pouring joy inside
Through wanting lips
All the way deep
Where reality and dream meet
So,suddenly all water tastes sweet
~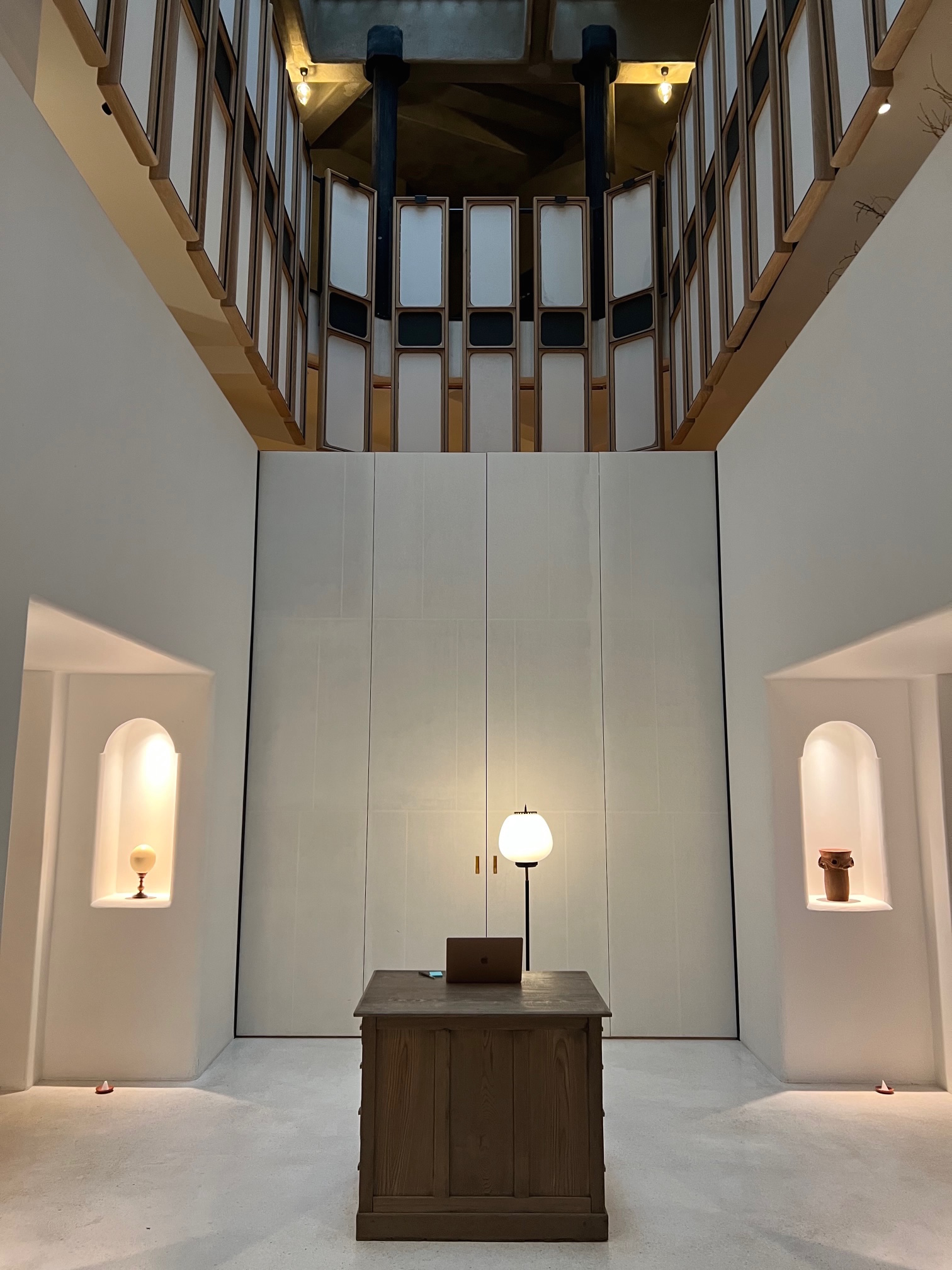 The poetic Marais not left behind even once was out of the area. Further refueling with some proper food, I stopped at a Chinese dimsum house by the Hong Kong husband (who runs my favorite Chinese tea house where I chat and write near Les Halles) and Michelin French chef duo behind Lai'Cha. The warm pillows of soft pasta wrapped like a pierogi must be savored slowly, otherwise you burn your palate. They are like soup. Things better done slowly, surely. So I sat at the counter, with only the dumplings and chopsticks between me and the wall. And somewhat this intimate constrained space felt cozily mine.
Our last poetic break naturally grew into a conversation, and I decided to skip running away from new people, staying in the classroom. Call it a post-Covid antisocial syndrome is you wish, but that space I suddenly had at my disposition during the last two years felt very nurturing. While I would often be the leader of the talk, asking questions, inserting anecdotes, I enjoyed slowing my mouth, and let others talk. Listening felt just so much more easy than talking does. One of the things better done slowly is engaging in a conversation, I learned after more than three decades of eloquent existence.
This post was like a journal entry of a day in a life of a poet. My creatively indulgent time well spent in poetic Marais felt like a bliss of a butterfly. Resting and sipping the sweet nectar of joy on one flower, then full of life landing on another, and again, until the night fell. Another day, I might pop for a pot of lovely oolong at nearby Artéfact where the ceramics filled tea bar usually stays calm enough to focus on creativity.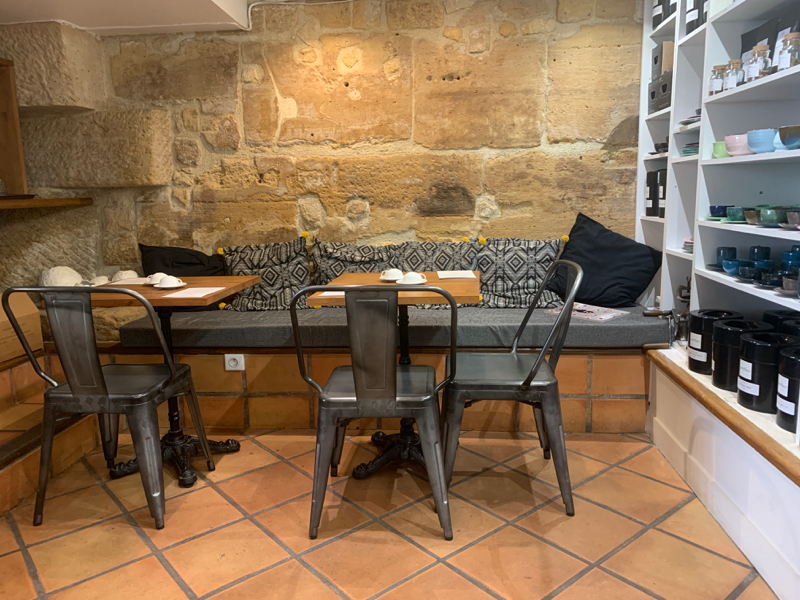 Note that when one speaks of "maison du thé" in France the place is not a tea-focused house but basically a café offering some food and mostly non-alcoholic beverages for the day.
MY CALM ADDRESSES (mostly avoid lunch breaks):
Ob-la-di: 54 Rue Saintonge, 75003 Paris
Ogata Paris: 16 Rue Debelleyme, 75003 Paris
Artéfact: 23 Rue des Blancs Manteaux, 75004 Paris
Boutique yam'Tcha: 4 Rue Sauval, 75001 Paris