All cultish foodies, straight from the LAX airport head to a nearby In-N-Out Burger, a slowly-growing chain of fast food eateries founded in 1948. Unlike countless global cheep food behemoths, the family owned business has never stretched beyond the West Coast. Quality rules by using fresh, unprocessed meat from California and Texas, cut by the in-house butchers and all food is made to order, including the real potato fries. The 'Animal Style' burger is the crowd's favourite (extra onions and pickles), while the carb-conscious go for the 'Protein Style' served between two enveloping lettuce leaves instead of the usual starchy bun. It's plant-based nemesis is the sublime Yuba vegan reuben sandwich at SQIRL in Silver Lake. And I must admit, I was more smitten by that sublimely toasted sourdough sandwich than the famous burger chain.

Wolfgang Puck: the local food export
To indulge in Los Angeles means checking out one of the homegrown chefs original restaurants. If you are in the mood for something gastronomic and fresh, then dine at the gorgeous Bel Air Hotel. Wolfgang Puck's newest LA restaurant lures with an outdoor heated patio and an elegant restaurant inside. As the flames of the heaters warm the cool desert evenings in the valley between the hilly Bel Air, the romantic soul in you will be awakened. Sustainable and locally grown produce in his California meets Europe-themed dishes are presented with an elegant flair. The Austria-born Puck was the pioneer of modern Californian cuisine some 30 years ago, when he blended the abundant local ingredients with other world cuisines. You can try his traditional Austrian breaded schnitzel after a raw fish carpaccio there.

Spago in Beverly Hills was the chef's first high-end success and still, after its recent revamp, remains popular. Here, ask for the Smoked Salmon Pizza, now off the menu, but they will bake it. Its wine list is hard to beat in town, but his newer venture at Bel Air is more consistent in pleasing your palate. Now an export, Puck's Cut steakhouse is the flashiest of its kind in California and London. LA is the city of contrasts, so aside from some spare glitzy outings, most restaurants are rather simply decorated and you can venture almost anywhere casually dressed.
Marvelous ethnic cuisine in LA
The "City of Angels" is strongly influenced by its multi-ethnic neighbourhoods. Foodies can reach anywhere for a casual Cal-Mex taco from the moving food trucks (Mariscos Jalisco is a must!), splurge on a Korean bbq ideally in the Korea Town or dive into the new California cuisine blending it all together. The upbeat and trendy food trucks move around town so checking their current location online is a must if you have a specific craving. The ethnic casual eateries around the booming Downtown are hip, but one should also discover some Persian food around West LA for the Iranian community here is the largest abroad. In the Valley there are also some excellent Persian grocers baking the typical stretched flatbreads and selling authentic rose and saffron ice cream that a friend intruded me to unforgettably.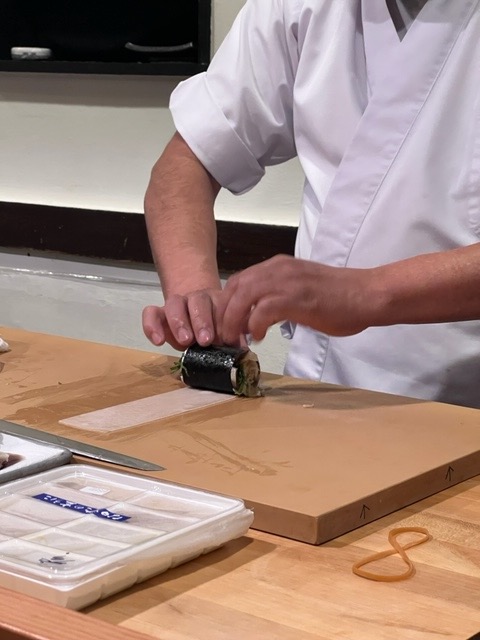 LA is a haven for casual as well as high-end Japanese food lovers. From trendy modern sushi bars such as Katsuya, through unpretentious Sugarfish, Wa Sushi and its godfather Matsuhisa, to the ultra-lux and priciest omakase indulgence at Urasawa – the choices are abundant. Hiro Urasawa is often thought to be one of the best Japanese chefs in America and his mastery is demonstrated in the perfectly crafted courses served for a small group of lucky diners, who are not afraid to splurge on delicious food. Not far, still in Beverly Hills is perhaps even more enjoyable and less serious branch of Ginza Sushi Onodera (also in New York), where rare seasonal ocean bounty will take your breath away.
If your time is limited in LA, must-visit is Nobu's first restaurant that started the global craze of chic and trendy Japanese dining. The casual Matsuhisa still frequented by Hollywood A-listers rightfully deserves its fame. The food is superb. In West LA along the Sawtelle Boulevard, Little Tokyo transports you far East. Kiriko's sushi chef and owner Ken Namba creates nice omakase with a much better value than most in the city. Come in the evening and you will not believe you are still in LA. The local specialist grocery stores carry everything Nippon from sencha, seaweed, teriyaki and yakitori sauces to dozens types of noodles. LA is vast, so it has two Japan towns. The larger one in Downtown prides on Sushi Takeda treats you to omakase served only during the first 6:30pm seating by the master chef himself.
For the most sophisticated by Japan-inspired gastronomy head to n/naka by chef Niki Nakayama of the Netflix Chef's table fame. Her restaurant in Culver City shook the local tastes with its airy lightness.

Best Italian food in America
Ingredients driven cuisine needs excellent produce within reach, and so a wave of Italian chefs made their mark on the LA's shores. Superb freshly-made pasta can be enjoyed at the always busy Il Pastaio. Nancy Silverton used to create sublime meals at Osteria Mozza (6602 Melrose Avenue), but the pizza at the nearby popular Pizzeria Mozza (641 N. Highlands Avenue) is more worth the splurge today. The most discreet and adored by celebrities is the family managed Giorgio Baldi. Giorgio's son Edoardo runs it now next to his restaurant e.baldi in Beverly Hills. Schooled in the perfect pasta making, must try are the signature splendid Sweet-corn Agnolotti in white truffle sauce. Sharon Stone is a regular.
For more gastronomic Italian experience head to Massimo Bottura's Osteria Gucci on Rodeo drive. The legendary Italian chef behind Osteria Francescana in Modena simplified the menu at his first casual dining branch in Florence and transplanted it successfully across the Atlantic. The young chefs duo create a signature tasting based on local ingredients finished with perhaps the best desserts in America by the Northern Italian pastry talent Tamara. Her Santa Barbara pistachio gelato is a must even for the followers of plant-based lifestyle as there is no dairy in it. To indulge in Los Angeles one must try some vegan options sprouting bountifully around.
You cannot indulge in Los Angeles without trying once our favourite casual and trendy rustic new American eatery. Before Venice Beach became trendy, you could eat at Gjelina. Now, it is super hard to book. Unless you pop by for workweek lunch, reserve weeks in advance for dinner or wait for hours after walking in. The small plates and thin crust pizza from a wood-burning oven spitting out original toppings are lip smacking! You will not taste the same food anywhere else. Ideally, sit at the back outdoor inner patio with fireplace, from where you can peek into the kitchen. It feels like you are having a gourmet picnic. The restaurant is inconspicuous and easy to miss on the busy Abbot Kinney road, but the assembling people around its corner and the aromas of a freshly baked pizza will lure you in.

For a quick bite next door takeout a superb pizza at Gjelina To Go or drive to nearby Santa Monica for an authentic Californian seafood at Ivy at the Shore. Their crab cakes are luscious, the oven-baked lobster pizza generous and the salads XXXL. Another, more sophisticated yet hearty and casual option in the area is the Michelin starred Rustic Canyon.
On the other (eastern) side of the city in Hollywood, a must is an Eastern-Mediterranean inspired meal at Kismet, breakfast or hearty brunch at SQIRL in Silver Lake, where you must buy their locally sourced marmalades and the mouthwatering whipped ricotta on toast next to the wholesome savoury bowls. I share more of my LA lunch tips in another post.
As you drive through the expansive city seeking to indulge in Los Angeles, do not forget that drinking alcohol while driving is not tolerated, and keeping this in mind saves you troubles. Just check the tabloids for the infamous of celebrities that got into a jail for that! Take your ID to any place that serves alcoholic beverages since you might be asked to prove that you are older than 21, enjoy the pleasures of the City of Angels!