Either for health reasons, sustainable performance for athletes, during pregnancy and breast feeding for women, coffee substitutes intrigue these mindful of their consumption. The side effect of caffeine brings about nervousness, anxiety, and even panic attacks, for women it can also upset estrogen levels.
In spring, a healthy detox is always a wise choice to reset the body and mind into a relaxed pattern at first and then gain more energy for the year's festivities. During detoxification the body has plenty to do and you better rest to aid the intense process affecting most organs. From liver, kidneys, the digestive system, pancreas, gall bladder to heart. Therefore, all serious health retreats I have been to cross of caffeine out their cleansing menus. 
The new vice for the global world on speed
Not only the health conscious skip caffeine or at least try to reduce it, but Europe did not have caffeine in any form – coffee or tea until 17th century. On Vice I read that up until 1616, London had no caffeine because of the global trade had not improved it yet. I love the post's author (Jamie Steidle) lips lifting confession:
"I don't like the feeling when you have one too many espresso shots and you're moving so fast that you might phase through the space-time continuum like a quantum particle." And I cannot be more in sync with him grasping that "Caffeine, it turns out, is not the soul of coffee; trust me. It's more about the ritual and the mood, not just a jolt of energy and heart palpitations."  
They especially entertain our mind as if you once were a genuine coffee lover, not just the caffeine kick seeker, but a connoisseur of the deep expression of the Earth's divers terroirs. For with coffee like the real tea (Camelia Sinensis) and wine, in different soils, elevations, exposures to the sun and other elements, the beans' expression changes. The human intervention also counts as with tea and wine. Selecting the beans and then gently roasting it can support or break the quality.
My coffee appreciation yielded a casual poem once. While I was sipping a frothy cappuccino brewed by a Japanese barista in Le Marais, Paris, I was elated that finally, Paris has a good quality, perfectly brewed coffee.
No lid to screen my eager lips
Dipping like silky petals of tulips
Wet with a dew diving down
Into the soiled brew I now own 
Touching the frothy pleasure 
My nose elates beyond measure
Warmth under the milky cloud
Caresses my mouth, teases joy out
~RB
Health reasons to quit coffee and switch to an alternative
About six months ago I had to stop drinking normal coffee for health reasons. The bad headaches and dizziness were enough to warn me that something isn't alright. Later, blood tests showing serious anaemia confirmed my body's blinking orange light. Listen to your body as it has that red flag capacity to prevent further damage. Tannins in coffee, black tea, chocolate and wine are the major interferences with the absorption of iron from the food we consume into the blood. One needs to consume these at least an hour apart from iron-rich foods and supplements.
As there always is a bright side to any misfortune, I embarked on a research journey seeking what else with a similar taste profile is out there on the market. Still, I could have one cup of decaf coffee per day without the headaches, but the tannins were still in.
Like the 15th centuries spice traders I voyaged to America where most hotel's serve a terrible decaf coffee. I try a sip, but mostly the experience is so bad that I advise to rather skip it altogether. As my desperation and curiosity grew, I asked around and  rejoice I got plenty of tips on artisan coffee roasters from LA to Brooklyn making delightful, by natural method decaffeinated beans. All used more mild method of water washing to rid the praised coffee berries off the for some unwelcome caffeine.
From spring mountain water soaring with bright flavours to sugar sweetened water, it works very well but takes more work than the harsh chemical treatments used commonly. The majority of chemical decaffeination washes away not just the unwanted but also some desired flavour. More often than not, lesser quality of beans were being used for this purpose. Not any more, and how lucky for me. The hardness of the water used is also a key to success. Even the world's best barista at Mame, residing like currently myself in Zurich, also adopted his decaffeinating method to using local Swiss water.
My recommended decaf coffees: Alana's sugar H2O decaf Colombian beans in Los Angeles; Mexican brew by Devocion in Brooklyn; the trophies winning Mame in Zurich has with Swiss water decaf blend; Henauer Kaffee (in business since 1896) another Swiss roaster uses high altitude Veracruz arabica washed with mountain water.
Sometimes, my body is cheated into believing that I am drinking the real thing, I get a slight buzz from it for a couple of minutes, but then as if the brain found out the fraud, suddenly I am at ease and no headache comes. How intriguing is observing closely the reaction of your own body, especially when you are impartial, knowing that what you bought came from the decaf bag. 
Perhaps it is not caffeine, the illusion of comfort and pick me up before setting out to work, but the warm brew, the fragrance of which you can inhale joyfully. Indeed, any beverage with a pleasant deep aroma, unique to you, can step in the place of coffee. 
The best coffee substitutes for your health
Don't just sip any herbal infusion. For a chamomile, fennel, ginger or any other plant tisane won't satisfy these who seek the specific chocolaty, nutty, perhaps even bitter, sometimes tobacco leaves reminding aromas. Some herbal and grain substitutes supply important minerals, vitamins and other potentially beneficial nutrients, often alkaline and better than the body acidifying coffee. Further, some are more suitable for mixing with coffee in order to lower the caffeine content in your daily consumption.
Barley is perhaps the most common. In Italy any gas station offers orzo. The roasted barley can unfortunately tasted as if burned so I am usually dissatisfied either with the espresso or cappuccino form of it. Plus if gluten bothers you, barley is not your friend. Yet, there are some cafes and restaurants that source more elegantly roasted barley so you might prefer it to my further suggestions. In Japan, I tasted Mugi-cha or Barley tea which is essentially the same but not ground into fine grains as the coffee substitute would be. 
Taste-wise and health-wise, I find a better option in chicory. This roasted previously dehydrated root from chicory plant (Cichorium Intybus) has a deep flavour like coffee, nutty, woody, not bitter, and is an ideal morning partner to your breakfast. Not irritating your bowels as coffee does, plus it does not acidify the gut more than it already is. In my native Czechia, chicory is still very popular as it was commercially made for two centuries. From health stand for hypertension, therefore older people tend to sip on it instead of coffee that rises your blood pressure rather fast. It is a wonderful paring with milk and milk alternatives such as almond, oat or soy to whip up a frothy cappuccino or macchiato.
Less common alternatives to your daily coffee
Creatively and historically, the resourceful Czechs have also used oak (Quercus Alba) acorns blended with other substances such as rosehip. The acorns contain tannic acid, which for some sensitive individuals may not work. For example if you suffer from anemia, the tannins interfere with the absorption of iron into the blood, so you better have your iron and this brew separately.
Spelt is a less common ancient grain brew, but roasted and blended with chicory it tastes close to black coffee.
Rye can be also roasted and then ground into more breakfast porridge kind of meal rather than delightful coffee alternative.
Lupins (Lupinus Lutens) can also be ground to a powdery consistence for warm cuppa, yet many people have allergy to these leguminous beans and the taste is nothing close to coffee, rather a beverage on its own merit.
In Japan, particularly around Kyoto I was impressed by the deep roast of Kuromamecha – Black Soybean brew served often by monasteries and temples.
Economising choices of tasty beverages
I remember that particularly wide spread was a blend of chicory, sugar beet, barley and rye still available in Czechia today. Sold under the brand name Melta it was fortified with additional vitamins (iron, B6, potassium) and minerals (magnesium), yet cheaper than coffee and vastly popular during economically harsh times like wars and the occupation by Soviet Union. With inflation striking high, banks collapsing once again, we are well into the economically sober cycle, therefore cheaper and healthier alternatives to coffee become handy. In hard times, some rather puzzling ingredients were used to balance the cost of coffee, by adding dried and pounded figs, carrots, grape seeds, even potatoes into the imported coffees.
Herbal remedies as coffee replacements
The root of dandelion is beyond its European staple status now frequently on the shelves of health food stores in the US. It is more like a herbal infusion with the bitter taste wanted for its bile production inducing effect. The inulin in it supports immunity.
Burdock is popular in the West Arctium lappa as well as in Asia. In TCM this berberine and inuline containing herb is known as blood purifier and tonic, overall it supports liver by promoting the flow of bile, increases circulation to the skin, and is a mild diuretic. The Japanese adore the health benefits and the slightly sweet flavour of the burdock root that is also used in cooking.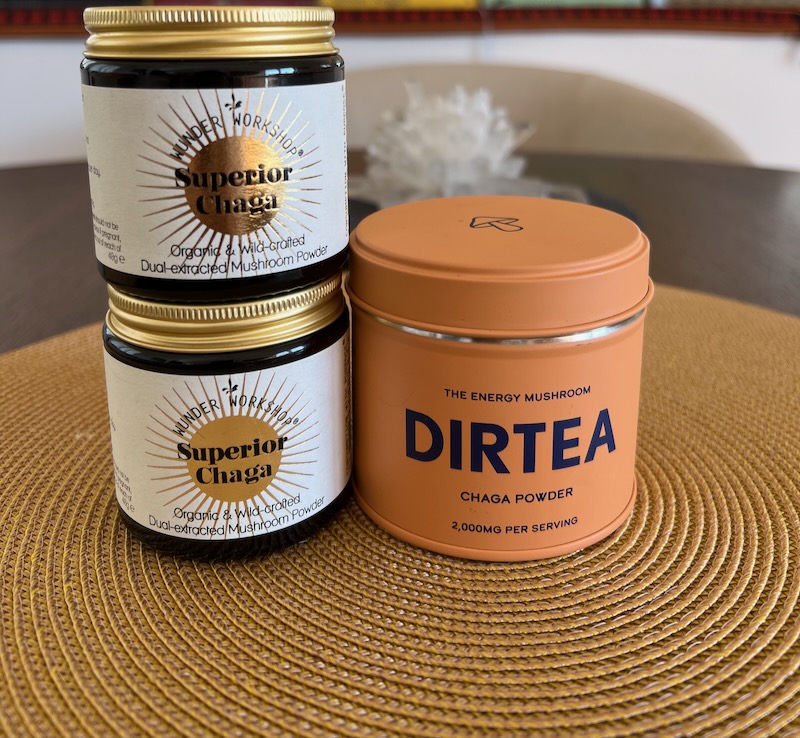 The superfood adaptogenic coffee is a blend of medicinal mushrooms (Chaga, Cordyceps, Lion's mane and Reishi are most common), and herbs like Ashwagandha that help the body to fend off stress. Basically the opposite effects of caffeine, you get an energy boost without the jittery crust. In the eastern traditional medicine these ingredients were used for millennia and I also like the taste of some of the blends broadly available in the US and UK organic shops such as Moon Juice, Chagaccino (made with there chaga mushroom), reishi mushroom blends as well as Maccacino based on the libido and stamina-increasing South American powdered maca root.  With chaga you need to be alert before any surgery or if you take blood thinners since it increases bleeding.
I like to buy it pure, organic and then experiment with blending other ingredients in for the best taste and effect on the specific day. For example I splash in a pinch of maca, houjicha powder (very low caffeine roasted green tea twigs now available at Blue Bottle coffee across the US and Kettl tea in New York) and even some cacao, plus oat milk for creamy texture. Get creative with your healthier cup of morning delight and also in touch with what your body and mind need, mindfully, not just robotically brewing a pick me up, but reflect first how do you feel and why?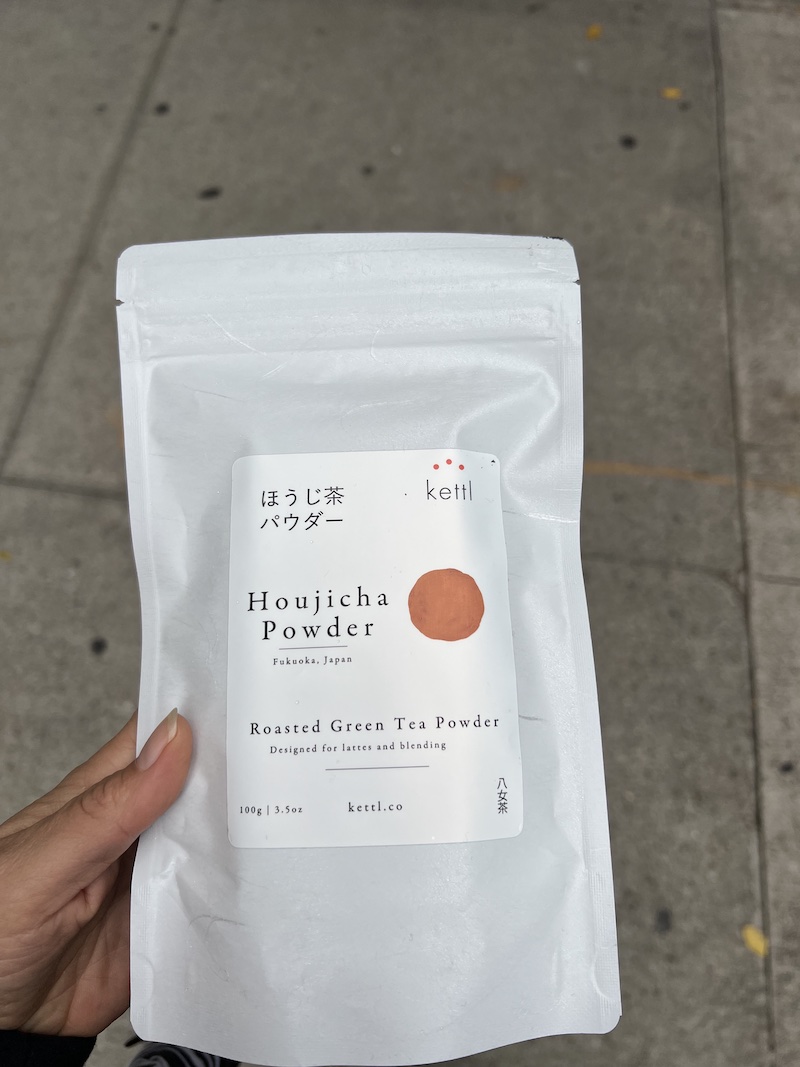 If you like something spicy without the caffeine then the alternative to chai is turmeric latte. The blend of sunshine-hued turmeric root with its inflammation effect enhancing black pepper and other spices like cardamom, cloves and sweet touch of honey, maple, brown or coconut sugar is brewed in hot milk for a cosy warm cold day remedy.