Natural gem in the French Mediterranean waters, L'Anse de Port Cros requires a sea-bound journey worth the trip. From the Michelin Guide perspective the effort to travel to this sparsely inhabited protected island just for the meal would spark a star, yet at this leisurely set restaurant it is all about authenticity, not pomp, personality and wild creativity. Only the best local ingredients served at their most delectable flavours are served comfortably al fresco overlooking the charming port of Port Cros.
Yacht owners, moor at L'Anse de Port Cros to eat authentically and well, then hike the shaded rolling trails in the lush, well preserved National Park, to honour a free day well spent. Wear whatever is most comfortable, keep the glitz for La Gueritte, here the food is better and the space vast. We have been returning for years, our little secret we kept hidden from curious foodies in the virtual sphere. But, I feel like being generous this summer. Still strained by the dire global situation of increasing violence and death within our reach, we shall all savour every day, each precious holiday, and every meal out with a grand appetite before change swipes it all into the deep waters of unpredictability.
The name of the restaurant L'Anse de Port Cros means 'Anchor of the Crossing Port'. Its location at the crossroads between the busy, car-free Porquerolles, the French military outpost and nudist enclave of Levant and the coastal towns and cities from Hyeres, Toulon, east to St Tropez, naturally lends itself to something appealing, luring the boats in for something simple but worth stopping by.
L'Anse de Port Cros offers nothing complicated, just delicious local bounty delivered every morning by the fishermen passing by the protected port of this lush Mediterranean island.
To start, ideally to share, my recommendations are: the fresh sea bream carpaccio sprinkled over with diced pickled onions and peppers; the marinated red pepper with roasted pepper dip and bread coins typically served in the south with rouille or aioli sauce next to a bouillabaisse; as well as the more substantial hot, fried baby squids (known in French as calamars, chipirons, encornets), here served au nature, not breaded, but instead with mixed greens and herbs.
Don't eat much of the bread, get Baba (au rhum) instead! Well, later if you can wait. The baguette served at L'Anse de Port Cros  used to be superb, sourced from the mainland artisan baker, but around Covid the source changed to a lesser provider. With a positive attitude this means more space for the dessert après.
With your aperitif or alcoholic drink such as bottle of local wine, you get a bowl of delicious minuscule dark provencal olives. We usually order a half bottle of rosé or white by
Château Margilliere
 that we once visited, but once we also enjoyed a full blush bottle of Clos Réal grown and made biodynamically in Provence. More punchy and not as cheap as most of the wine card.
We always get the whole grilled fresh fish, usually white fleshed sea bream or bass. I recommend 800 g to one kilo for two people if you get large starters as we do. Presented to the table before being deboned perfectly, the filleted fish is accompanied by purple, Cabernet Franc scented salt and with herbs infused (thyme grows all over the island) olive oil on the table. Swishes in a complimentary duet of a sublime creamy risotto (as hedonistic as Joel Robuchon's legendary mashed potatoes when the proportion of buttery fat far exceeds the carbs) and southern, grilled vegetable tian. The later usually an eggplant, tomato, courgette or red pepper generously doused in greenish herbal olive oil. Everything is just every single time cooked perfect!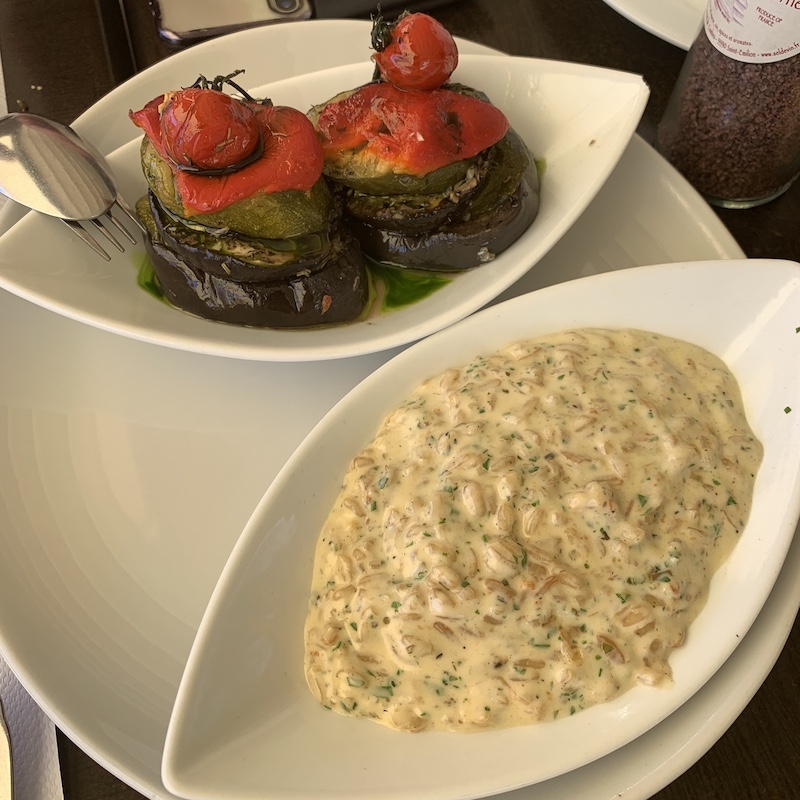 Spiny lobsters parade in the live aquariums at L'Anse de Port Cros, but we dream about this perfection of a Mediterranean fish plate for the entire year before revisiting our beloved South of France, so we never switch to other mains. Côte de beauf glances at the frequenting locals, who do not mind the summer heat to eat as if there was nothing to do in the afternoon. Diving, snorkelling, kayaking, swimming, hiking, trail running if you desire, I have seen it all on and around the island. I keep the beef before the bed!
I wrote a poem inspired by Port-Cros:
All I see is blue joy
The clear sky of promises 
Of undisturbed simplicity 
Calm, straightforward reality 
Turbulence far gone from my awareness 
Fly, you and me in a liberated company
Set free the native imagination that was bound
By the complex constructs of culture in the rear
Of the mind seeking pain, restlessness and irrational fear
All I want is simplicity, what was lost in a city, here is found
~RB
For a light sweet finale, the summer red berry compote with whipped Chantilly cream and cinnamon at L'Anse de Port-Cros is best if you intend to be active after the lunch.
A hospitable tradition across the Mediterranean, here, each meal concludes with a shot or a sip, if you prefer, of rum, orange and pineapple juice blend with secret spices the chef keeps to himself.
Crossing by private boat from Hyeres, the Porquerolles island or Cavalaire-sur-Mer in the Var department takes only about 30 minutes to an hour. Boarding one of the seasonally scheduled ferries stretches the sail up to two hours, but if you hang around it pays off. We avoid the core of summer, rather sailing in May, June and September as the temperatures for outdoor activities are more balmy.